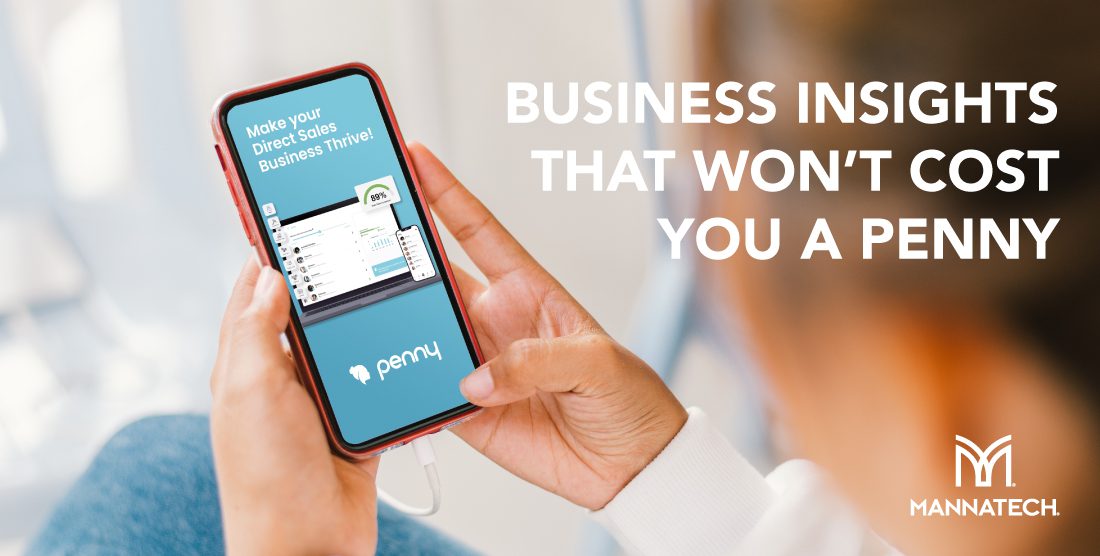 🚨 Your All-In-One Business App (Penny) is Now Available!
ALL Mannatech Associates can access Penny for FREE!
If you're building a Mannatech business, you need Penny. Penny is the data-driven social sales enablement platform that exponentially increases revenue for entrepreneurs like you. And now we're excited to announce that Mannatech Associates get the Penny app as part of their Associate sign up and renewal fees … meaning there are no additional fees to download, sync and use it!
 Current Penny users are seeing increases of 30%+ in order sizes, and "forgotten" customers are placing brand-new orders.
FEATURES OF THE PENNY APP:
Shows what your personally enrolled customers have ordered, which is perfect for follow-up conversations
Tells you when your personally enrolled customers' subscriptions are coming due, providing you a chance to reach out and help them tailor their next orders
Provides custom lists, showing you who has ordered a specific product, which is great for reaching out to customers when a similar product is on discount/special
Creates a personalized sales journey for your customers, prompting you when the best times to follow up are, so no customer falls through the cracks
Schedules automatic follow-up reminders and provides ideas/scripts of what to say
PLUS, you can join the Mannatech Penny App Facebook Group to engage with your fellow Penny users and contribute to the development of Penny.
 Don't end up "Penny-less"!
Create your account NOW and start enjoying all the FREE features Penny offers.
GETTING STARTED IS EASY:
Go to getpenny.com and click "Sign Up."
Enter the following your email address
Complete the rest of the page with your first and last name, and then establish your password. This password can be whatever you want it to be, but make sure to write it down because you will need it again to log in to Penny.
Click "Create Account."
You will be asked, "Which organization do you work with?" Type in Mannatech, and select the Mannatech image.
To finish your registration:

Enter your Associate account number
Enter your Mannatech password (the same password you use to log in to Mannatech.com).
Your FREE Penny account should now be established and you should be able to access Penny through your desktop or mobile app. So, log in and start optimizing your business!
---
🚨您的一体化商业应用程序 (Penny) 现已上线!
所有美泰经销商都可免费使用 Penny!
如果您正在发展美泰业务,那么您需要 Penny。Penny 是一个数据驱动型网络销售支持平台,可以帮助像您一样的企业家大幅提升营收。现在我们很高兴宣布:美泰经销商在注册和续约费用中已包含获得 Penny 应用程序……这意味着下载、同步和使用该应用程序不需要额外费用。
 当前 Penny 用户的订单金额增加了 30%,同时"被遗忘"的客户正在下新订单。
Penny 应用程序的功能:
显示您的个人注册客户订购了哪些内容,这可以和客户跟进沟通时作为依据
显示您的个人注册客户的自动订单何时到期,您可以联系他们并帮助他们定制下一批订单
提供自定义列表,显示谁订购了某一特定产品,这可以帮助您在类似产品打折/优惠时联系这些相关客户
为您的客户创建个性化的销售体验,提醒您最佳跟进时机,这样就不会漏掉任何客户
安排自动跟进提醒,并提供发布信息的建议和模板
此外,您还可以加入美泰 Penny 应用程序 Facebook 群组,与其他 Penny 用户交流并促进 Penny 的发展。
 领略Penny的强大功能!
马上创建您的账户,开始使用 Penny 的所有免费功能吧。
应用程序入门很简单:
打开getpenny.com,然后点击"注册"。
输入您的邮件地址
在页面上填写您的姓名,然后输入您的密码。该密码可随意设置,但要记录下来以便您下次登录 Penny 时使用。
点击"创建账户。"
您需要回答问题,"您在与哪家公司合作?"输入美泰,并选择美泰图片。
要完成注册:

请输入经销商账号:
输入您的美泰密码(与您登录com 的密码相同)。
这样您的免费 Penny 账户就创建好了,您可以通过您的桌面或手机应用程序进入 Penny。现在请登录并开始优化您的业务吧!
---
🚨 ¡La Aplicación de Negocios con Todo Incluido (Penny) Ya Está Disponible!
 ¡TODOS los Asociados de Mannatech pueden tener acceso a Penny GRATIS!
Si estás construyendo un negocio Mannatech, necesitas a Penny. Penny es la plataforma para ventas operada con datos que exponencialmente incrementa los ingresos para emprendedores como tú. Y ahora estamos entusiasmados de anunciar que los Asociados de Mannatech obtendrán la aplicación Penny incluida en la cuota de registro y renovación de Asociados… ¡lo que significa que no hay cuotas adicionales para descarga, sincronización y uso!
 Los usuarios de Penny están viendo incrementos de más de 30 % en los tamaños de sus pedidos, y los clientes "olvidados" están levantando nuevos pedidos.
CARACTERÍSTICAS DE LA APLICACIÓN PENNY:
Muestra lo que tus clientes personalmente registrados han pedido, lo cual es perfecto para las conversaciones de seguimiento
Te dice cuando se vencen las suscripciones de los clientes que personalmente registraste, lo que te da la oportunidad de comunicarte con ellos y ayudarlos a decidir sobre sus siguientes pedidos
Te otorga una lista personalizada, que muestra quién ha ordenado un producto específico, lo que es maravilloso para comunicarte con clientes cuando un producto similar esta con descuento o con una oferta especial
Crea un camino de ventas personalizado para tus clientes, indicándote cuándo son los mejores momentos para dar seguimiento, para que ningún cliente se quede en el olvido
Programa los recordatorios de seguimiento automáticos y te ofrece ideas/libretos sobre lo que puedes decir
ADEMÁS, puedes unirte al Grupo de Facebook de Mannatech Penny App para conversar con otros usuarios de Penny y contribuir al desarrollo de Penny.
 ¡No te quedes sin un Penny! 
Crea tu cuenta AHORA y empieza a disfrutar de los beneficios GRATIS que Penny ofrece.
EMPEZAR ES FÁCIL:
Visita getpenny.com, y haz clic en "Sign Up" ("Registrar Cuenta").
Ingresa su electrónico
Completa el resto de la página con tu primer nombre y apellido, y luego establece tu contraseña. Esta contraseña puede ser lo que quieras, pero asegúrate de escribirla porque la necesitarás nuevamente para iniciar sesión en Penny.
Haz clic en "Create Account" ("Crear Cuenta")
Se te preguntará "Which organization do you work with?" ("¿Con qué organización trabajas?") Escribe Mannatech y selecciona la imagen de Mannatech.
Para terminar tu registro:

Ingresa tu número de cuenta de Asociado
Ingresa tu contraseña Mannatech (la misma contraseña que usas para iniciar sesión en Mannatech.com).
Tu cuenta GRATIS de Penny estará ahora configurada y podrás tener acceso a Penny en tu computadora de escritorio o en la aplicación móvil. ¡Así que inicia sesión y empieza a optimizar tu negocio!