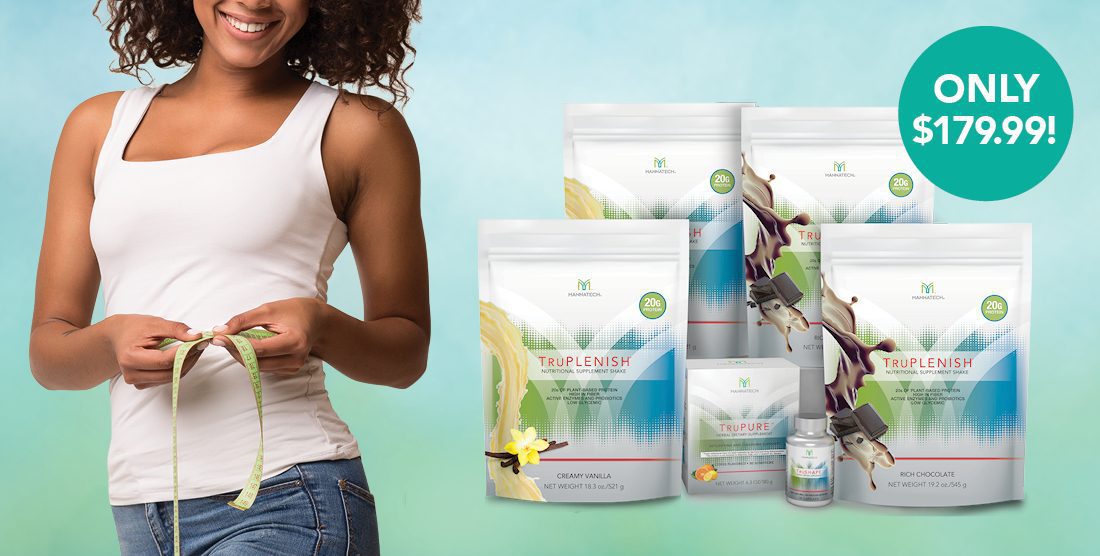 2020 is the Year for a New You!
There's something enticing about wiping the slate clean and starting a brand-new year. Past mistakes are forgiven, making way for an exciting future! Let's start 2020 off right with a New Year, New You!
Join the Winter + Spring 2020 Transformation Challenge and get more support and motivation than ever. Get ready by purchasing your TruHealth™ 30-Day Fat-Loss System today:
This season's Transformation Challenge† offers more support than ever including:
The TruHealth 30-Day Fat-Loss System for just $179.99 (for a limited time only!)
Mindset Coaching Calls with Ashly Torian
Weekly calls, social media posts and blogs to keep you going
Benchmarks to stay on track with your fitness & nutrition goals
And much more!
This season, we'll explore the mind-body connection to support your success beginning with a prep week to get started. Each week, we will offer you step-by-step instructions for what to do that week. In just 90 days, change your mind and change your life and usher in a New Year, New You!
Keep on track with Mindset Coaching Calls. Ashley Torian will host live coaching calls every Monday at 6pm CST on the New You 90 Mannatech Facebook Group. Join NewYou90.com to be eligible to join the Facebook group.
Join the Transformation Challenge at NewYou90.com and follow the directions on the site to get started:
†Challenge registration opens January 6, 2020.
---
在 2020,迎接新生!
把往事一笔勾销,以全新姿态开启新的一年。与过去犯下的错误和解,为激动人心的未来让路!让我们以新的一年,以崭新的你来开启 2020!
加入冬季转型挑战赛,获得我们前所未有的支持和动力:立刻购买 TruHealth™ 30 天减脂套组,从今天开始,做好准备:
这一赛季的转型挑战赛提供了前所未有的支持,包括:
TruHealth 30 天减脂套组,仅需 179.99 美元(限时特价!)
由 Ashly Torian 进行心态辅导
每周通话咨询、社交媒体发帖和博文帮助你勇往直前
保障你健身和营养目标的基准
还有更多精彩,待你发现!
在本赛季中,我们将从准备周开始,带你探索身心联系以支持你的成功。每周我们都会为你提供分步指导,告诉你这周需要做什么。在短短 90 天内,我们将改变你的心态和生活,以崭新的你迎接新的一年!
保持与心态辅导的电话联系。Ashley Torian 将于美国中部标准时间每周一下午 6 点准时在 New You 90 Mannatech Facebook 群组内接通现场辅导电话。加入 newyou90.com 即可获得群组资格。
在 newyou90.com 加入转型挑战赛,按照网站说明开始:
†挑战赛注册将于 2020 年 1 月 6 日开放。
---
¡El 2020 es el Año para el Nuevo Tú!
Hay algo muy especial de dejar cosas atrás y empezar un nuevo año. Los errores del pasado se perdonan, ¡y se abre espacio para un y emocionante futuro! Empecemos el 2020 con el pie derecho, ¡un Nuevo Año, un Nuevo Tú!
Únete al Reto de Transformación de Invierno y obtén más apoyo y motivación que nunca: Prepárate comprando tu Sistema de Pérdida de Grasa de 30 Días TruHealth hoy mismo:
El Reto de Transformación de esta temporada† ofrece más apoyo que nunca, lo que incluye:
El Sistema TruHealth de 30 días para la Pérdida de Grasa, solo por $179.99 dólares (¡solo por tiempo limitado!)
Llamadas para entrenamiento de actitud mental con Ashly Torian
Llamadas semanales, publicaciones en redes sociales y blogs para mantenerte en marcha
Referencias para que te mantengas al corriente con tus metas de buen estado físico y nutrición
¡Y mucho más!
Esta temporada, exploraremos la conexión entre la mente y el cuerpo para apoyar tu éxito, empezando con una semana de preparación para empezar. Cada semana, ofreceremos instrucciones paso a paso para lo que tienes que hacer esa semana. En solo 90 días, cambia tu m ente y cambia tu vida, ¡y celebra un Nuevo Año, un Nuevo Tú!
Mantén tu meta con las llamadas de entrenamiento para la actitud mental. Ashley Torian patrocinará llamadas en vivo cada lunes a las 6 p. m. (hora de Dallas) en el Grupo de Facebook New You 90 de Mannatech. Únete a newyou90.com para ser elegible a unirte al grupo Facebook.
Únete al Reto de Transformación en newyou90.com y sigue las instrucciones en el sitio para iniciar:
†La inscripción para el reto se abre el 6 de enero de 2020.
.