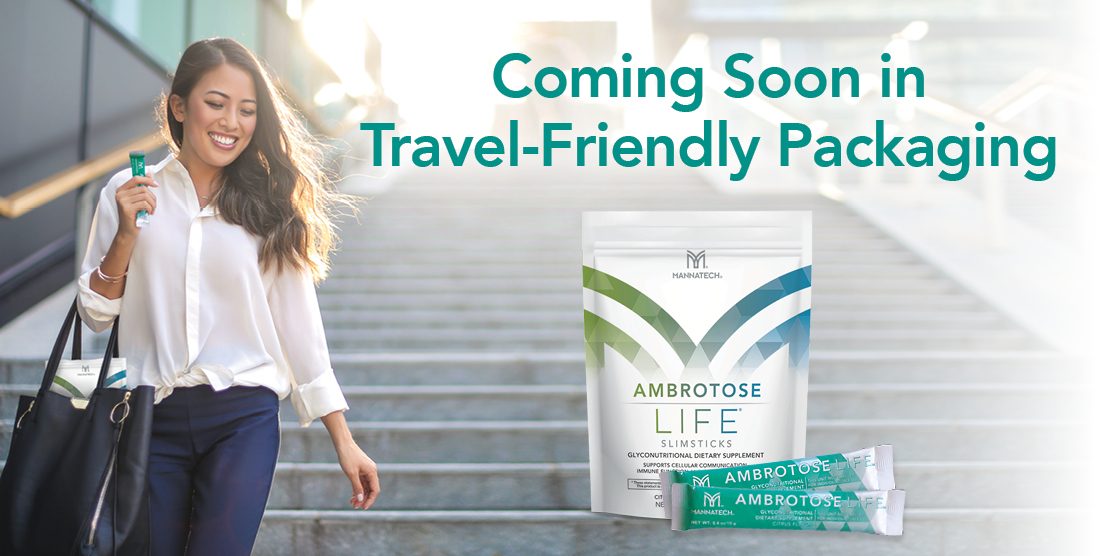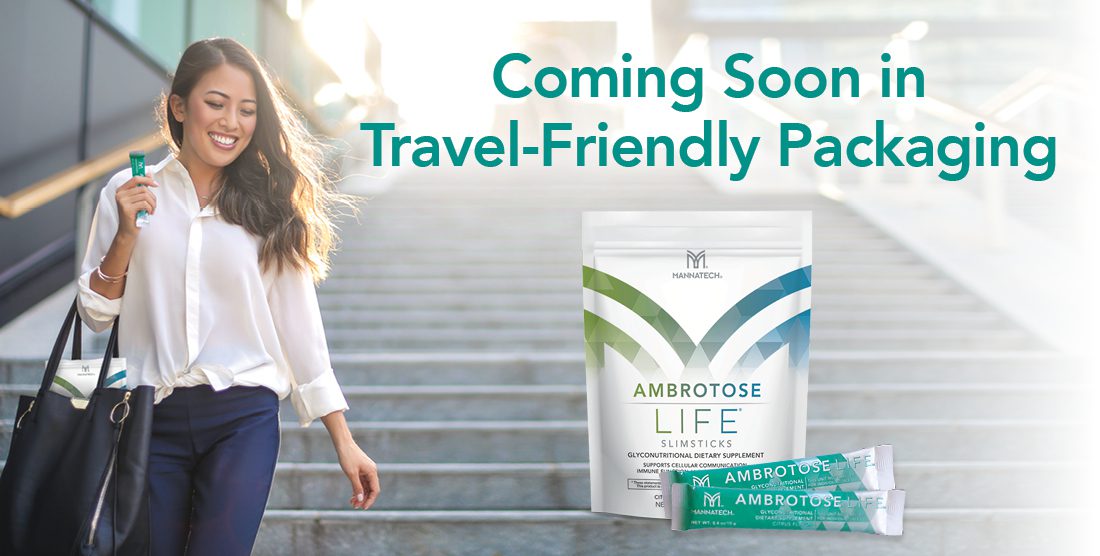 Ambrotose LIFE slimsticks COMING SOON in Travel-Friendly Recyclable Gusseted Bags
We know you love what's in Ambrotose LIFE slimsticks. Now you'll love the new packaging it comes in, too!
Ambrotose LIFE, the most powerful Ambrotose product is currently packaged in boxes. In summer 2020, we will switch from boxes to gusseted bags.
You'll enjoy several additional benefits with the new gusseted bag at the same great price:
Occupies less space in your cabinet, gym bag or suitcase.
No fear of crushing the box when traveling or carrying.
Recyclable and earth friendly!
Mannatech cares for your health as well as the health of our planet.
---
美泰新生代醣质营养素即将推出可回收的便携式方形立式袋包装
我们都知道大家对美泰新生代醣质营养素的喜爱,现在,您也会爱上它的新包装!
美泰新生代醣质营养素是最强大的美泰醣质营养素产品,当前的包装为方式盒装。2020 夏,我们会将包装从盒装转换为方形立式袋包装。
您将以同等实惠的价格享受新款方形立式袋包装的其他多个益处:
占用更少的置物柜、健身包或手提包空间。
不用担心旅行或携带期间压碎包装盒。
可回收,对地球环境无害!
美泰关心您的健康和我们地球的健康。
---
Pronto los paquetes individuales Ambrotose LIFE slimsticks vendrán en bolsas con cierre reciclables fáciles de llevar
Sabemos que te encanta lo que contienen los paquetes individuales Ambrotose LIFE Slimsticks. ¡Ahora también te encantará el nuevo paquete en el que vienen!
Ambrotose LIFE, el Ambrotose más poderoso de la historia, actualmente viene empacado en cajas. A finales del verano de 2020, cambiaremos de cajas a bolsas con cierre.
Disfrutarás de muchos beneficios adicionales con la nueva bolsa con cierre, al mismo precio maravilloso:
Ocupa menos espacio en tu gabinete, maleta o bolsa para el gimnasio.
No hay miedo de aplastar la caja al viajar o trasladarla.
¡La bolsa es reciclable y amable con el planeta!
A Mannatech le importa tu salud, así como la salud de nuestro planeta.
---
Ambrotose LIFE 슬림스틱 출시 여행용 재활용 가능 거싯 백
Ambrotose LIFE 슬림스틱이 얼마나 사랑받는지 잘 알고 있습니다. 새롭게 선보이는 포장을 기대하셔도 좋습니다!
가장 인기가 많은 Ambrotose 제품인 Ambrotose LIFE는 현재 박스로 포장되어 있습니다. 2020여름에는 박스에서 거싯 백으로 포장이 변경될 예정입니다.
동일한 놀라운 가격에 새로운 거싯 백으로 다양한 추가 혜택을 경험할 수 있습니다:
캐비닛, 운동 가방 또는 수트케이스에서 부피를 덜 차지합니다.
여행이나 운반 시 상자가 짖눌릴까 걱정하지 않아도 됩니다.
재활용이 가능해 환경 친화적입니다!
Mannatech는 여러분의 건강은 물론 지구의 건강도 생각하고 있습니다.