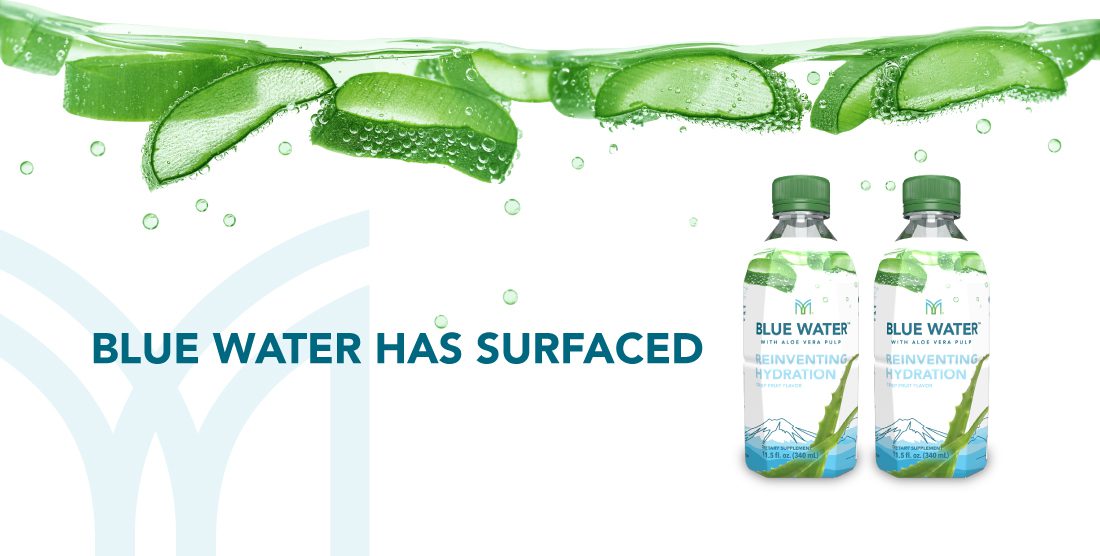 Blue Water is now available! 💦
Blue Water™ drink is now available, but only for a limited time. Quench your thirst with this functional beverage, featuring water from a volcanic aquifer and 100% pure Aloe vera pulp — both sourced from a rare blue zone in Costa Rica where people have greater longevity.
Add Blue Water to your cart to get the benefits of both hydration and immune support. *
Supports healthy hydration at the cellular level*
Provides deep hydration to support more radiant, luminous skin*
Supports healthy organ function*
Supports healthy immune function*
Supports healthy digestion and a healthy microbiome*
Supports nutrient absorption, like vitamins C and E, making it the perfect drink to wash down your Catalyst™ Multivitamin*
Also Available – Special Blue Water Bundles! We have paired Blue Water with your favorite Mannatech Products in convenient bundles!†
HIT RESET + Receive FREE Omega-3 and Liver Support
SKU: 78601
Hit the reset button, and give yourself the opportunity to regain control of your health and habits!
Purchase 1 Manapol® and 1 Blue Water and Receive a FREE Omega-3 and Liver Support
Fountain of Youth Self-Care System Bundle
SKU: 78501
Get this bundle of products for a beautiful self-care system, working inside and out!
This bundle includes Catalyst™ Multiviatmin, Blue Water, and Uth® Skin Rejuvenation Crème.
Super Blue Bundle
SKU: 79401
NEW DEAL AND NEW PRODUCTS! Buy 1 Superfood Greens and Reds + 1 Blue Water pack, and you'll get 1 more Blue Water pack FREE!
Order now to get the world's best water for your best you, or add Blue Water to your Monthly Subscription! Only available while supplies last!
†LIMIT 4 PER EACH ORDER. NOT FOR RESALE IN CANADA. ORDERS CANNOT BE REDEEMED USING LOYALTY POINTS.  THERE WILL BE NO FIRST ORDER BONUS FOR FIRST ORDERS OF THIS PROMOTIONAL ITEM DURING THIS PROMOTIONAL PERIOD AND/OR WHILE SUPPLIES LAST. ALL SALES FINAL.
*These statements have not been evaluated by the Food and Drug Administration. This product is not intended to diagnose, treat, cure or prevent any disease.
---
Blue Water 现已上市!💦
Blue Water 饮料现已上市,限时供应,先到先得。这款功能性饮料不仅可以解渴,选用火山岩地下水和 100% 纯芦荟果肉。其主要原料均来自哥斯达黎加的一珍稀蓝区,而此地以大多居民长寿而闻名。
BlueWater 能够增强补水能力和免疫力,快加入购物车吧。*
支持在细胞层面进行健康补水*
提供深层补水,帮助您打造焕亮肌肤*
支持器官功能健康运转*
增益免疫功能健康*
保持消化系统健康,打造健康的微生物群系*
促进对维生素 C 和 E 等营养成分的吸收,是搭配 Catalyst ™复合维生素服用的绝佳饮料*
Blue Water 特别套组同时上市!我们已将 Blue Water 与您最爱的美泰产品组成便捷套组!†
购买 HIT RESET,免费获赠美泰鱼油维生素 D3 胶囊和肝脏支持食品补充剂
SKU/货号:78601
现在开始,给自己一个机会,重新掌控您的健康与生活习惯吧!
订购 1 瓶美泰醣质芦荟萃取粉和 1 瓶 Blue Water,即可免费获赠 1 瓶美泰鱼油维生素 D3 胶囊和 1 瓶肝脏支持食品补充剂
青春之泉个人护理系统套组
SKU/货号:78501
购买个人护理产品套组,体验从内而外的功效吧!
本套组包括 Catalyst ™复合维生素、Blue Water 和 Uth 多醣"优丝"抗皱祛斑精华素。
超级蓝水套组
SKU/货号:79401
新产品,新折扣!购买 1 罐 Superfood Greens and Reds 和 1 瓶 Blue Water,即可免费获赠 1 瓶 Blue Water!
即刻订购这款为您达到最佳状态而准备的世界上最好的水,或将 Blue Water 加入您的自动订单!数量有限,售完即止!
†每单限购 4 件。不得在加拿大转售。不可使用忠诚度积分兑换订单。本次促销期间(售完即止),订购此促销产品将不享受首购推荐奖金。所有销售均为最终销售。
*此说明尚未经过食品药品监督管理局评估。本产品不可用于诊断、治疗、治愈或预防任何疾病。
---
¡Blue Water ya está disponible!💦
 La bebida Blue Water™ está ahora disponible, pero solo por un tiempo limitado. Calma tu sed con esta bebida funcional con agua de la "zona azul" de Costa Rica y pulpa de aloe 100 % puros — ambos obtenidos de una rara zona azul en Costa Rica donde las personas tienen más longevidad.
Agrega #BlueWater a tu carrito de compras y obtén los beneficios de la hidratación y el respaldo inmunitario.*
Respalda la hidratación saludable a nivel celular*
Ofrece hidratación profunda para apoyar una piel más radiante y luminosa*
Respalda la función saludable de los órganos*
Respalda la función inmunitaria sustentable*
Respalda la digestión saludable y un microbioma saludable*
Apoya la absorción de nutrientes, como las vitaminas C y E, lo que la convierte en la bebida perfecta para tomar tu Multivitaminas Catalyst™*
También Disponible – ¡Paquetes Especiales de Blue Water! ¡Hemos combinado Blue Water con tus favoritos productos Mannatech en convenientes paquetes!†
REESTABLECE y recibe Omega-3 y Liver Support GRATIS
SKU: 78601
¡Oprime el botón de reestablecer y date la oportunidad de retomar el control de tu salud y tus hábitos!
Compra 1 Manapol® y 1 Blue Water y Recibe GRATIS un omega-3 y Liver Support
Paquete Sistema de Autocuidado Fuente de la Juventud
SKU: 78501
Obtén este paquete de productos para un hermoso sistema de autocuidado de belleza, ¡que funciona adentro y afuera!
Este paquete incluye la Multivitamina Catalyst™, Blue Water y la Crema rejuvenecedora Uth® Skin Rejuvenation Crème.
Paquete Súper Azul
SKU: 79401
¡NUEVAS OFERTAS Y NUEVOS PRODUCTOS! Compra 1 Superfood Greens and Reds (Superalimentos Verdes y Rojos) + 1 paquete de Blue Water, ¡y recibe 1 paquete adicional de Blue Water GRATIS!
¡Haz tu pedido ahora para obtener la mejor agua del mundo para que estés de lo mejor, o agrega Blue Water a tu Suscripción Mensual! ¡Solo disponible hasta agotar existencias!
†LÍMITE DE 4 POR PEDIDO. NO PARA REVENTA EN CANADÁ. LOS PEDIDOS NO PUEDEN PAGARSE USANDO PUNTOS DE LEALTAD. NO HAY BONO DE PRIMERA COMPRA PARA LOS PRIMEROS PEDIDOS CON ESTE ARTÍCULO PROMOCIONAL DURANTE ESTE PERIODO DE PROMOCIÓN Y/O HASTA AGOTAR EXISTENCIAS. TODAS LAS VENTAS SON FINALES.
*Estas declaraciones no han sido evaluadas por la Administración de Alimentos y Medicamentos de Estados Unidos. Este producto no tiene la intención de diagnosticar, curar, tratar o prevenir ninguna enfermedad.