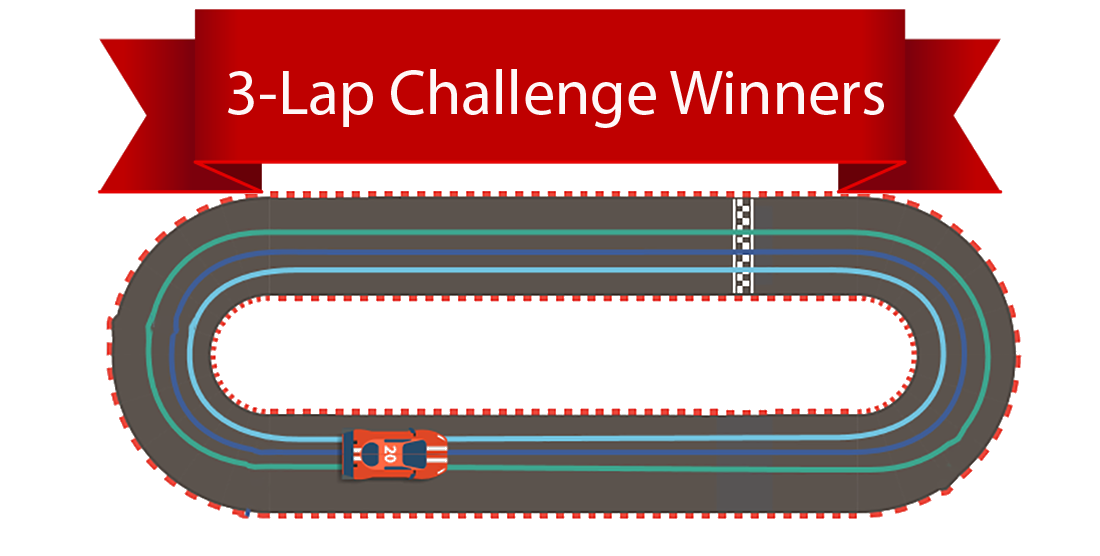 Congratulations to the 3-Lap Challenge Winners!
We have our winners for the 3-lap Challenge. Make sure you reach out and congratulate them.
Each one of these earners are receiving 30 loyalty points and a ticket or tickets for the Grand Prizes including 2 travel vouchers worth $2000 each, race car experience, photos with race cars, etc. depending on how many enrollments each earner has completed.
June 2020 Challenge Winners Earned: 30 Loyalty Points, 1 ticket for the drawing. Some of the challenge winners earned an additional 2 extra tickets and 20 extra loyalty points based on sales to a new person.
For EACH additional product Auto Order placed for a New Preferred Customer or New Associate (over the 2 minimum) in any of the 3 months not including the Replacement Associates or Customers, you will earn 2 additional tickets to be entered into the drawing and 20 additional Loyalty Point.
| | | | |
| --- | --- | --- | --- |
| Display Name | Country | # of Enrollments | # of Tickets Earned |
| Carey Fumerton | CA | 14 | 25 |
| Sheri Johnson | US | 14 | 25 |
| Flourish Digital Media INC | US | 12 | 21 |
| Zhong Jia Wei | CA | 9 | 15 |
| Yuyin  Li | CA | 8 | 13 |
| Dr. Adonis Makris | CA | 8 | 13 |
| Shaolan Gong | CA | 8 | 13 |
| Yvette Delcampo | US | 6 | 9 |
| Kristi Kozel | CA | 6 | 9 |
| Li Sun | CA | 6 | 9 |
| Ty & Richelle Tribble | US | 6 | 9 |
| Pamela Pierceall | US | 5 | 7 |
| Roy & Lisa Goodwin | US | 5 | 7 |
| Sung Hong | US | 5 | 7 |
| Seung Ki Kim | US | 5 | 7 |
| Susan Loewe | US | 5 | 7 |
| Yun Mei Xu | CA | 5 | 7 |
| Ying Fang Zhao | CA | 5 | 7 |
| Ai Ling Woo | CA | 5 | 7 |
| Yu Ling Huang | CA | 5 | 7 |
| Susan Weckter | US | 5 | 7 |
| Rui Ze Yuan | CA | 5 | 7 |
| Feng Zhang | CA | 4 | 5 |
| Wan Yi  Deng | CA | 4 | 5 |
| Jing Wei Yu | CA | 4 | 5 |
| Atsuko Ghaemi | US | 4 | 5 |
| Li Li Li | CA | 4 | 5 |
| Wan Hong Yan | CA | 4 | 5 |
| Ling Xiang Cheng | US | 4 | 5 |
| Yi Ling Zhang | CA | 4 | 5 |
| Stu & Judy Deane | US | 4 | 5 |
| Jennifer Jia Jing Tsang | CA | 4 | 5 |
| Rui Chang Chen | CA | 4 | 5 |
| Hui Xian Hu | CA | 4 | 5 |
| Anna Xiao Hong Zeng | CA | 4 | 5 |
| Suyin Hu | US | 4 | 5 |
| Nu Lan huang | CA | 4 | 5 |
| Esther Yu Kwan Cheng | CA | 4 | 5 |
| Dong Yun  Zeng | CA | 4 | 5 |
| Jeff & Mary Erb | US | 4 | 5 |
| Zhanhua  Chen | CA | 4 | 5 |
| Maureen A CAREY | US | 4 | 5 |
| Haiwei Nong | CA | 4 | 5 |
| Changfang  Xin | US | 3 | 3 |
| Yoshihiro Horita | US | 3 | 3 |
| Douglas & Mary Wickham | US | 3 | 3 |
| Lin Gao | CA | 3 | 3 |
| Michael Goodhart | US | 3 | 3 |
| Zhen Qiang & Yu Xiao Yang | CA | 3 | 3 |
| Richelle Tribble | US | 3 | 3 |
| Harriet Loo | US | 3 | 3 |
| LI Na Chen | CA | 3 | 3 |
| Feng Li Liu | CA | 3 | 3 |
| Sun Hye Kim | US | 3 | 3 |
| Xiaomei Zang | CA | 3 | 3 |
| Jane Noh | US | 3 | 3 |
| Angie Law | US | 3 | 3 |
| Vicky Sun | CA | 3 | 3 |
| Ji Watt | US | 3 | 3 |
| Hong Ling Li | US | 3 | 3 |
| William  Shepard | US | 3 | 3 |
| Jason Mead | US | 3 | 3 |
| Juan Hua Sun | CA | 3 | 3 |
| Karen Ritter | US | 3 | 3 |
| Merri-jo Hillaker | US | 3 | 3 |
| Kelly Wood | US | 3 | 3 |
| Randy Kaatz | US | 3 | 3 |
| Jian Hong Zhao | CA | 3 | 3 |
| Mary Ann Garcia | US | 3 | 3 |
| Sharon Cashin | CA | 3 | 3 |
| Sueng JIn | US | 3 | 3 |
| Mary Siu Mui cheng | CA | 3 | 3 |
| John Hochstetler | US | 3 | 3 |
| Debbie Daniels | US | 3 | 3 |
| Lindsay  Orth | US | 3 | 3 |
| Shuk Ming Cheng | CA | 3 | 3 |
| Shu Cai | CA | 2 | 1 |
| Skylar H. E. Lee | US | 2 | 1 |
| Patricia Yum | US | 2 | 1 |
| Nuni Lamb | US | 2 | 1 |
| Zejun Liu | US | 2 | 1 |
| Norma Vencebi | US | 2 | 1 |
| Jinha  Seo | US | 2 | 1 |
| Lingjing Zhang | US | 2 | 1 |
| Anthony Hayashi | US | 2 | 1 |
| Song Ping Hao | CA | 2 | 1 |
| Marcia Schaefer | US | 2 | 1 |
| Shuting Mei | US | 2 | 1 |
| Bright Zhong | CA | 2 | 1 |
| Kaman Tong | CA | 2 | 1 |
| Chulsoo Kwak | US | 2 | 1 |
| Xiaoyin Wu | CA | 2 | 1 |
| Yongen Mo | CA | 2 | 1 |
| Dai Lian Hu | CA | 2 | 1 |
| YuTao JI | CA | 2 | 1 |
| David Lee & Mei Yen Yin | CA | 2 | 1 |
| Sungdae Oh | US | 2 | 1 |
| Susan Edwards | US | 2 | 1 |
| Lan Lan  Guo | CA | 2 | 1 |
| Blanca Cruz de Cruz | US | 2 | 1 |
| Xiu Xing Cai | CA | 2 | 1 |
| Yoshie Horita | US | 2 | 1 |
| Huang Man Cheng & Wai Lin Li | CA | 2 | 1 |
| Te Mei Yen Wu | CA | 2 | 1 |
| Emiko Kurata | US | 2 | 1 |
| Hector Hernadez | US | 2 | 1 |
| Peter Miles | CA | 2 | 1 |
| Francisco Robledo | US | 2 | 1 |
| Paul & Amanda Latreille | CA | 2 | 1 |
| Tia Sanford | US | 2 | 1 |
| Yi Guang Li | US | 2 | 1 |
| Jian Wei Hua | US | 2 | 1 |
| Linghong Wei | US | 2 | 1 |
| Hayun Jin | CA | 2 | 1 |
| Garland & Pat Campbell | CA | 2 | 1 |
| Nobuko Morgan | US | 2 | 1 |
| Ron & Paulette Roy | US | 2 | 1 |
| Ye Tao Liao | CA | 2 | 1 |
| Nat & Silence Weeks | US | 2 | 1 |
| Chang K. Kim | US | 2 | 1 |
| Hui Tang | US | 2 | 1 |
| Carrie Sallee | US | 2 | 1 |
| Julieanna Semon | US | 2 | 1 |
| Hannah Thompson | US | 2 | 1 |
| Jessica Steenstra | US | 2 | 1 |
| Lewis A Shipowick | US | 2 | 1 |
| Ginny Longtin | US | 2 | 1 |
| Tony & Heather Gendvilas | US | 2 | 1 |
| Dr. Jackie St.Cyr | US | 2 | 1 |
| Hyun Mi Park | US | 2 | 1 |
| Geri Budd | CA | 2 | 1 |
| Melissa Ann Schmidt | US | 2 | 1 |
| Mari K DeZago | US | 2 | 1 |
| Doreen Welch | US | 2 | 1 |
| Ximena Duque | US | 2 | 1 |
| Jie Cheng | US | 2 | 1 |
| Yuan Cheng | US | 2 | 1 |
| Ying Yang | US | 2 | 1 |
| Di Wang | CA | 2 | 1 |
| Dr. Lindsay Thomas | US | 2 | 1 |
| Jin Young Jeong | US | 2 | 1 |
| Janet Stull | US | 2 | 1 |
| Minako Foti Somiya | US | 2 | 1 |
| Malnam Joo | CA | 2 | 1 |
| Andrew Feng | US | 2 | 1 |
| Li Lang | CA | 2 | 1 |
| Byung K Hane | US | 2 | 1 |
| Karen Spencer | US | 2 | 1 |
| Larry Allison | US | 2 | 1 |
| Zhong Rong Guan | CA | 2 | 1 |
| Qi Mei Chen | CA | 2 | 1 |
| Xiaofeng Dong | US | 2 | 1 |
| Xiu Jiang Xie | CA | 2 | 1 |
| Ty Tribble | US | 2 | 1 |
| Shu Xu Zhang | CA | 2 | 1 |
| Karen Pazera | US | 2 | 1 |
| Nancy Tan | US | 2 | 1 |
| Nina Kwon | US | 2 | 1 |
| Steve Tan | US | 2 | 1 |
| Junhong Hou | CA | 2 | 1 |
| Rebecca Roth | US | 2 | 1 |
| Seung Hee Kim | US | 2 | 1 |
| Shuang Yan Zheng | US | 2 | 1 |
| John Tarrats | US | 2 | 1 |
| David & Margie Jauch | US | 2 | 1 |
| Hye S. Choe | US | 2 | 1 |
| Aran Kim | US | 2 | 1 |
| Yu Zhi Wang | CA | 2 | 1 |
| Tianying Zhu | US | 2 | 1 |
| Dave Holder | US | 2 | 1 |