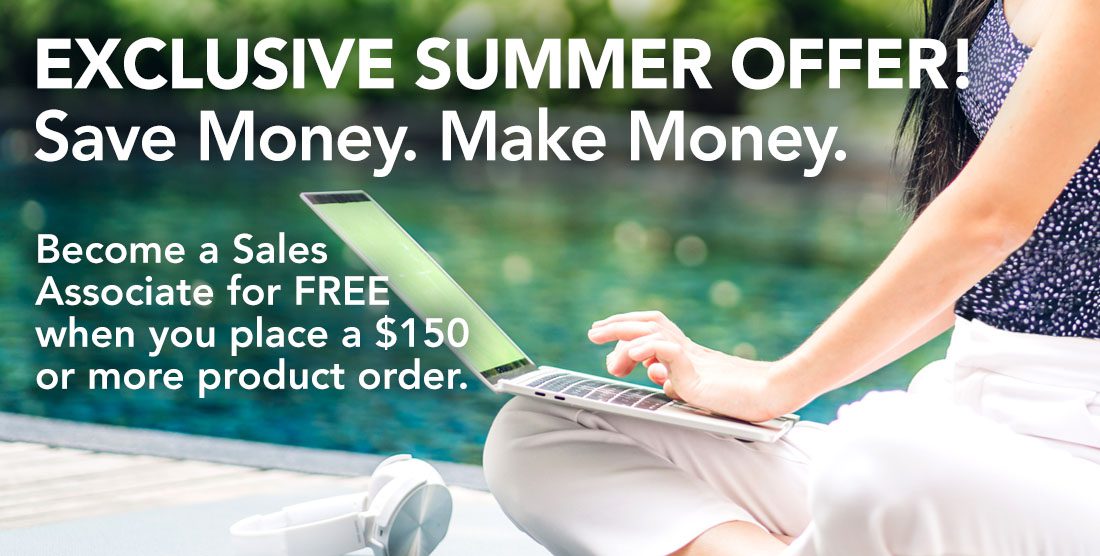 Check out the Summer Inflation Buster Special!
With prices increasing on nearly everything, we want to make it easy for you to SAVE MONEY and put yourself in a position to MAKE MONEY.
We've got a new deal that will help you do both, starting on June 13, 2022!
The Summer Inflation Buster Special is our way of saying thanks for being an awesome customer, and we want to help you make a little money during this hot summer season.
We're offering a FREE Digital Business Registration* to become an Associate when you place an order of $150 or more! Simply add the "Mannatech Business Registration SKU" to your order. Then, at checkout we will provide you with a full credit for your $49.99 registration fee.
As a Mannatech Associate, not only do you get access to discounts on all your favorite Mannatech products, but also tax benefits like being able to deduct any expenses related directly to your business.
You can even earn money when other people buy from you—that's right: You can earn commissions for sharing what YOU already love!†
Signup Today!
*Discount applied at checkout.
†All commissions and bonuses are earned through the sale of Mannatech products. Actual earnings depend on your individual efforts and skill, the customer base available to you and the time devoted to your business and differ from Associate to Associate.
---
夏日专享!为您开源节流!
您只需订购 150 美元或更多金额的产品,即可免费成为我们的销售经销商。
在物价不断上涨的今天,我们致力于为您节约用度,并开辟生财之道。
我们已推出新活动,让您做到两者兼顾,从 2022 年 6 月 13 日开始!
夏日通胀阻击特惠是我们为优质客服准备的答谢活动,同时,我们也希望在这个炎炎夏日助您赚取一点收益。
我们推出数字化商业免费注册活动*,您只需订购 150 美元或更多金额的产品,即可免费成为我们的经销商!直接将"Mannatech 商业注册 SKU"添加至您的订单即可。  接下来付款时,我们会为您全额抵扣 49.99 美元的注册费用。
作为 Mannatech 经销商,对于您所钟爱的 Mannatech 产品,不仅可以享受折扣优惠,还能享受税收优惠,比如可减免与您业务直接相关的费用。
其他人从您这里购买产品,您甚至可以赚钱——没错,就是这样:分享您所钟爱已久的产品,也可以赚取佣金!
马上注册吧!
*折扣会在付款时应用。
†所有的奖金及奖励都通过售卖美泰产品获得。您的实际收益取决于您个人的努力和技巧,您所拥有的客户和您对于您的事业的投入。这些因素每个经销商都各有不同。
---
¡OFERTA EXCLUSIVA PARA EL VERANO! Ahorra dinero. Gana dinero.
Conviértete en un Asociado de Ventas GRATIS cuando hagas un pedido de productos de $150 o más.
Con el aumento de precios en casi todas las cosas, queremos que sea fácil para ti AHORRAR DINERO y estar en una posición para GANAR DINERO.
¡Tenemos una nueva oferta que te ayudará a hacer las dos cosas, a partir del 13 de junio de 2022!
El especial Refuerzo Contra la Inflación del Verano es nuestra forma de agradecerte por ser un cliente increíble, y queremos ayudarte a que hagas un poco de más dinero durante esta temporada de verano.
¡Estamos ofreciendo Registro Digital de Negocio GRATIS* para que te conviertas en Asociado cuando hagas un pedido de $150 o más! Simplemente agrega el "SKU Registro de Negocio Mannatech" a tu orden.  Luego, al momento de pagar, te daremos un crédito completo por tu cuota de registro de $49.99.
Como Asociado de Mannatech, no solo tendrás acceso a los descuentos en todos tus productos Mannatech favoritos, sino que también contarás con beneficios fiscales, como poder deducir cualquier gasto directo de tu negocio.
Incluso puedes ganar más dinero cuando otras personas compren de ti directamente—escuchaste bien: ¡Puedes ganar comisiones por compartir lo que a TI ya te encanta!†
¡Regístrate hoy mismo!
*El descuento se aplica al pagar.
†Todos los bonos y comisiones se ganan a través de la venta de productos Mannatech. Las ganancias reales dependen de tu esfuerzo individual y habilidad, de la base de clientes disponibles y del tiempo que le dediques al negocio, y difieren de Asociado a Asociado.