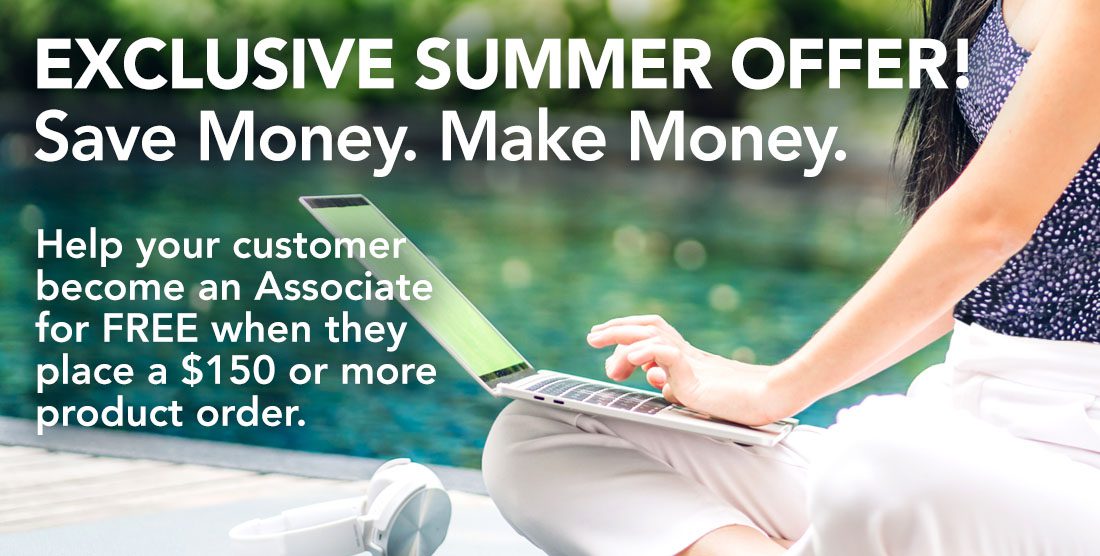 Check out the Summer Inflation Buster Special!
We know you're busy this time of year, so we want to make it easy for you to help new prospects SAVE MONEY and to MAKE MONEY with the Summer Inflation Buster Special.
We're offering a FREE Digital Business Registration* to become an Associate when your prospects place an order of $150 or more, starting on June 13, 2022!
They simply add the "Mannatech Business Registration SKU" to their order. Then, at checkout we will provide them with a full credit for their $49.99 registration fee.
There has never been a better time for Associates to enroll new Associates.
Here's why:
FREE enrollment for your prospect – and who doesn't love FREE!
Earning points towards the Punta Cana incentive trip just got a little easier for both you and your New Associate:
And lastly, it also gives you a reason to contact prospects that may have been sitting on the fence about becoming an Associate.
Don't forget, as a Mannatech Associate, not only will they get access to discounts on all their favorite Mannatech products, but they will earn commissions for sharing those products they love with others.†
Contact your prospect today and give them the good news!
*Discount applied at checkout.
†All commissions and bonuses are earned through the sale of Mannatech products. Actual earnings depend on your individual efforts and skill, the customer base available to you and the time devoted to your business and differ from Associate to Associate.
---
夏日专享!为您开源节流!
您的客户只需订购 150 美元或更多金额的产品,即可免费成为我们的经销商。
我们知道,您在一年中的这个时候会很忙,所以我们通过夏日通胀阻击特惠活动,致力于帮助您轻松实现开源节流的新愿景。
我们推出数字化商业免费注册活动*,您的潜在客户只需订购 150 美元或更多金额的产品,即可免费成为我们的经销商,从 2022 年 6 月 13 日开始!
只需将"Mannatech 商业注册 SKU"添加至这些客户的订单。接下来付款时,我们会为其全额抵扣 49.99 美元的注册费用。
当下正是招募新经销商的绝佳时机。
原因如下:
潜在客户可享受免费注册——谁不喜欢免费呢!
对于您和您的新经销商而言,赢取积分享受 Punta Cana 奖励之旅变得更容易:
最后,您可以此为由联系您的潜在客户,他们可能还在是否成为经销商这件事上持观望态度。
别忘了,作为 Mannatech 经销商,对于他们钟爱的 Mannatech 产品,不仅可以享受折扣优惠,若与其他人分享这些产品,还可以赚取佣金!
马上联系您的潜在客户,告诉他们这个好消息吧!
*折扣会在付款时应用。
†所有的奖金及奖励都通过售卖美泰产品获得。您的实际收益取决于您个人的努力和技巧,您所拥有的客户和您对于您的事业的投入。这些因素每个经销商都各有不同。
---
¡OFERTA EXCLUSIVA PARA EL VERANO! Ahorra dinero. Gana dinero.
Ayuda a tu cliente a que se convierta en un Asociado de Ventas GRATIS cuando haga un pedido de productos de $150 o más.
Sabemos que estás ocupado en esta época del año, así que queremos que sea más fácil para ti ayudar a nuevos prospectos a AHORRAR DINERO y a GANAR DINERO con el especial Refuerzo Contra la Inflación del Verano.
¡Estamos ofreciendo Registro Digital de Negocio GRATIS* para ser Asociados cuando tus prospectos hagan un pedido de $150 o más, a partir del 13 de junio de 2022!
Simplemente agrega el "SKU Registro de Negocio Mannatech" a sus pedidos. Luego, al momento de pagar, les daremos un crédito completo por su cuota de registro de $49.99.
Nunca ha habido un mejor momento para que los Asociados registren a nuevos Asociados.
Esta es la razón:
Registro GRATIS para tu prospecto – ¡y a quién no le encantan las cosas GRATIS!
Ganar puntos para el viaje de incentivo a Punta Cana es ahora más fácil para ti y para tu Nuevo Asociado:
Y por último, también te da una razón para contactar a prospectos que pueden estar dudosos sobre convertirse en Asociados.
No te olvides, que como Asociado de Mannatech, no solo tendrán acceso a descuentos en todos tus productos Mannatech favoritos, sino que además ganarán comisiones por compartir esos productos que les gustan con otros.†
¡Contacta a tu prospecto hoy mismo y dale la buena noticia!
*El descuento se aplica al pagar.
†Todos los bonos y comisiones se ganan a través de la venta de productos Mannatech. Las ganancias reales dependen de tu esfuerzo individual y habilidad, de la base de clientes disponibles y del tiempo que le dediques al negocio, y difieren de Asociado a Asociado.