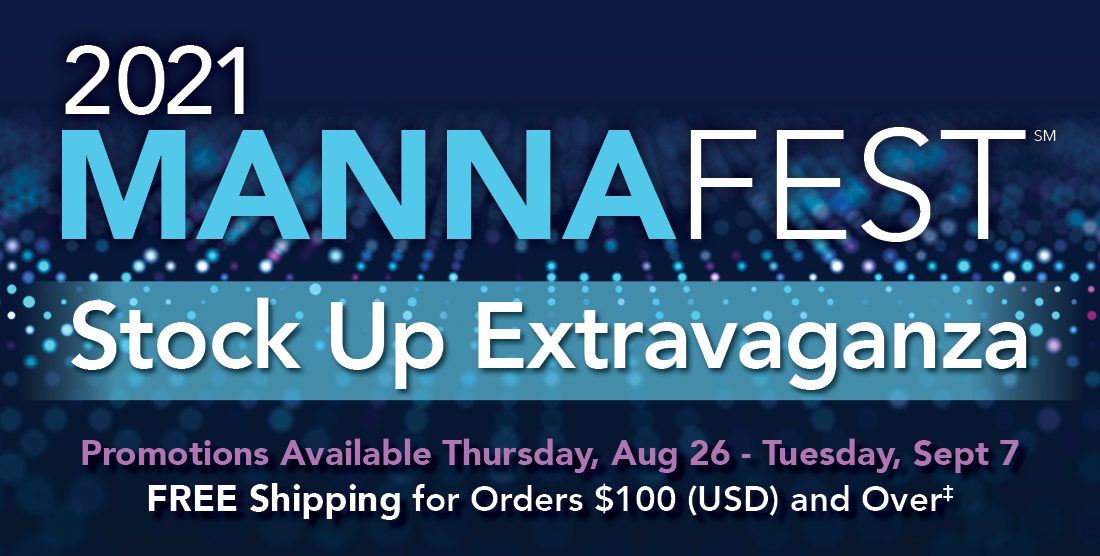 Don't Miss Out on Promotion Savings During MannaFest 2021!
It's that time of year where we not only say goodbye to summer and say hello to cooler weather, we get to see our Associates smiling faces—albeit virtually—at MannaFest 2021!
To celebrate we have some amazing promotions on many of your favorite Mannatech products! Here is a preview of just some of the great specials to choose from!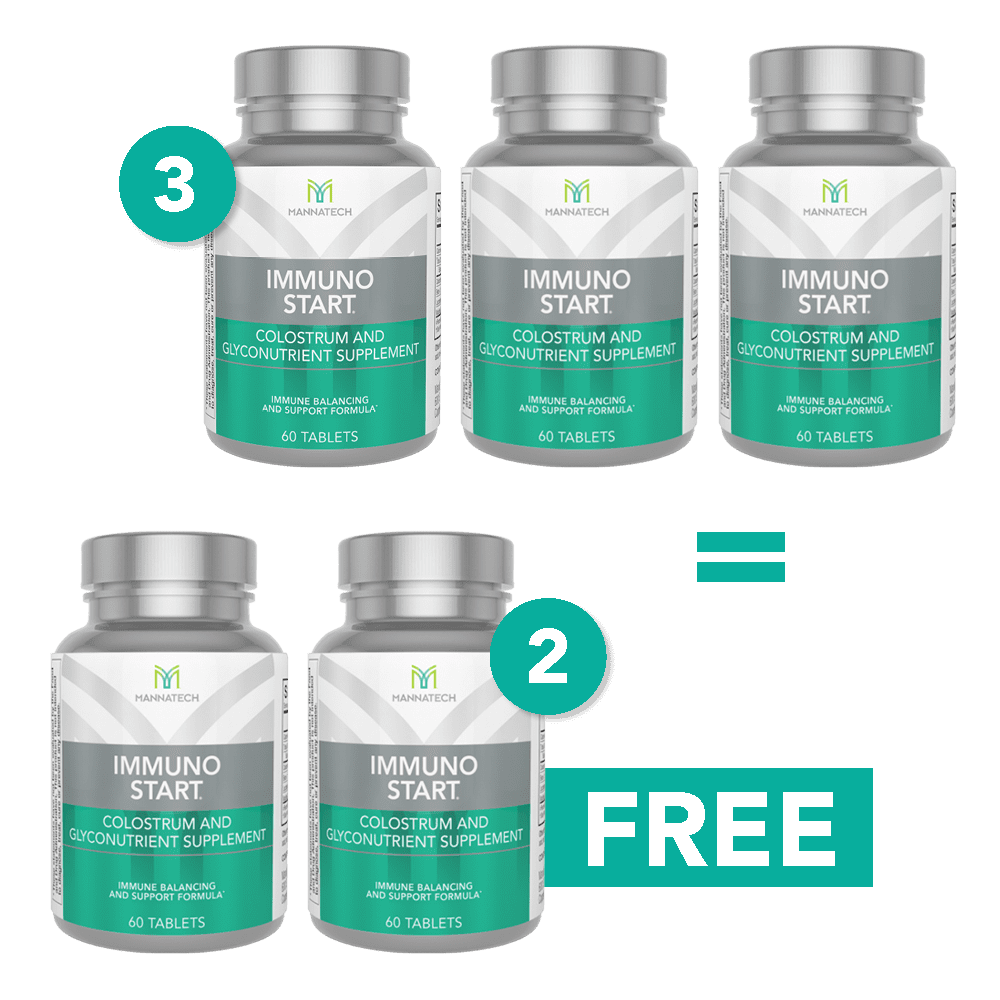 ImmunoSTART—Buy 3, Get 2 FREE!
As the seasons change, a healthy immune system should be a top priority for you and your family! Problems with stress, bad diet and poor sleep habits aren't helping your immune system. Packed full of nutrients, ImmunoSTART® tablets help stimulate and support the body's natural immune response to help you live to the fullest.*
Item No. 73601
Associate/Preferred Customer Price: $119.97
PV: 111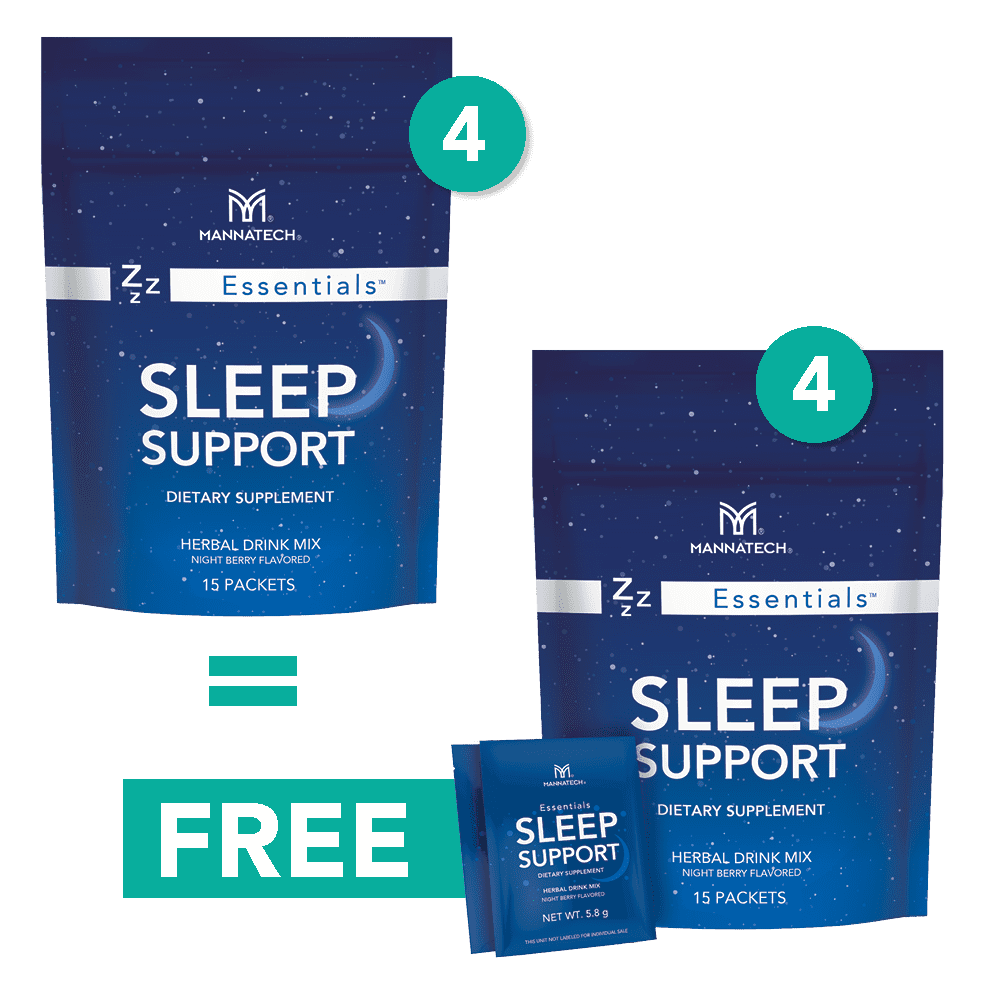 Sleep Support – Buy 4, Get 4 FREE
Stock Up and SAVE! Scheduled to be Discontinued
Did you know that too little sleep can adversely affect your immune system? * Mannatech's Sleep Support may calm and soothe the nervous system, help ease restlessness and help maintain the deep sleep your body needs. * Mannatech's Sleep Support is a fragrant, herbal, soothing, and non-habit-forming drink mix, containing naturally sourced ingredients. It is scientifically formulated with two special blends: the Fall Asleep Blend and the Deep Sleep Blend. *
The Fall Asleep Blend can help your body and mind to relax so that you can fall asleep easier. * The Deep Sleep Blend is designed to help you to maintain a deep sleep, so that you can feel refreshed and energized when you wake. *
Item No. 73501
Associate/Preferred Customer Price: $139.96
PV: 132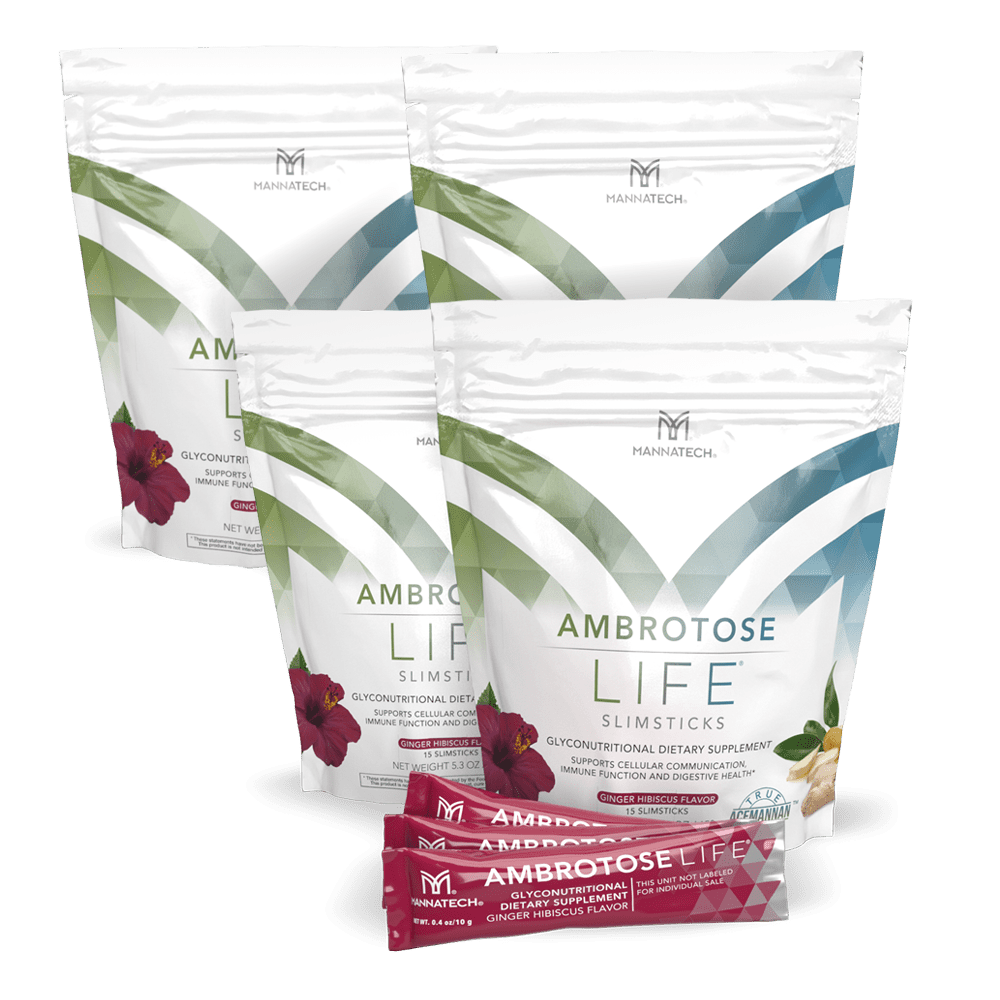 Ambrotose LIFE Ginger Hibiscus—4-Pack – 40% Savings!
Stock Up On this Limited-Edition Summer Flavor Before It's All Gone!
Summer is coming to a close and so is the Ambrotose LIFE® Ginger Hibiscus! Stock up today to enjoy a refreshing summer blend of smooth floral-berry hibiscus and soothing warm ginger. Delicious yet powerful, this new tropical flavor provides the healthy support your body needs for cell-to-cell communication as well as immune, cognitive and gastrointestinal support to help you feel your best. *
Item No. 73701
Associate/Preferred Customer Price: $215.99
PV: 202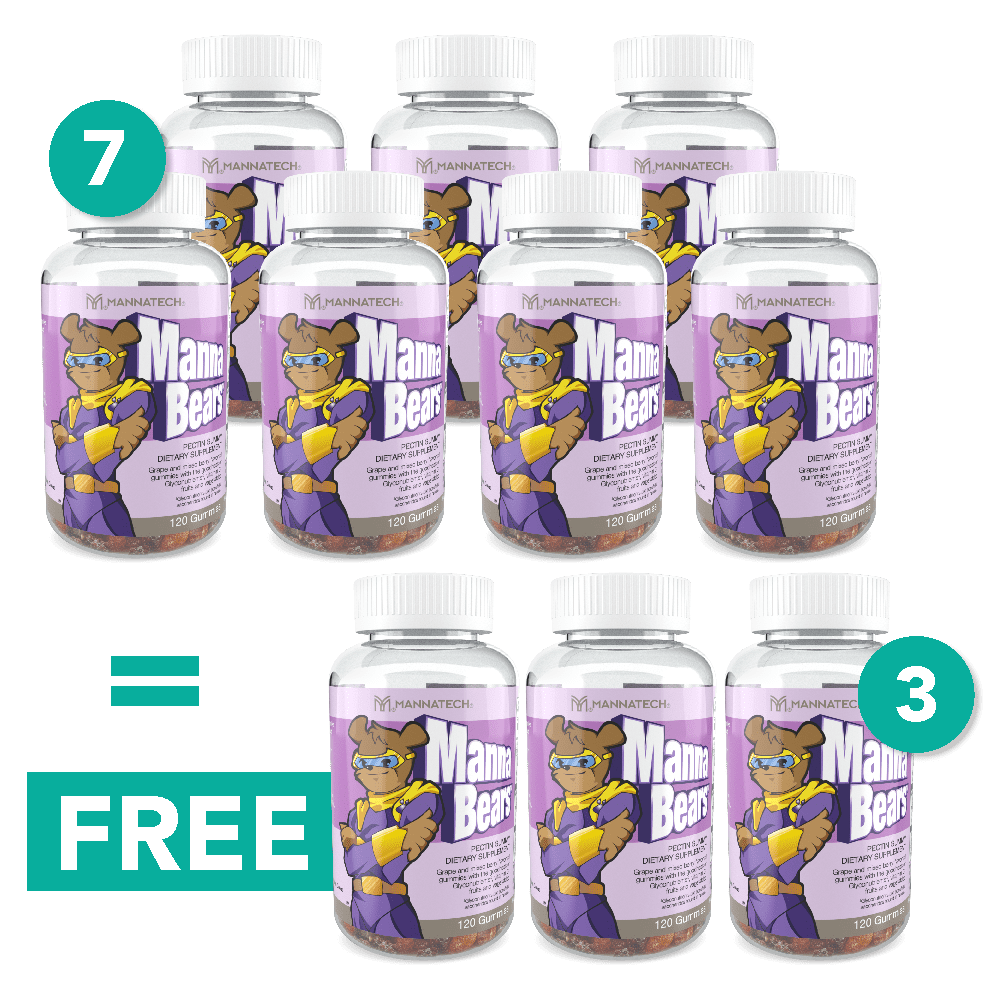 MannaBears—Buy 7, Get 3 FREE!
If you are looking for a healthier alternative to keep you from overindulging on sweet treats this fall, stock up on MannaBears™ today! MannaBears are colorful, chewy, pectin bear-shaped gummies designed to not only be delicious, but also to support cellular communication through Glyconutrients† and to provide antioxidant support from vitamin C.* MannaBears come in a combination of grape and mixed berry flavors and are naturally sweetened. They are a perfect alternative to today's refined sugars and other "junk" foods and will have kids—and adults—coming back for more!
Item: 73801
Associate/Preferred Customer Price: $209.93
PV: 196
Now is the time to get your fall and winter supply of everything Mannatech! Click the link below to view all of the amazing promotions on many of your favorite Mannatech products.
‡One Time orders only.  Not for Resale in Canada. While Supplies Last
FREE GROUND/STANDARD SHIPPING FOR ORDERS $100 USD AND OVER, PLACED BETWEEN AUGUST 26th AND SEPTEMBER 7th, ONE TIME ORDERS ONLY.
There will be no First Order Bonus for first orders placed for Mannafest promotional SKUs during this promotional period.
Orders may be redeemed using loyalty points, but will not generate loyalty points.
This special promotion is not subject to Mannatech's Satisfaction Guarantee. All sales final. No returns or exchanges.
†Glyconutrients are beneficial saccharides found in nature
*These statements have not been evaluated by the Food and Drug Administration. This product is not intended to diagnose, treat, cure or prevent any disease.
---
千万不要错过 MannaFest 2021 年度大促!
每年这个时候,我们不仅会告别酷暑,迎来凉爽秋日,还会在 MannaFest 2021 年度大促中目睹经销商们的兴奋和喜悦(尽管是在线上)。
为了庆祝此次活动,我们将针对您钟爱的美泰产品推出惊喜优惠。以下是一些可选的特价产品,供您预览!
ImmunoSTART 活性牛初乳咀嚼片 — 买 3 赠 2!
季节交替之际,应将免疫系统健康视为个人及家庭的重中之重!压力、不良饮食和不良睡眠习惯等都对免疫系统不利。ImmunoSTART® 活性牛初乳咀嚼片含丰富的营养素,可刺激和调节身体的自然免疫反应,帮助您达到完满的生活状态。*
货号:73601
经销商价:$119.97
PV:111
美泰睡眠健康支持 – 买 4 赠 4
现在囤购,立享钜惠!限时供应,不再补货
您知道吗?睡眠不足会损害免疫系统。* 美泰睡眠健康支持饮料可以镇定并舒缓神经系统,帮助缓解躁动不安的情绪,维持身体所需的深度睡眠。* 美泰的睡眠健康支持饮料是一种芳香、草本、舒缓和无依赖性的混合饮品,含有天然成分。它采用两种特殊混合成分科学配制:自然入睡混合成分和深度睡眠混合成分。*
自然入睡混合成分可以帮助您的身体和大脑放松,从而能够更快速入眠。深度睡眠混合成分旨在帮助您保持深度睡眠,因此您能够在醒来后感觉神清气爽和精力充沛。*
货号:73501
经销商价:$139.96
PV:132
新生代醣质营养素姜汁木槿口味 — 4 瓶装套组 — 立省 40%!
夏日限定口味,囤购从速,售完即止!
夏季时光接近尾声,新生代醣质营养素(姜汁木槿口味)也将不日下架!即刻囤购,立享美味!限量版口味含有口感润滑的木槿花果和具有舒缓温中功效的生姜,是一款可清神醒脑的夏季良品。全新热带口味美味而功效强大,为您的身体提供健康的细胞间通讯所需的支持,同时促进免疫系统和肠胃健康,提高认知能力,让您享受最佳状态。*
货号:73701
经销商价:$215.99
PV:202
美泰小熊糖醣质果胶软糖 — 买 7 赠 3!
今年秋天,如果您想寻觅一款可代替糖果的完美零食,那就即刻囤购美泰小熊糖醣质果胶软糖吧!美泰小熊糖醣质果胶软糖是一种小熊形状的多彩果胶软糖,不仅弹力十足,可口美味,还能通过醣质营养素†促进细胞通讯,利用维生素 C 提供抗氧化支持。*美泰小熊糖醣质果胶软糖已推出混合莓果和葡萄风味,味道天然香甜。这些软糖能够完美替代如今的精制糖和其他"垃圾"食品,成为儿童和成年人无限回购的心爱糖果!
货号:73801
经销商价:$209.93
PV:196
现在正是您为美泰产品进行秋冬囤购的大好时机!点击此链接查看所喜爱美泰产品的惊喜优惠活动。
‡仅限一次性订单。  不得在加拿大转售。售完为止。
8 月 26 日至 9 月 7 日,满 100 美元或以上的订单享受免费陆运/标准快递。仅限一次性订单。
在本次优惠活动中购买的MannaFest优惠SKUs产品将没有首购推荐奖金(FOB)。
本次促销可使用忠诚度积分兑换,但此次购买将不会产生忠诚度积分。
此优惠促销不受美泰满意度保证的约束。所有销售均为最终销售,一经售出恕不退款或换货。
†醣质营养素是源自天然的有益糖类
*此说明尚未经过食品药品监督管理局评估。本产品不可用于诊断、治疗、治愈或预防任何疾病。
---
¡No te pierdas nuestros ahorros promocionales durante MannaFest 2021!
Es el momento del año en el que no solo le decimos adiós al verano, damos la bienvenida a un clima más fresco, y vemos las caras sonrientes de nuestros Asociados (incluso si es de forma virtual), ¡en MannaFest 2021!
¡Para celebrarlo tenemos promociones increíbles en muchos de tus productos Mannatech favoritos! ¡Esta es una presentación preliminar de algunas de las maravillosas ofertas especiales de la que puedes escoger!
ImmunoStart—¡Compra 3, Llévate 2 GRATIS!
Conforme las estaciones cambian, ¡un sistema inmunitario saludable debe ser una prioridad principal para ti y para tu familia! Los problemas con el estrés, la mala alimentación y los malos hábitos de sueño no están ayudando a tu sistema inmunitario. Cargadas de nutrientes, las tabletas ImmunoSTART® ayudan a estimular e impulsar la respuesta inmunitaria natural del cuerpo para ayudarte a vivir al máximo.*
Producto: 73601
Precio para Asociados: $119.97
PV: 111
Sleep Support – Compra 4, Llévate 4 GRATIS
¡Súrtete y AHORRA! ¡Programado para Descontinuarse!
¿Sabías que dormir poco puede afectar tu sistema inmunitario?* Sleep Support de Mannatech puede calmar y relajar el sistema nervioso, calmarte si te sientes inquieto, y ayudar a que mantengas el sueño profundo que tu cuerpo necesita.* Sleep Support de Mannatech es una mezcla para una bebida aromática, herbal, relajante y no adictiva, que contiene ingredientes de fuentes naturales. Ha sido científicamente formulada con dos mezclas herbales especiales: la Mezcla para Conciliar el Sueño y la Mezcla para Sueño Profundo.*
Una Mezcla para Conciliar el Sueño puede ayudarle a tu cuerpo y mente a relajarse para que puedas conciliar el sueño más fácilmente.* La Mezcla para Sueño Profundo está diseñada para ayudarte a mantener un sueño profundo, para que puedas sentirte revitalizado/a y con energía cuando despiertes.*
Producto: 73501
Precio para Asociados: $139.96
PV: 132
Ambrotose LIFE Jamaica con Jengibre— Paquete de 40—¡Ahorros de 40 %!
¡Súrtete de este sabor limitado para el verano, antes de que se agoten las existencias!
¡El verano se acaba y también el Ambrotose LIFE® Jamaica con Jengibre! Súrtete hoy para disfrutar de una refrescante mezcla de verano con la refrescante flor de la jamaica y la calidez del jengibre. Delicioso pero al mismo tiempo poderoso, este nuevo sabor tropical ofrece el respaldo saludable que tu cuerpo necesita para la comunicación entre las células, así como respaldo inmunitario, cognitivo y gastrointestinal para ayudar a que te sientas de lo mejor.*
Producto: 73701
Precio para Asociados: $215.99
PV: 202
MannaBears – Compra 7, ¡Llévate 3 GRATIS!
Si estás buscando una alternativa más saludable para no abusar de las golosinas este otoño, ¡súrtete hoy de MannaBears! MannaBears son unas deliciosas gomitas de pectina con forma de oso, diseñadas no solo para ser deliciosas, sino también para respaldar la comunicación celular a través de Gliconutrientes† y para otorgar respaldo antioxidante de vitamina C.* MannaBears vienen en una combinación de sabores de uva y moras mixtas, y están endulzadas naturalmente. Son una perfecta alternativa a los azúcares refinados y a otros alimentos chatarra que existen hoy en día, ¡y tendremos niños (y adultos) pidiendo más!
Producto: 73801
Precio para Asociados: $209.93
PV: 196
¡Ahora es momento de surtirte con todo lo de Mannatech para el otoño y el invierno! Haz clic al siguiente enlace para ver las maravillosas promociones en muchos de tus productos favoritos de Mannatech.
¡CÓMPRALO AHORA!
¡CÓMPRALO AHORA!
‡Solo para pedidos únicos.  No para reventa en Canadá. Hasta agotar existencias.
ENVÍO TERRESTRE/ESTÁNDAR GRATUITO PARA PEDIDOS DE $100 DÓLARES O MÁS, LEVANTADOS ENTRE EL 26 DE AGOSTO Y EL 7 DE SEPTIEMBRE, SOLO PARA PEDIDOS ÚNICOS..
No habrá Bono de Primera Orden para los primeros pedidos levantados para los SKU promocionales de Mannafest durante este periodo de promoción.
Los pedidos pueden comprarse usando puntos de lealtad, pero no generarán puntos de lealtad.
Esta promoción especial no está sujeta a la Satisfacción Garantizada de Mannatech. Todas las ventas son finales. No se aceptan cambios ni devoluciones.
† Los Gliconutrientes son sacáridos benéficos que se encuentran en la naturaleza.
*Estas declaraciones no han sido evaluadas por la Administración de Alimentos y Medicamentos de Estados Unidos. Este producto no tiene la intención de diagnosticar, curar, tratar o prevenir ninguna enfermedad.