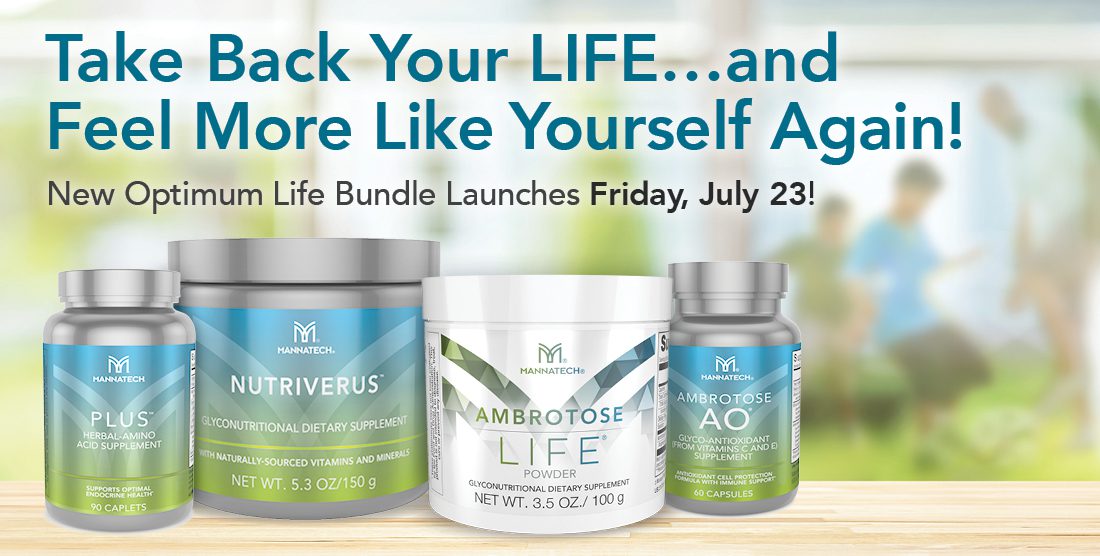 Get the Details on NEW Optimum Life Bundle!
It's a fact as we deal with changes and new stages in life, we might start to feel less energetic, foggy, irritable, disconnected and not recover as quickly or as well as we once did from exercise.
Our Optimum LIFE Bundle can help you take back your LIFE and get on track to feeling more like yourself again!
With proper cell-to-cell communication from Ambrotose LIFE®, you can start to feel better, and your body will function better. *
Ambrotose AO® provides the antioxidant support needed for your body to help guard against oxidative stress and the aging effects of free radicals. *
PLUS™ provides the essential endocrine support to help the body's natural recovery from physical and emotional stress and works in harmony with the body's immune system. *
We top it off with added essential nutrition from 12 different fruits and vegetables in Nutriverus™ to supplement even the healthiest of eaters! *
Get your Optimum LIFE Bundle to start feeling more like yourself again! Order now at Mannatech.com!
 Bundle Details
Includes:
1 Ambrotose LIFE (100g)
1 Ambrotose AO
1 Nutriverus
1 PLUS
Item Number: 57301
Associate/Preferred Customer Price: $204.99
Retail Price: $224.99
PV 192
Stay Tuned for this same bundle, but featuring Ambrotose® Complex…coming soon!
---
探寻全新美泰 Optimum LIFE 套组!
其实,当我们面临人生中出现的变化,踏上人生新阶段时,我们开始会感到乏力、迷茫、焦躁和无所适从,感觉身体不如以前恢复得快了,锻炼效果也不如以前好了。
美泰 Optimum LIFE 套组有助于您重焕生命活力,找回真正自我!
美泰新生代醣质营养素能够促进正常的细胞间通讯,服用后,您会感觉更棒,您的身体机能运转也会更通畅。 *
美泰醣质抗氧化胶囊为您的身体提供抗氧化支持,帮助您的身体抵御自由基的氧化应激和变老效应。*
美泰草本氨基酸片提供重要的内分泌系统支持,有助于身体从生理和心理压力中自然恢复,并且与身体的免疫系统很好地协调配合。*
此外,我们添加了提供12 种果蔬必需营养的美泰醣质果蔬营养粉,令即使是极为注意饮食健康的人也能从中得到营养补充!*
获取美泰 Optimum LIFE 套组,找回真正自我!立即在 Mannatech.com 上订购!
 套组详情
含有:
1 瓶美泰新生代醣质营养素(100 克)
1 瓶美泰醣质抗氧化胶囊
1 瓶美泰醣质果蔬营养粉
1 瓶美泰草本氨基酸片
货号:57301
经销商/优惠顾客价:$204.99
零售价:$224.99
PV 192
即将推出含经典型醣质营养素的套组,敬请留意!
*此说明尚未经过食品药品监督管理局评估。本产品不可用于诊断、治疗、治愈或预防任何疾病。
---
¡Entérate de los detalles del Nuevo Paquete para la Vida Óptima!
Es un hecho que conforme nos enfrentamos con cambios y nuevas etapas en nuestra vida es posible que nos sintamos con menos energía, algo desorientados, irritables, desconectados y que no nos recuperemos tan rápidamente del ejercicio como lo haciamos antes.
¡Nuestro Paquete Vida Óptima puede ayudarte a tomar control de tu VIDA y a volver al trayecto para sentirte como tú de nuevo!
Con la apropiada comunicación entre las células de Ambrotose LIFE®, puedes empezar a sentirte mejor y tu cuerpo funcionará mejor.*
Ambrotose AO® ofrece apoyo antioxidante necesario para que tu cuerpo ayude a protegerte del estrés oxidativo y de los efectos de envejecimiento de los radicales libres.*
PLUS™ ofrece el respaldo endócrino esencial para ayudar a la recuperación natural del cuerpo del estrés físico y emocional, y trabaja en armonía con el sistema inmunitario del cuerpo.*
¡Lo complementamos con nutrición esencial agregada de 12 diferentes frutas y vegetales en NutriVerus™ para suplementar incluso a las personas que se alimentan de la forma más saludable! *
¡Obtén tu Paquete Vida Óptima para empezar a sentirte más como tú mismo otra vez! ¡Haz tu pedido hoy mismo en mannatech.com!
 Detalles del Paquete
Incluye:
1 Ambrotose LIFE (100g)
1 Ambrotose AO
1 Nutriverus
1 PLUS
Número de producto: 57301
Precio para Asociados/Clientes Preferenciales: $204.99
Precio al Público: $224.99
PV 192
Mantente al pendiente para este mismo paquete, pero con Ambrotose® Complex… ¡pronto!
*Estas declaraciones no han sido evaluadas por la Administración de Alimentos y Medicamentos de Estados Unidos. Estos productos no tienen la intención de diagnosticar, curar, tratar o prevenir ninguna enfermedad.