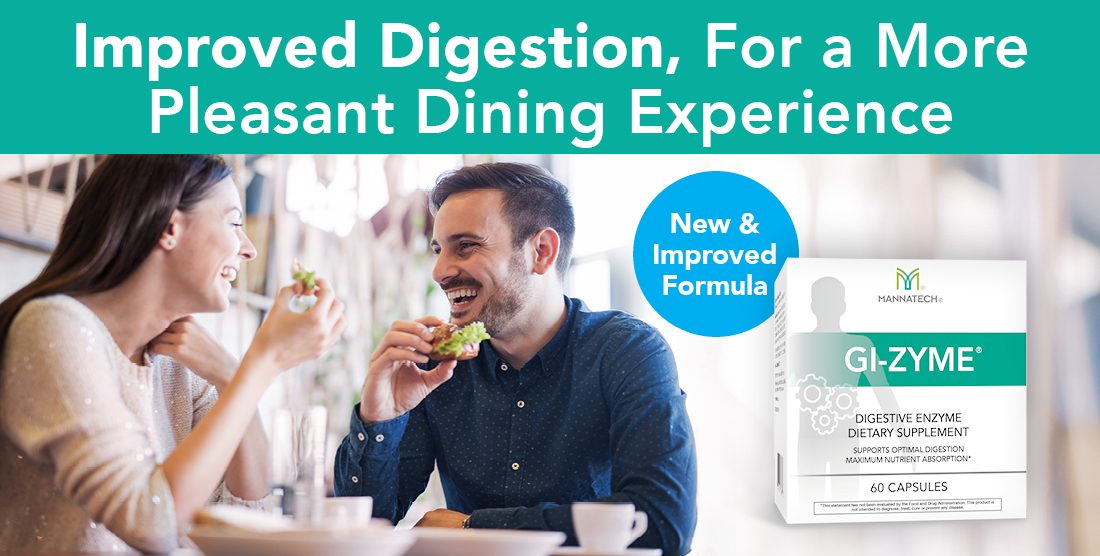 GI-Zyme® Is Now In Convenient Packaging with Improved Formula

Eating is even more enjoyable with our new and improved GI-Zyme capsules. They're designed to better support your digestion with more key ingredients and added benefits of Glyconutrients!†* Now packaged in convenient travel-friendly blister packs, GI-Zyme is easy to tuck in your purse or pocket to carry with you wherever you dine.
With this new and improved formula, you will enjoy these added benefits:
Removed peptidase and added bromelain to support digesting proteins.*
Increased alpha-galactosidase for additional support in digesting carbohydrates.*
Added Manapol®, Arabinogalactan Gum Tragacanth and Acacia Gum.
Packaged in more convenient blister packs.
At Mannatech, we care about your digestive health. That's why we constantly look for innovative ways to make a great product even better.
†Glyconutrients are beneficial saccharides found in nature.
---
美泰酵素胶囊改进了配方和包装,便于携带
服用我们改进的全新配方的美泰酵素胶囊会令您用餐更愉快。专门为了更好地促进消化而设计,提供更多的关键成分和额外的醣质营养素† 益处!* 美泰酵素胶囊现在采用方便携带的塑膜包装,无论何地用餐,都方便随身携带,甚至可以放入手袋或口袋。
改进的全新配方具有以下益处:
去除肽酶并添加菠萝蛋白酶以促进蛋白质的消化。*
增加 α-半乳糖苷酶对碳水化合物是消化提供额外支持。*
增加了美泰醣质芦荟萃取粉、阿拉伯半乳聚糖、黄芪胶和阿拉伯树胶。
采用更便捷的塑膜包装。
美泰真正关心您的消化健康。这就是我们不断寻找创新方法,致力于使每款优质产品至臻完善的初衷。
†醣质营养素是来自大自然的有益糖化物。*此说明尚未经过食品药物管理局评估。本产品不可用于诊断、治疗、治愈或预防任何疾病。
---
GI-Zyme ahora en conveniente empaque con fórmula mejorada
Comer es ahora más disfrutable con nuestras nuevas y mejoradas cápsulas GI-Zyme. Están diseñadas para respaldar de mejor forma tu digestión con más ingredientes claves y beneficios añadidos de Gliconutrientes†!* Ahora empacadas en blísteres que las hacen conveniente para viajar, las cápsulas GI-Zyme ahora fácilmente caben en tu bolso de mano o en la bolsa de tu pantalón para llevarlas a cualquier lugar en donde vayas a comer.
Con esta nueva y mejorada fórmula, disfrutarás de estos beneficios agregados:
Eliminamos la peptidasa y agregamos bromelaína para respaldar la digestión de proteínas.*
Incrementamos la alfa-galactosidasa para respaldo adicional al digerir los carbohidratos.*
Agregamos Manapol®, arabinogalactano, goma de tragacanto, goma de acacia.
Empacados en convenientes blísteres.
En Mannatech, nos enfocamos en la salud digestiva. Es por eso que constantemente buscamos innovadoras formas de mejorar los productos que ya son maravillosos.
†Los Gliconutrientes son sacáridos benéficos que se encuentran en la naturaleza.*Estas declaraciones no han sido evaluadas por la Administración de Medicamentos y Alimentos de Estados Unidos. Este producto no tiene la intención de diagnosticar, curar, tratar o prevenir ninguna enfermedad.
---
GI-Zyme, 향상된 포뮬러로 편리한 패키지로 즐기기
새롭고 향상된 GI-Zyme 캡슐과 함께라면 더 즐거운 식사 시간이 됩니다. 여전히 훌륭하고  더 많은 주요 성분은 물론 효과가 추가된 글리코뉴트리션†과 함께 더 나은 소화를 위해 만들어졌습니다!* 이제 편리한 여행용 블리스터 팩으로 포장된 GI-Zyme은 지갑이나 주머니에 쉽게 들어가 식사 장소에 관계없이 휴대할 수 있습니다.
새롭게 향상된 이 포뮬러를 통해 다음과 같이 추가된 효과를 즐길 수 있습니다.
단백질 분해를 지원하기 위해 펩티다아제를 빼고 브로벨라인을 첨가했습니다.*
탄수화물 소화를 추가로 지원하기 위해 알파-갈라토시다아제를 늘렸습니다.*
Manapol®, 아라비노갈락탄 검 트라가칸스 및 아카시아 검이 추가되었습니다.
더 편리한 블리스터 팩으로 포장되었습니다.
매나테크가 여러분의 소화 건강을 생각합니다. 그렇기 때문에 우수한 제품을 더 개선하기 위한 혁신적인 방법을 지속적으로 찾고 있습니다.
†당영양소는 자연에서 발견한 유익한 당류입니다.
*이러한 진술은 미국식품의약국의 평가에 의한 것이 아닙니다. 본 제품은 어떠한 질병의 진단, 처치, 치료 또는 예방의 의도를 가지고 있지 않습니다.지 않습니다.