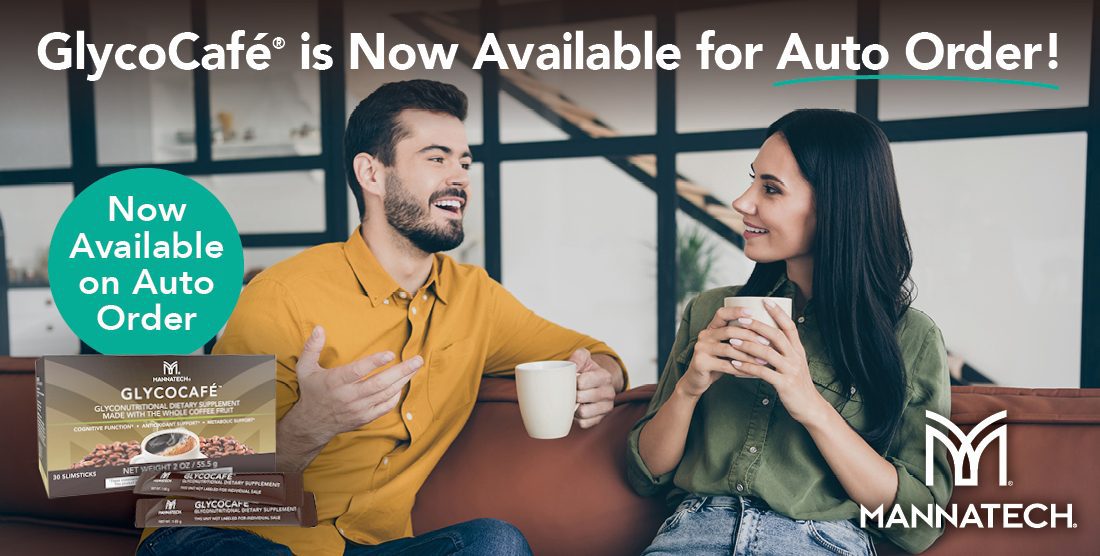 GlycoCafé® is Now Available for Automatic Order!
We know how popular GlycoCafé® coffee (SKU 18501) is, and we have great news — it's now being offered on Automatic Order beginning September 14th! That's right, the healthy energy and extra antioxidant, cardiovascular and cognitive support you need for a better day is available for only $29.99 for Associates and Preferred Customers.*
Why GlycoCafé?
By using all parts of the coffee fruit for their unique properties, Mannatech has created the most complete coffee in the world—with the added benefits of nutrients from nature.*
Crafted using a blend of organic Arabica beans, containing antioxidant-rich Coffeeberry® Brand coffee fruit, metabolism-boosting green coffee and infused with Glyconutrients†, GlycoCafé coffee doesn't just give you a delicious boost to get through your morning it provides a health-filled boost for the entire day!‡*
What can GlycoCafé do for your coffee routine?
Improves cognitive function.*
Provides superior antioxidant support.*
Supports a healthy metabolism.*
Supports your cardiovascular system.*
Provides polyphenols and is infused with Glyconutrients.
Plus, GlycoCafé coffee is natural and free of gluten, soy, dairy additives, MSG and fillers.
So, enjoy GlycoCafé coffee hot and fresh, or over ice for a refreshing, chilled drink. And don't forget to keep it coming.
Place your GlycoCafé on Automatic Order today!
† Glyconutrients are beneficial saccharides found in nature.
‡ Coffeeberry® Brand coffee bruit products are protected by US and foreign patents and pending applications. Coffeeberry® is a registered trademark of VDF FutureCeuticals, Inc. used under license.
---
¡El GlycoCafé® está ahora disponible para Órdenes Automáticas!
Sabemos lo popular que es el café GlycoCafé® (SKU 18501), y te tenemos maravillosas noticias — ¡ahora está disponible para Órdenes Automáticas a partir del 14 de septiembre! Escuchaste bien, la energía saludable y extra antioxidante, con respaldo cardiovascular y cognitivo que necesitas para un mejor día, está disponible solo por $29.99 dólares para asociados y clientes preferenciales. *
¿Por qué GlycoCafé?
Al usar todas las partes de la fruta del café por sus propiedades únicas, Mannatech ha creado el café más completo en el mundo, con los beneficios agregados de los nutrientes de la naturaleza.*
Creado utilizando una mezcla de granos Arábica, contiene la fruta de café de marca Coffeeberry® rica en antioxidantes, café verde para impulsar el metabolismo, y la infusión de Gliconutrientes, el GlycoCafé no solo te ofrece un delicioso impulso durante la mañana, ¡sino que también te ofrece un estímulo lleno de salud durante todo el día!*
¿Qué puede hacer el GlycoCafé para tu rutina de café?
Mejora la función cognitiva.*
Otorga superior respaldo antioxidante.*
Promueve un metabolismo saludable.*
Respalda tu sistema cardiovascular.*
Ofrece polifenoles y tiene Gliconutrientes.
Además, el café GlycoCafé es natural y libre de gluten, soya (soja), aditivos de lactosa, OGM y rellenos.
Entonces, disfruta GlycoCafé café caliente y fresco, o sobre hielo como una bebida helada y refrescante. Y no olvides de contar siempre con él.
¡Pon tu GlycoCafé en orden automática hoy mismo!
† Los Gliconutrientes son sacáridos benéficos que se encuentran en la naturaleza.
‡ Los productos de la fruta de café marca Coffeeberry® están protegidos por patentes de EE. UU. y extranjeras, y por solicitudes de patente en trámite. Coffeeberry® es una marca registrada de VDF FutureCeuticals, Inc. Utilizada bajo licencia.
---
美泰醣质咖啡粉现可加入自动订单了!
大家都知道,美泰醣质咖啡粉(SKU 18501)备受大家的欢迎程度,所以我们现在为大家带来了一个好消息——自 9 月 14 日起,您可把它加入自动订单了!没错,经销商和优惠顾客现在只需支付 29.99 美元就可获得身体所需的健康能量、额外的抗氧化剂、心血管和认知支持了。*
为什么选择美泰醣质咖啡粉?
美泰将咖啡果物尽其用,利用咖啡果各部分特有属性打造出世界上成分最完全的咖啡,而且是富含来自大自然的营养成分。
美泰醣质咖啡粉以有机阿拉伯咖啡豆(一种富含抗氧化剂的 Coffeeberry® 品牌咖啡果)以及可促进新陈代谢的绿咖啡为原料,加入醣质营养素† 精心研制而成,不仅可作为清晨的美味提神剂,而且能让您一整天保持健康状态,充满活力!‡*
日常冲兑并饮用美泰醣质咖啡粉有哪些好处?
 改善认知功能。*
卓越的抗氧化功效。*
支持健康的新陈代谢。*
帮助保持心血管系统健康。*
 提供多酚,而且加入了醣质营养素。
另外,美泰醣质咖啡粉是纯天然的,不含麸质、大豆、乳制品添加剂、味精和添加物。
所以请放心使用美泰醣质咖啡粉,调制一杯新鲜温热,或是冰爽清凉的咖啡吧。也别忘了定时给自己补货。
现在就将美泰醣质咖啡粉加入您的自动订单!
† 醣质营养素是来自大自然的有益糖化物。
‡ Coffeeberry® 品牌咖啡美国产品受已获及正在申请的美国和国外专利的保护。Coffeeberry® 是 VDF FutureCeuticals, Inc.公司 的注册商标,根据授权使用。