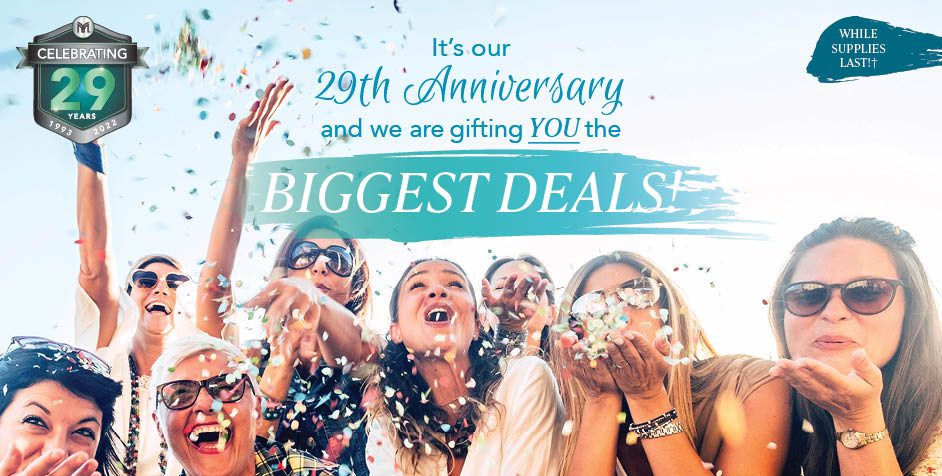 Happy 29th Anniversary! Celebrate and Save BIG with us.
Join the party with this amazing DEAL! It's our 29th Anniversary and it's not a celebration if we aren't giving back to you! It's a great time to treat yourself or even get started on that holiday gift list for your loved ones with these special once a year Anniversary prices!
 Celebrate & Hydrate BUNDLE FLASH SALE – Buy Emprizone® & FIRM with Ambrotose® for only $29.99
 Celebrate and hydrate your skin by taking advantage of this awesome Limited Time Offer! Our Celebrate and Hydrate Bundle combines the soothing herbal richness of FIRM with Ambrotose with the gentle refreshing botanical ingredients of Emprizone gel to leave your skin feeling fully refreshed and extremely soft. Don't miss out, this amazing Anniversary offer only runs from November 2nd-3rd ! LIMIT 2 PER ORDER.  Stock up WHILE SUPPLIES LAST! †
SKU: 69601 (US) / 69611 (CA)
Associate/Preferred Customer Price: $29.99
PV 30
†LIMIT 2 PER ORDER. NOT FOR RESALE IN CANADA. ORDERS CANNOT BE REDEEMED USING LOYALTY POINTS.  THERE WILL BE NO FIRST ORDER BONUS FOR FIRST ORDERS OF THIS PROMOTIONAL ITEM DURING THIS PROMOTIONAL PERIOD AND/OR WHILE SUPPLIES LAST. ALL SALES FINAL.  
*These statements have not been evaluated by the Food and Drug Administration. These products are not intended to diagnose, treat, cure or prevent any disease.
---
29 周年快乐!携手同庆,欢享钜惠。
惠聚盛典,不容错过!29 周年纪念日即将到来,庆典活动当然少不了感恩回馈!一年一度的周年特惠来袭,是时候好好款待自己,着手为所爱的人准备节日礼物了!
 周年庆典补水套组限时抢购 – Emprizone 多醣芦荟胶和 FIRM with Ambrotose 多醣润肤霜套组只需 29.99 美元
 乐享周年,不忘肌肤补水。限时特惠,机会难得!我们的周年庆典补水套组包括富含舒缓草本成分的 FIRM with Ambrotose 多醣润肤霜和采用温和清新植物成分的 Emprizone 多醣芦荟胶,能够有效让您的肌肤保持清爽和柔软。周年纪念特惠活动仅于 11 月 2日至 3 日期间举行,机不可失!每单限购 2 件。欲购从速,售完即止!†
SKU/货号:69601 (US) / 69611 (CA)
经销商/优惠顾客价:99 美元
PV 30
†每单限购 2 件。不得在加拿大转售。不可使用忠诚度积分兑换订单。本次促销期间(售完即止),订购此促销产品将不享受首购推荐奖金。所有销售均为最终销售。
*此说明尚未经过食品药品监督管理局评估。本产品不可用于诊断、治疗、治愈或预防任何疾病。
---
¡Feliz Aniversario 29! Celebra y Ahorra en GRANDE con nosotros.
 ¡Únete a la fiesta con estas OFERTAS increíbles! ¡Es nuestro aniversario 29 y no es una celebración si no la compartimos contigo! ¡Es un momento maravilloso para consentirte e incluso empezar a comprar para tus regalos de Navidad para tus seres amados con estos precios especiales que ocurren solo una vez al año!
 OFERTA FLASH, PAQUETE Celébrate e Hidrata – Compra Emprizone® & FIRM with Ambrotose® por solo $29.99
¡Celebra e hidrata tu piel tomando ventaja de esta increíble oferta limitada! Nuestro Paquete Celebra e Hidrata combina la reconfortante riqueza herbal de FIRM with Ambrotose con los suaves refrescantes ingredientes del gel Emprizone para dejar tu piel sintiéndose totalmente refrescada y extremadamente suave. ¡No te pierdas esta impresionante oferta de Aniversario que solo ocurrirá el 1 y el 2 de noviembre! LÍMITE DE 2 POR PEDIDO.  ¡Súrtete HASTA AGOTAR EXISTENCIAS! †
SKU: 69601 (US) / 69611 (CA)
Precio para Asociados/Clientes Preferenciales: $29.99
PV 30
†LÍMITE DE 2 POR PEDIDO. SOLO PARA PEDIDOS ÚNICOS. NO PARA REVENTA EN CANADÁ. LOS PEDIDOS NO PUEDEN PAGARSE USANDO PUNTOS DE LEALTAD.  NO HAY BONO DE PRIMERA COMPRA PARA LOS PRIMEROS PEDIDOS CON ESTE ARTÍCULO PROMOCIONAL DURANTE ESTE PERIODO DE PROMOCIÓN Y/O HASTA AGOTAR EXISTENCIAS. TODAS LAS VENTAS SON FINALES.
*Estas declaraciones no han sido evaluadas por la Administración de Alimentos y Medicamentos de Estados Unidos. Estos productos no tienen la intención de diagnosticar, curar, tratar o prevenir ninguna enfermedad.