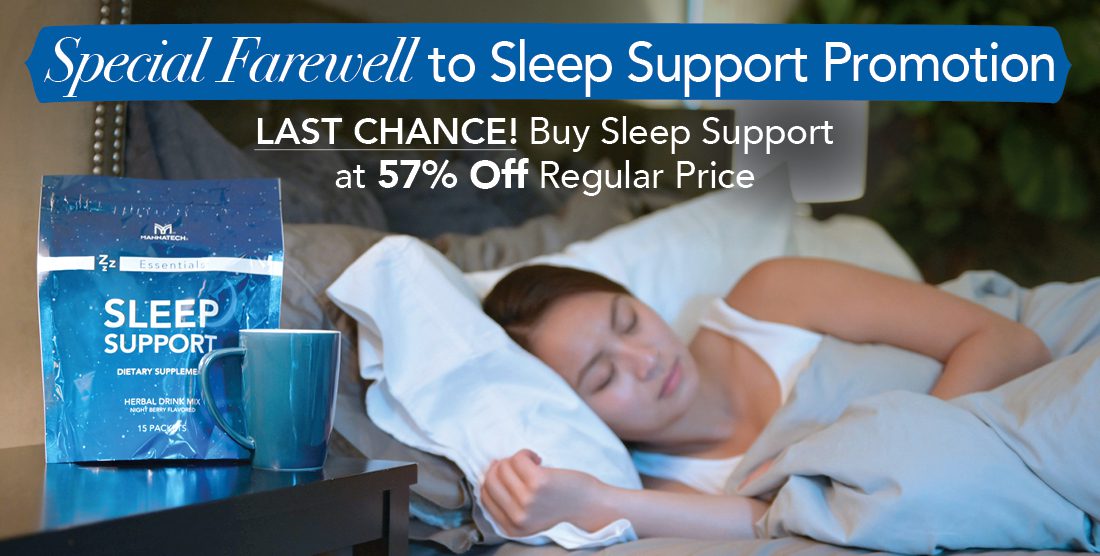 Important Product Announcement Regarding Sleep Support
As previously communicated, Mannatech's Sleep Support® (# 58401) will be discontinued effective November 1st or while supplies last.
As we prepare to say farewell, we want to offer you the opportunity to sleep easy and take advantage of great savings with a very special price of only $14.99/PV 14 (#58301). This offer is only good for One Time Orders and is not applicable for Automatic Orders.
Please be aware if your Monthly Subscription includes Sleep Support, we encourage you to update it soon so that your monthly qualification volumes are not impacted by the upcoming discontinuation of the Sleep Support product. Please visit Mannatech.com or contact Customer Care at one of the phone numbers below to update your account.
English (800) 281-4469
Chinese (866) 266-9812
Spanish (800) 472-0149
As always, we are here to offer you our help and support and answer any of your questions.
Again, supplies are limited so stock up and save! Get yours today at Mannatech.com
---
有关睡眠支持产品的重要通告
正如之前提及,美泰的睡眠支持 (# 58401) 将自 11 月 1 日起停产,产品供应持续到存货售完为止。
我们的助眠产品即将下架,借此机会,我们提供特别的优惠。产品售价仅$14.99/PV 14 (#58301)。立省 57%!本优惠仅适用于一次性订单,不适用于自动订单。
请注意,如果您的自动订单包含睡眠支持产品,我们建议您尽快更新,以免您的每月订购量受到该产品不久后停产的影响。请访问 Mannatech.com 或拨打下面的电话号码联系客户服务中心,更新您的帐户。
英语 (800) 281-4469
中文 (866) 266-9812
西班牙语 (800) – 472 – 0149
我们将一如既往为您提供帮助和支持,解答您的问题。
存货有限,欲购从速!立即在 Mannatech.com 上订购
---
Importante anuncio de producto sobre Sleep Support
Como lo anunciamos previamente, Sleep Support de Mannatech (# 58401) será descontinuado a partir del 1.o de noviembre o hasta agotar existencias.
Conforme nos preparamos para decirle adiós a Sleep Support, queremos ofrecerte la oportunidad de dormir a pierna suelta y tomar ventaja de maravillosos ahorros con un precio muy especial de $14.99/PV 14 (#58301). ¡Eso equivale a un 57 % de AHORROS! Esta oferta es solo válida para Pedidos Únicos no aplica para la Suscripción Mensual (Órdenes Automáticas).
Por favor, ten en cuenta que si tu Suscripción Mensual incluye Sleep Support, te motivamos a que la actualices pronto para que tus volúmenes mensuales de calificación no se afecten con la próxima descontinuación del producto Sleep Support. Por favor, visita Mannatech.com o contacta Atención a Clientes a uno de los números de teléfono que aparecen a continuación para actualizar tu cuenta.
Inglés (800) 281-4469
Chino (866) 266-9812
Español (800) 472-0149
Como siempre, estamos aquí para ofrecerte nuestra ayuda y respaldo, y para responder todas tus preguntas.
 ¡INICIA SESIÓN y COMPRA AHORA!
Nuevamente, las existencias son limitadas, así que, ¡súrtete y ahorra! Haz tu pedido en Mannatech.com hoy mismo.