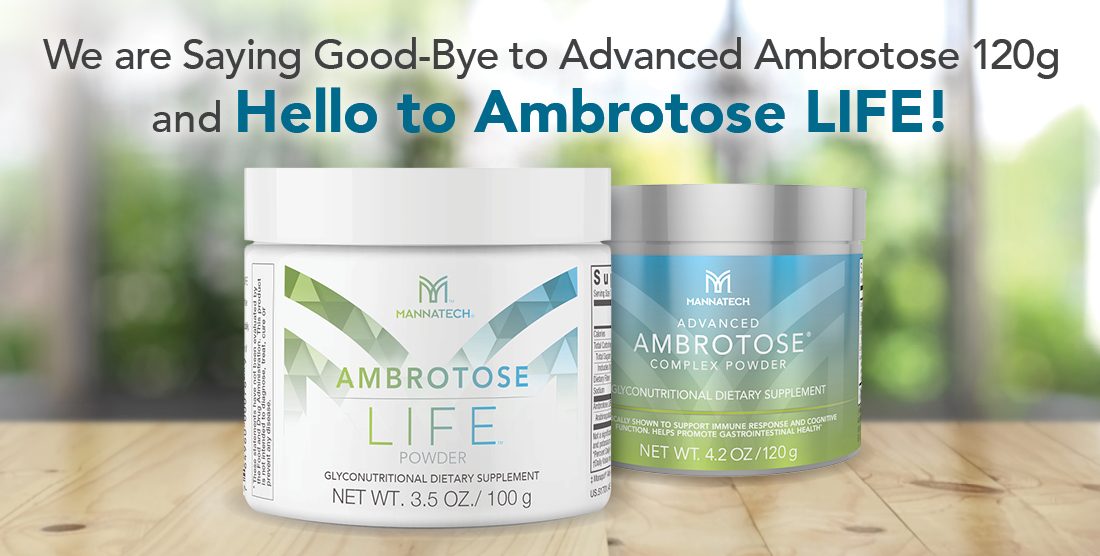 Important Product Announcement: We are Saying Goodbye to Advanced Ambrotose 120g and Hello to Ambrotose LIFE!
As previously communicated, Advanced Ambrotose® 120g (#33201) will be discontinued by the end of 2020. As we say goodbye to the old, we welcome the chance to offer more of the excellent quality and value that you expect through Mannatech. As of November 16, 2020 your auto order for Ambrotose Advanced 120g will be automatically swapped out for Ambrotose LIFE® powder (#51701).
Please note that this swap will also be implemented on the following value bundles: Advanced Ambrotose and OSP (#57001),  Ambrotose 2X and OSP (#51601), Ambrotose Buy 8 Get 2 Free (#55101), Core Nutrition (#54401), 50801 Your Health (#50801), and Repair and Replenish Health (#17201).
Please be aware this swap will happen without any action on your part, without any delay in delivery and without any increase in price. This change will provide our auto order customers with the opportunity to experience Ambrotose LIFE, which is a far superior version of the current Advanced Ambrotose at the same price.
What makes Ambrotose LIFE the superior formula?
Ambrotose LIFE offers 2x the Manapol® powder per gram than Advanced Ambrotose.
It contains the most scientifically studied Modified Citrus Pectin on the market, which provides a source of pectin and sodium alginate from kelp* (which is not found in Advanced Ambrotose).
It provides a stabilized rice bran fiber in replacement of rice starch—the same type of nutrient dense rice bran fiber featured in NutriVerusTM powder, which contains Glycans and fiber.*
At Mannatech we care about providing you with the highest quality products to support your health.* Please contact Customer Care with any questions at custserv@mannatech.com
---
重要产品通知:我们将停止美泰加强型醣质营养素粉 120 g 供货并用新生代醣质营养素作为替代品!
如前所述,美泰加强型醣质营养素 120g (#33201) 将于 2020 年底停止供货。在您告别旧款产品的同时将有机会获得美泰提供的更多具有卓越品质和价值的产品。从 2020 年 11 月 16 日起,您的美泰加强型醣质营养素 120g 自动订单将自动替换成新生代醣质营养素 (#51701)。
请注意,本次产品替换也适用于以下超值套组:美泰加强型醣质营养素和美泰健康包 (#57001)、2X醣质营养素和美泰健康包 (#51601)、醣质营养素买 8 赠 2 (#55101)、核心营养 (#54401)、50801 健康礼包 (#50801) 和修复养颜 (#17201)。
请注意,本次产品替换不需要您采取任何行动,不会延迟交货,也不会提高价格。这一变化将为我们的自动订单客户提供体验新生代醣质营养素的机会,新生代醣质营养素是当前美泰加强型醣质营养素在相同价格下的高级版本。
新生代醣质营养素具备最佳配方的原因是什么?
新生代醣质营养素每克的美泰醣质芦荟萃取粉含量是美泰加强型醣质营养素的两倍。
含有市面上科研成果最先进的改性柑橘果胶,是您获取从海藻中提取的果胶和海藻酸钠的来源*(这是美泰加强型醣质营养素不具备的)。
提供含聚糖和纤维的稳定米糠纤维,而不是米糠淀粉—该米糠纤维与美泰醣质果蔬营养粉中营养丰富的米糠纤维类型相同。*
美泰致力于为您提供最优质的产品,帮助您保持健康。* 如有任何问题,请联系我们的客服 custserv@mannatech.com
*此说明尚未经过食品药物管理局评估。本产品不可用于诊断、治疗、治愈或预防任何疾病。
---
Importante anuncio sobre producto: ¡Nos estamos despidiendo del Advanced Ambrotose 120g y dándole la bienvenida a Ambrotose LIFE!
Como lo comunicamos previamente, Advanced Ambrotose® 120g (#33201) será descontinuado a finales de 2020. Al tiempo en que le decimos adiós a lo viejo, le damos la bienvenida a la oportunidad de ofrecer más de la excelente calidad y valor que esperas a través de Mannatech. A partir del 6 de noviembre de 2020, tu Orden Automática para Advanced Ambrotose 120g cambiará automáticamente para el polvo Ambrotose LIFE® (#51701).
Por favor, toma en cuenta que este cambio también se implementará para los siguientes paquetes: Advanced Ambrotose y OSP (#57001),  Ambrotose 2X y OSP (#51601), Ambrotose Compra 8 Llévate 2 Gratis (#55101), Nutrición Principal (Core Nutrition) (#54401), 50801  Tu Salud (Your Health) (#50801), y Repara y Reconstruye (Repair and Replenish Health) (#17201).
Por favor, ten en cuenta que este cambio en los productos ocurrirá sin ninguna acción de tu parte, sin retraso en la entrega y sin incremento en el precio. Este cambio ofrecerá a nuestros clientes con Orden Automática la oportunidad de probar el Ambrotose LIFE, que es una versión muy superior de nuestro actual Advanced Ambrotose, al mismo precio.
¿Qué hace que Ambrotose LIFE sea una versión superior?
Ambrotose LIFE ofrece 2 veces más polvo Manapol® por gramo que el Advanced Ambrotose.
Contiene la pectina cítrica modificada más estudiada científicamente, lo que ofrece una fuente confiable de pectina y alginato de sodio (¡de algas!)* (que no se encuentra en el Advanced Ambrotose).
Ofrece un salvado de arroz estabilizado, remplazando el almidón de arroz; el mismo tipo de salvado de arroz rico en nutrientes que contiene nuestro polvo NutriVerusTM, que contiene glicanos y fibra.*
En Mannatech estamos comprometidos con ofrecerte productos de la más alta calidad para respaldar tu salud.*  Por favor, llama a Atención a Clientes si tienes cualquier pregunta, a los custserv@mannatech.com
*Estas declaraciones no han sido evaluadas por la Administración de Medicamentos y Alimentos de Estados Unidos. Estos productos no tienen la intención de diagnosticar, curar, tratar o prevenir ninguna enfermedad.