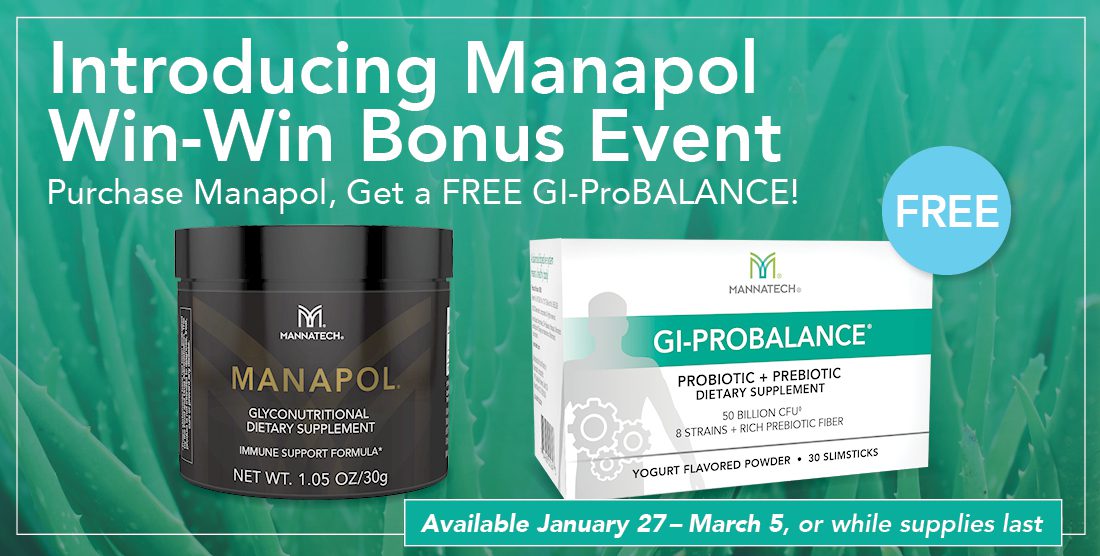 Introducing Manapol Win-Win Bonus Event
What could be better than supporting your body's immune function with the purest Acemannan available with Manapol®? When you receive a FREE box of GI-ProBalance® Slimsticks when you purchase Manapol!
Support Your Immune System and Your Gut*
That's why we call it the Manapol Win-Win Bonus Event because you win with both immune support and gut health—in one power-packed bundle.*
It's no secret that your immunity begins in the gut, and that's why a healthy combination of prebiotic and probiotics work to support your digestive system. Each tasty and convenient GI-ProBalance Slimstick is formulated to support the natural balance of good bacteria for your microbiome.*
Get a box of GI-ProBalance® Slimsticks for FREE when you buy Manapol!
US/CA NFR
Item Number: 75801
Retail: $321.99; Associate $229.99; PV 230
Promotion dates: January 27 – March 5 (or while supplies last)
One Time Orders only
Cannot be purchased using Loyalty Points
This special promotion is not subject to Mannatech's Satisfaction Guarantee.
All sales final. No returns or exchanges.
介绍美泰醣质芦荟萃取粉双重营养福利活动
 美泰醣质芦荟萃取粉可提供纯度非常高的乙酰甘露聚糖,还有比其更有益人体免疫功能的产品吗?当然是在购买美泰醣质芦荟萃取粉时,免费获赠一盒美泰益生菌粉搭配服用!
支持肠道和免疫系统*
只需一套组合,便能为肠道和免疫系统提供强大的健康支持,正因如此,本次活动才定名为"美泰醣质芦荟萃取粉双重营养福利活动"。*
众所周知,人体免疫力始于肠道,因此,益生元和益生菌健康组合,有助于支持消化系统。*美泰益生菌粉配方促进人体有益微生物菌群实现自然平衡,服用方便,可口美味。*
购买美泰醣质芦荟萃取粉,将免费获赠一盒美泰益生菌粉!
不得在美国/加拿大转售
货号:75801
零售价:$321.99;经销商价格 $229.99;PV 230
促销时间:1 月 27 日 – 3 月 5 日(或售罄为止)
仅限一次性订单
不可使用忠诚积分购买
本次特惠促销活动不受美泰满意度保证约束。
所有销售均为最终销售,一经售出恕不退款或换货。
*此说明尚未经过食品药物管理局评估。本产品不可用于诊断、治疗、治愈或预防任何疾病。