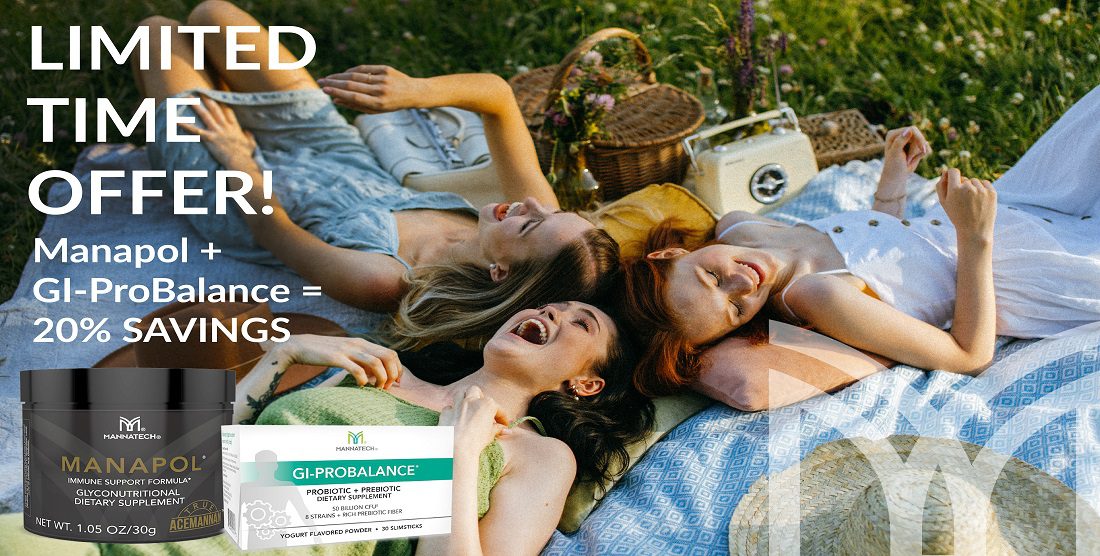 LIMITED TIME OFFER: SAVE 20% on Manapol + GI-ProBalance
Immune support and probiotic support can be yours at an incredible 20% OFF! From September 2-16, we're offering special savings on Manapol® AND GI-ProBalance® when they're bought as a pair.
LIMITED TIME OFFER, TWO FAN FAVORITES, ONE AMAZING PRICE
Offer starts: 12 a.m. CST September 2, 2022
Offer ends: 11:59 p.m. CST September 16, 2022
WHAT YOU'LL RECEIVE
1 jar of Manapol Immune Support Formula
1 box of GI-ProBalance Probiotic + Prebiotic Dietary Supplement
PLUS, 209 PV!
 WHY YOU'LL LOVE THEM
Manapol FOR IMMUNE SUPPORT*
When coupled with GI-ProBalance, the prebiotics in Manapol Immune Support Formula are like a fertilizer to help feed and promote the growth and nourishment of healthy probiotic bacteria in the gut in providing natural support to your immune system, all while using gut-nourishing Costa Rican Aloe — nature's perfect prebiotic.*
GI-ProBalance® FOR PROBIOTIC SUPPORT*
Tasty and convenient, GI-ProBalance slimsticks are designed to nourish your gut with eight strains of probiotics and rich prebiotic fibers.* GI-ProBalance supports the natural balance of good bacteria in your gut microbiome and helps to maintain healthy digestion with a probiotic count of 50 Billion CFU.*†
 WHAT YOU'LL SAVE
You'll SAVE BIG on retail pricing for these two popular products during the promotional period! Place your order for these best-sellers before time runs out.
Retail Price: $282.99
Member Price: $208.99 — SAVE $74!
Available for one-time orders only between 12 a.m. CST September 2, 2022, and 11:59 p.m. CST September 16, 2022.
*These statements have not been evaluated by the Food and Drug Administration. These products are not intended to diagnose, treat, cure or prevent any disease.
†Contains 50 Billion organism (at time of manufacture)
---
限时抢购:购买美泰醣质芦荟萃取粉 + 美泰益生菌粉组合立省 20%
不仅能为身体带来免疫支持和益生菌支持,还能享受 20% 钜惠折扣!9 月 2 日至 9 月 16 日期间,组合购买美泰醣质芦荟萃取粉和美泰益生菌粉,即可立享特惠折扣。
限时抢购,明星产品,钜惠折扣
优惠起始时间:2022 年 9 月 2 日午夜 12 点 (CST)
优惠结束时间:2022 年 9 月 16 日晚上 11:59 (CST)
 您将收到以下产品
1 罐免疫力增强配方美泰醣质芦荟萃取粉
1 盒美泰益生菌粉 + 益生元膳食补充剂
附赠 209 PV!
 深受青睐的原因
美泰醣质芦荟萃取粉,增强免疫力*
与美泰益生菌粉搭配使用时,美泰醣质芦荟萃取粉免疫力增强配方内含的益生元就会像肥料一样,能够帮助养护肠道中的健康益生菌,促进它们生长,为您的免疫系统提供天然支持,而这一切都源于具有肠道滋养功效的完美天然益生元 – 哥斯达黎加芦荟。*
美泰益生菌粉,专用于益生菌支持*
袋装美泰益生菌粉既方便又美味,更含有八种益生菌和丰富的益生元纤维,专为滋养肠胃而研制。*美泰益生菌粉可促使人体肠道微生物群中的有益菌保持自然平衡,并能够通过 500 亿 CFU 的益生菌计数,帮助维持消化系统健康。*†
 您将尊享以下优惠
促销期间,您作为经销商,可以享受这两款热卖产品的零售价钜惠!请在优惠结束之前,尽快订购这些畅销产品。
零售价:282.99 美元
经销商价:208.99 美元 – 立省 74 美元!
本优惠仅适用于活动期间的一次性订单,活动时间为 2022 年 9 月 2 日午夜 12 点 (CST) 至 2022 年 9 月 16 日晚上 11:59 (CST)。
*此说明尚未经过食品药品监督管理局评估。本产品不可用于诊断、治疗、治愈或预防任何疾病。
†含有 500 亿有机物(出厂时)
---
¡OFERTA DE TIEMPO LIMITADO!: Ahorra un 20 % en Manapol + GI-ProBalance
¡Respaldo inmunitario y probiótico que puede ser tuyo con un increíble 20 % de DESCUENTO! Del 2 al 16 de septiembre, estamos ofreciendo ahorros especiales en Manapol® Y GI-ProBalance® cuando se compran como un par.
OFERTA DE TIEMPO LIMITADO, DOS FAVORITOS DE NUESTROS SEGUIDORES, A UN PRECIO INCREÍBLE
La oferta inicia: 12:00 a. m. Tiempo del Centro, 2 de septiembre de 2022
La oferta termina: 11:59 p. m. Tiempo del Centro, 16 de septiembre de 2022
 LO QUE RECIBIRÁS
1 frasco de la Fórmula de Respaldo Inmunitario de Manapol
1 caja del suplemento alimenticio Probiótico y Prebiótico GI-ProBalance
¡ADEMÁS DE 209 EN PV!
 POR QUÉ TE ENCANTARÁN
Manapol PARA APOYO INMUNITARIO*
Cuando se combina con el GI-ProBalance, los prebióticos en la fórmula de respaldo inmunitario Manapol son como un fertilizante que ayuda a alimentar y promover el crecimiento y la nutrición de bacteria probiótica saludable en el tracto gastrointestinal, otorgando respaldo natural a tu sistema inmunitario, todo mientras usamos el aloe de Costa Rica que alimenta el sistema gastrointestinal — el prebiótico perfecto de la naturaleza.*
GI-ProBalance® PARA RESPALDO PROBIÓTICO*
Deliciosos y convenientes, los paquetes individuales GI-ProBalance slimsticks están diseñados para alimentar tu tracto gastrointestinal con 8 cadenas de ricas fibras de probióticos y prebióticos.* GI-ProBalance respalda el equilibrio natural de bacteria benéfica en el microbioma de tu tracto gastrointestinal y ayuda a mantener una digestión saludable con un conteo probiótico de 50,000 millones de unidades formadoras de colonias.*
 LO QUE AHORRARÁS
¡Como Asociado, ahorrarás EN GRANDE en los precios al público con estos dos populares productos durante el periodo promocional! Levanta tu pedido para estos productos de mejor venta, antes de que se acabe el tiempo.
Precio al Público: $282.99.
Precio para Asociados: $208.99 — ¡AHORRA $74!
Disponibles solo para pedidos únicos entre las 12:00 a. m. Tiempo del Centro, del 2 de septiembre de 2022, hasta las 11:59 p. m. Tiempo del Centro, 16 de septiembre de 2022
*Estas declaraciones no han sido evaluadas por la Administración de Medicamentos y Alimentos de Estados Unidos. Estos productos no tienen la intención de diagnosticar, curar, tratar o prevenir ninguna enfermedad.
†Contiene 50,000 millones de organismos (al momento de la manufactura)
---