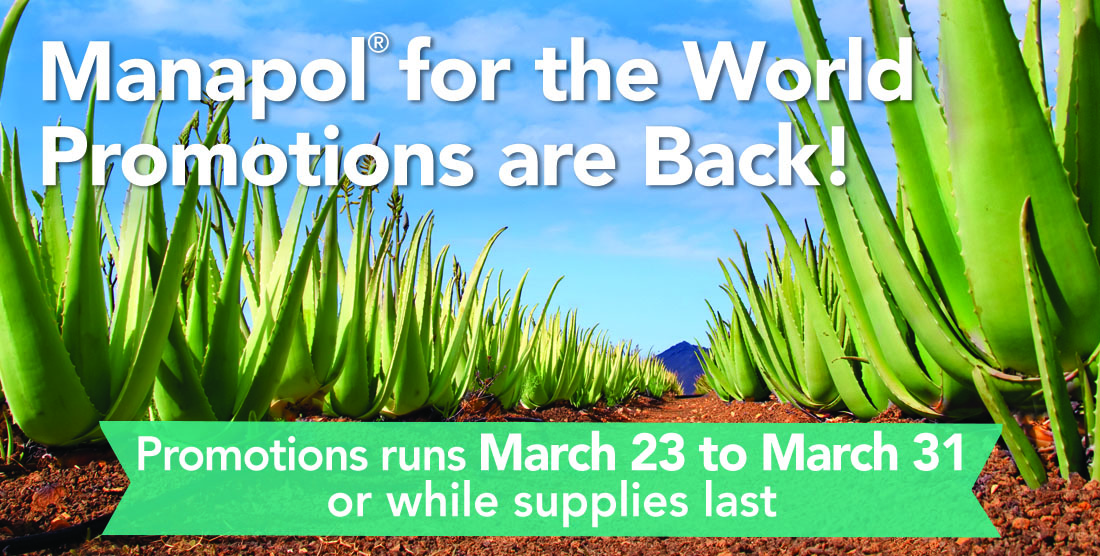 Manapol: Immune Support for ALL!
The passion and commitment to healthy immune function for ourselves and our family connects each of us, no matter where we call home. Mannatech understands this need and put together a promotion to show our support for our Associates and their families, worldwide.
Few people know about Aloe vera's many health benefits associated with ingesting this amazing superfood, including support for healthy immune function, blood glucose, lipid levels, and digestion. *
Why Manapol?
Because of the proprietary harvesting technique, Manapol provides a high concentration of polysaccharides (known as Acemannan). Acemannan is an important Glycan believed to be responsible for the immunologic health benefits associated with Aloe vera gel.* Mannatech's Manapol® Immune Support Formula is the most potent, stable and highest grade of Costa Rican-born Aloe extract in the world.* No other formula even comes close.
Purchase 1 Manapol, Get Second 60% Off

Purchase 1 Manapol, Get the 2nd at 60% Off
Item Number: 48901
Retail Price: $449.99
Member Price: $319.99
PV 299

Ambrotose® and Manapol Specials

For the Ambrotose lovers out there, we have an option for you too! By adding the power of Ambrotose, you receive an abundance of prebiotics, soluble fibers and naturally sourced Glycans for proper nutrition and cell-to-cell communication. * As well as support for proper digestion and immune health.* This powerful duo of Manapol and Ambrotose is the perfect pair for general wellness

Purchase 1 Ambrotose LIFE® (100g), Get 1 Manapol 50% Off

Item Number: 53201
Retail Price: $332.99
Member Price: $261.99
PV 245

Purchase 1 Ambrotose® Complex (100g), Get 1 Manapol 50% Off

Item Number: 53501
Retail Price: $319.99
Member Price: $247.99
PV 232
Limited Time Offers, So Act Now!
These limited time offers will not last long. Make sure you support your and your family's health!
Not for Resale in Canada. Available for One Time Orders only. While Supplies Last – Limited Time Offer. May be purchased with loyalty points but will not generate loyalty points. There will be no First Order Bonus for the for first orders of this offer during this promotional period.
*These statements have not been evaluated by the Food and Drug Administration. These products are not intended to diagnose, treat, cure, or prevent any disease.
---
美泰醣质芦荟萃取粉:呵护全球免疫力!
无论身在何方,每个人都盼望自己和家人可以拥有健康的免疫功能,并为此不断探寻增强免疫力的方法。美泰深入了解全球免疫需求,特此推出促销特惠,为全世界的经销商及其家人提供支持。
买 1 罐美泰醣质芦荟萃取粉,第 2 罐立减 60%
货号:48901
零售价:$449.99
会员价:$319.99
PV 299
摄入芦荟这种超级食品能带来的多重健康益处鲜为人知,但它确实能够保障免疫功能的健全、保持血糖和血脂水平的健康,并促进消化。*
 为什么选择美泰醣质芦荟萃取粉?
因采用专有提取方法,美泰醣质芦荟萃取粉富含高浓度多糖(即乙酰化甘露聚糖)。人们认为,乙酰化甘露聚糖是一种重要的聚醣,与芦荟凝胶的健康免疫增益效果密不可分。*美泰出品的美泰醣质芦荟萃取粉免疫支持配方是世界上最强效、最稳定,也是最顶级的哥斯达黎加芦荟提取物。*任何配方都难望其项背。
 醣质营养素和醣王特惠
对于醣质营养素的爱好者,我们也为您提供了选择!通过醣质营养素的力量,您可获得丰富的益生元、可溶性纤维和天然来源的聚糖,以提供合适的营养和细胞间的沟通,并且支持消化和免疫健康。*醣王和醣质营养素的强大组合是您健康的最佳搭档。
买一罐新生代醣质营养素(100克),可五折购买一罐醣王
货号:52301
零售价:$99
会员价:$261.99
PV 245
买一罐醣质营养素Complex (100克),可五折购买一罐醣王
货号:53501
零售价: $99
会员价:: $247.99
PV 232
 限时优惠,马上行动!
这些限时优惠不会持续太久。马上行动起来支持您和您家人的健康!
不得在加拿大转售。仅适用于一次性订单。售完即止——限时特惠。本次特惠促销可使用忠诚度积分,但您的购买将不会产生忠诚度积分。促销活动期间,使用本次优惠的首购订单将不享受首购推荐奖金。
*此说明尚未经过食品药品监督管理局评估。本产品不可用于诊断、治疗、治愈或预防任何疾病。
---
Manapol: ¡Respaldo Inmunitario para TODOS!
La pasión y el compromiso para la función inmunitaria saludable para nosotros mismos y nuestras familias, nos conectan, no importa qué lugar llamemos hogar. Mannatech entiende que hay una necesidad de crear una promociones para mostrar nuestro apoyo a nuestros asociados y sus familias en todo el mundo.
Compra 1 Manapol, Llévate el Segundo con un 60 % de descuento
Número de producto: 48901
Precio al Público: $449.99.
Precio para Miembros: $319.99
PV 299
Pocas personas saben sobre los muchos beneficios a la salud del Aloe, asociados con el consumo de este superalimento, que incluyen respaldo para una función inmunitaria saludable, niveles saludables de azúcar en la sangre, niveles saludables de lípidos y digestión saludable.*
 ¿Por qué Manapol?
Debido a la técnica exclusiva de cosecha, Manapol ofrece una alta concentración de polisacáridos (conocido como Acemanano). El acemanano es un Glicano que se cree que es responsable de beneficios a la salud inmunitaria asociados con el gel de aloe.* La fórmula de respaldo inmunitario del Manapol® de Mannatech, es el aloe cultivado en Costa Rica, el más potente, estable y de más alto grado en el mundo.
 Especiales Ambrotose® y Manapol
Para los amantes de Ambrotose, ¡tenemos una opción para ustedes también! Al agregar el polvo Ambrotose, recibes una abundancia de prebióticos, fibras solubles y Glicanos de fuentes naturales, para una nutrición apropiada y comunicación entre las células.* Así como respaldo para la digestión apropiada y salud inmunitaria.* Este dúo poderoso de Manapol y Ambrotose es el par perfecto para el bienestar en general.
Compra 1 Ambrotose LIFE® (100 g), Llévate 1 Manapol con un 50 % de descuento
Número de producto: 52301
Precio al Público: $99
Precio para Miembros: $261.99
PV 245
Compra 1 Ambrotose® Complex (100 g), Llévate 1 Manapol con un 50 % de descuento
Número de producto: 53501
Precio al Público: $99
Precio para Miembros: $247.99
PV 232
 Oferta de Tiempo Limitado, ¡Así que Actúa Ahora!
Estas ofertas de tiempo limitado no durarán mucho tiempo. ¡Asegúrate de respaldar tu salud y la de tu familia!
No para reventa en Canadá. Disponible solo para órdenes únicas. Hasta agotar existencias – Oferta de Tiempo Limitado. Se puede comprar con Puntos de Lealtad, pero no generará Puntos de Lealtad. No hay Bono de Primera Compra para los primeros pedidos con esta oferta durante este periodo de promoción.
*Estas declaraciones no han sido evaluadas por la Administración de Medicamentos y Alimentos de Estados Unidos. Estos productos no tienen la intención de diagnosticar, tratar, curar o prevenir ninguna enfermedad.