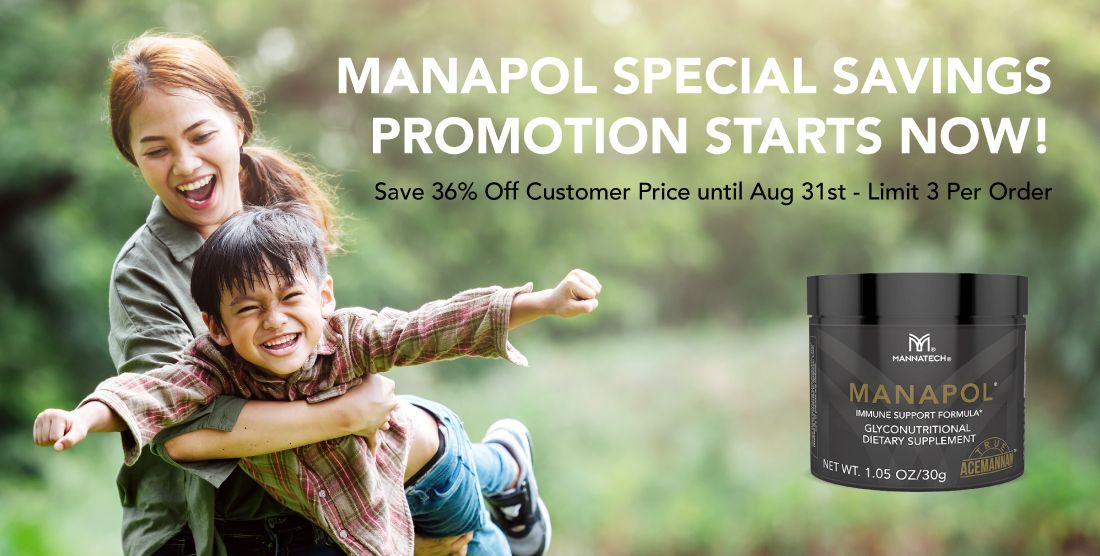 Manapol Special Savings Promotion– 36% OFF Until Aug 31!
We know it's a challenge to keep your family healthy, especially now that the kids are back in school and fall and winter are upon us. You need daily nutrition that provides natural support in keeping your immune system vibrant and strong.
That's why so many families trust Manapol® Immune Support Formula. It includes 100% Aloe vera gel powder harvested from the nutrient-rich volcanic soil of Costa Rica for ultra-purity. Aloe has been shown to contain nutrients your cells use to communicate better. When cells work together efficiently, your entire body benefits. *
 Receive 36% Off Through Aug 31!
With the Manapol Special Savings Promotion (SKU 22401) you can now save 36% off Manapol's normal customer price, just in time for the fall and winter season. †
Here's how much you'll save:
Special Savings Promotion Price: $146.99
PV 137
 Take Advantage of this Incredible Offer NOW! 
You only have until August 31st to take advantage of this limited-time offer, so make sure to order today while supplies last.
† Available through August 31st or while supplies last. Limit 3 Per Order!
*These statements have not been evaluated by the Food and Drug Administration. These products are not intended to diagnose, treat, cure or prevent any disease.
---
美泰醣质芦荟萃取粉特惠促销活动 – 8 月 31 日前订购立减 36%!
我们深知守护家人健康有多不易,尤其当下正值孩子返校,秋冬来临之际。您每天都需要摄入营养成分,为保持强健和活力的免疫系统提供天然支持。
因此,美泰醣质芦荟萃取粉免疫力增强配方深受万千家庭信赖。美泰醣质芦荟萃取粉免疫力增强配方采用 100% 芦荟凝胶粉,产品所使用的芦荟均生长在哥斯达黎加富含营养的超纯度火山土上。芦荟胶富含帮助改善细胞沟通所需的营养成分。* 高效协同运作的细胞可促进全身健康。*
 8 月 31 日前订购立减 36%!
参加美泰醣质芦荟萃取粉特惠促销活动 (SKU 22401),即可享正常价格的 36% 的折扣,正好为秋冬季节囤货。†
优惠金额可达:
 优惠钜献,马上订购! 
此次限时优惠仅限在 8 月 31 日前有效。产品售完为止,马上订购吧!
†即日起至 8 月 31 日或售完为止。每单限购 3 件!
*此说明尚未经过食品药品监督管理局评估。本产品不可用于诊断、治疗、治愈或预防任何疾病。
---
Promoción Especial de Ahorro para Manapol — ¡36 % DE DESCUENTO hasta el 31 de agosto!
Sabemos que es un reto mantener a tu familia saludable, especialmente ahora que los niños están de vuelta en la escuela y el otoño y el invierno están a la vuelta de la esquina. Necesitas la nutrición diaria que ofrezca respaldo natural para mantener tu sistema inmunitario vital y fuerte.
Es por eso que muchas familias confían en la Fórmula de Respaldo Inmunitario de Manapol®. Incluye en tu pedido el polvo 100 % de gel de aloe cultivado en el rico suelo volcánico de Costa Rica para ultra pureza. El aloe ha demostrado que contienen nutrientes que tus células pueden usar para comunicarse mejor.* Cuando las células trabajan eficientemente en conjunto, todo el cuerpo se beneficia.*
 ¡Recibe un 36 % de descuento hasta el 31 de agosto!
Con la Promoción Especial de Ahorro para Manapol (SKU 22401) puedes ahorrar con un 36 % de descuento del precio normal a clientes de Manapol, justo a tiempo para la temporada de otoño e invierno. †
Esto es lo que ahorrarás:
Precio especial para la promoción de ahorro: $146.99
PV 137
 ¡Toma ventaja AHORA de esta increíble oferta! 
Solo tienes hasta el 31 de agosto para tomar ventaja de esta oferta de tiempo limitado, así que asegúrate de hacer tu pedido ahora, mientras hay existencias.
†Disponible hasta el 31 de agosto, o hasta agotar existencias. ¡Límite de 3 por pedido!
*Estas declaraciones no han sido evaluadas por la Administración de Medicamentos y Alimentos de Estados Unidos. Estos productos no tienen la intención de diagnosticar, curar, tratar o prevenir ninguna enfermedad.