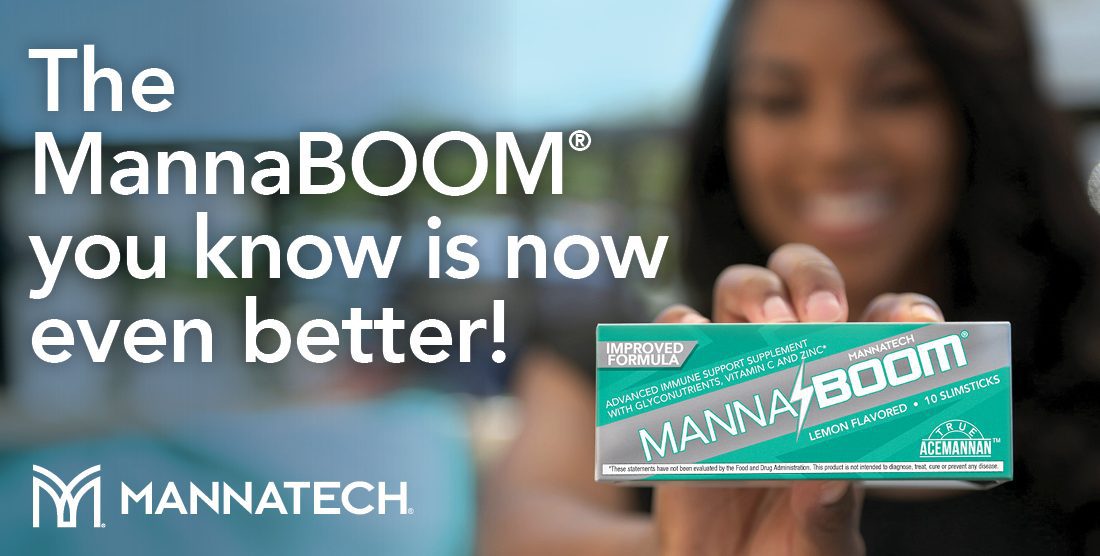 MannaBOOM® just got a little more BOOM!
American consumers, like people the world over, continue to focus on the importance of supporting their immune system. In fact, according to the National Busines Journal (NBJ), nearly 10% of all U.S. supplement sales in 2020 will be for immune support—with Vitamin C being a big player in that growth. The NBJ reported that the highest percentage of survey customers, 47% reported taking Vitamin C for immunity support. *
 With the daily stresses in our lives, compounded by poor food choices, inadequate sleep and exercise, and environmental challenges, our immune systems can use some support to stay ready to defend.* That's why a regimen rich in Vitamin C is so vital.* Yet only 10 to 20 percent of adults get the recommended nine servings of fruits and vegetable daily according to a recent study published in Seminars in Preventative and Alternative Medicine.
Experts say that Vitamin C is one of the safest and most effective nutrients for immune support.* However, the human body is unable to produce it on its own which means the body must get enough Vitamin C from foods or supplements to maintain good health.* This is why we took the time to reformulate MannaBOOM so that it's even more powerful than before. *
MannaBOOM: Now with 150% More Vitamin C
The second you're feeling stressed or run down, support your immune system with updated MannaBOOM® Slimsticks.* Now with 150% more vitamin C, increased Manapol, added zinc and more glyconutrients in every slimstick! MannaBOOM promotes a healthy, active lifestyle with a tasty, citrus-flavored, quick melt formula packaged in slimsticks for on-the-go immune system support.*
What makes MannaBOOM so unique
MannaBOOM is formulated to support the immune system on multiple levels with powerful yet natural  ingredients.  Vitamin C and zinc, are supported  by our exclusive Manapol, which can enhance the absorption micronutrients like vitamin C. This combination means you absorb more of the nutrients from MannaBOOM, making it a more beneficial formula.*
 4 Key Ingredients in Every MannaBOOM Slimstick
Manapol, a Mannatech exclusive: Premium, 100% Aloe extract to support cell-to-cell communication.* Mannatech harnessed the benefits of nutritional glycobiology from aloe vera before and better than anyone else.* Manapol enhances the absorption of certain micronutrients such as Vitamin C and E.* It provides potent immune support through its Acemannan content.* Manapol provides all-natural immune support as it functions as a powerful prebiotic.*
Acerola Cherry: The fruit is known for being one of the richest natural sources of antioxidant vitamin C, which helps support against damage to your cells caused by free radicals. *[2]
Zinc Gluconate: Zinc is a trace mineral that plays a vital role in supporting immune function, thyroid function and more.* Because it is not produced naturally in the body, it's important to consume food and supplements that provide zinc daily. [4] [5]
Gum Acacia: is a gum and water-soluble dietary fiber exudes from the acacia tree. It's important to add dietary fiber to your daily regimen because studies suggest that increasing your daily intake can help improve digestion, help support healthy blood lipid and sugar levels , maintain a healthy weight, and support cardiovascular health.* [6]
Help ignite your immune system by ordering MannaBOOM today!* You'll be glad you did!
---
美泰多醣免疫宝冲剂配方升级!
同全世界的消费者一样,美国消费者一直十分注重对免疫系统的支持。实际上,据《国家商业杂志》(National Busines Journal, NBJ) 报道,免疫保健品在 2020 年的销售约占全美营养品总销售的 10%,其中维生素 C 销量遥遥领先。《国家商业杂志》报道称,服用维生素 C 提高免疫力的消费者高达 47%,在受访者中占比最高。*
鉴于我们日常生活中的压力,加上不当的饮食、睡眠和运动不足以及环境挑战,我们的免疫系统可以利用一些支持产品来做好防御准备。*因此,注重补充丰富维生素 C 格外重要!*然而,根据《预防和替代疗法研讨会》(Seminars in Preventative and Alternative Medicine) 近期发表的一项研究,只有 10% 到 20% 的成年人会按照建议每天摄入九份果蔬。
专家认为,服用维生素 C 是提高免疫力最安全、最有效的途径之一。*然而,人体无法自主合成维生素 C,只能从膳食或营养品中摄入足量维生素 C 来保持健康。*因此我们投入时间,精心研发了功能更强大的美泰多醣免疫宝冲剂全新配方。*
美泰多醣免疫宝冲剂:维生素 C 含量现已增加 150%
在您感觉压力或沮丧时,服用我们全新升级的美泰多醣快速免疫宝冲剂,有助于增强免疫系统功能。*美泰醣质芦荟萃取粉现已将每份冲剂中的维生素 C 含量提高 150%,同时添加锌元素和醣质营养素!美泰多醣免疫宝冲剂倡导健康、积极的生活方式,采用美味、柑橘口味、即溶的配方和袋装方式,可随身携带以帮助支持免疫系统健康。*
美泰多醣免疫宝冲剂为何与众不同
美泰多醣免疫宝冲剂选用功效强大的纯天然原料,采用独家配方多层次增强免疫系统功能。美泰醣质芦荟萃取粉富含并可促进维生素 C 等微量营养素的吸收,这样的搭配可以促进您对美泰多醣免疫宝冲剂中营养成分的吸收,获得更佳的增益效果。*
美泰多醣免疫宝冲剂的四大关键成分
美泰独家产品——美泰醣质芦荟萃取粉:100% 优质芦荟提取物,促进细胞间通讯。*
美泰以天然芦荟为原料,借助醣生物学和营养学优势,打造优质产品,不仅实现了对自我的超越,所达高度也令同行难以企及。*美泰醣质芦荟萃取粉能够促进维生素 C 和维生素 E 等微量营养素的吸收,*内含乙酰化甘露聚醣成分,为免疫系统提供强大支持。*美泰醣质芦荟萃取粉作为强大的益生元发挥作用,可提供所有的天然免疫支持。*
针叶樱桃:众所周知,针叶樱桃是维生素 C 抗氧化剂最丰富的天然来源之一,有助于细胞抵御自由基造成的损伤。*[2]
葡萄醣酸锌:锌是增强免疫力、维护甲状腺功能的重要微量元素,能够为身体提供多方面支持。*由于人体无法自然合成锌元素,每天摄入富含锌的膳食和营养品便格外重要。[4][5]
阿拉伯树胶:阿拉伯胶树渗出的水溶性胶质膳食纤维。研究表明,提高膳食纤维每日摄入量有助于增强消化功能、维持血脂及血糖的正常水平、保持健康体重、促进心血管健康,因此,在日常饮食中添加膳食纤维具有重要意义。*[6]
立即订购美泰多醣免疫宝冲剂,提高免疫系统活力!*早订购,早满意!
订购从速!*此说明尚未经过食品药品监督管理局评估。本产品不可用于诊断、治疗、治愈或预防任何疾病。
---
¡MannaBOOM® ahora es un poco más BOOM!
Los consumidores estadounidenses, al igual que las personas en todo el mundo, continúan enfocándose en la importancia de respaldar su salud inmunitaria. De hecho, de acuerdo la Revista Nacional de Negocios (NBJ), casi el 10 % de todas las ventas de suplementos en EE. UU. en 2020 serán para el respaldo inmunitario — con la Vitamina C siendo un gran factor en ese crecimiento. El NBJ reportó que el más alto porcentaje de los clientes encuestados, 47 %, reportó tomar Vitamina C para respaldo inmunitario.*
Con el estrés cotidiano en nuestras vidas, combinado con las malas elecciones de comida, poco sueño y ejercicio, y los retos medioambientales, nuestros sistemas inmunitarios pueden beneficiarse de un respaldo para estar listos cuando tengan que salir a la defensa.* Es por eso que un régimen rico en Vitamina C es tan importante.* Sin embargo, solo del 10 al 20 por ciento de los adultos obtienen las nueve porciones recomendadas de frutas y vegetales al día recomendadas por un reciente estudio publicado en los Seminarios en Medicina Preventiva y Alternativa.
Los expertos dicen que la Vitamina C es uno de los nutrientes más seguros y efectivos para el respaldo inmunitario.* Sin embargo, el cuerpo humano no puede producirla por sí mismo, lo cual quiere decir que el cuerpo debe obtener suficiente Vitamina C de los alimentos y suplementos para mantener una buena salud.* Es por eso que nos tomamos el tiempo para reformular MannaBOOM, para que sea más poderoso que antes.*
MannaBOOM: Ahora con 150 % más vitamina C
En el momento en que te sientas estresado o bajo de energía, respalda tu sistema inmunitario con los actualizados paquetes individuales MannaBOOM® Slimsticks.* ¡Ahora con 150 % más vitamina C, más Manapol, zinc agregado y más gliconutrientes, en cada slimstick! MannaBOOM promueve un estilo de vida saludable y activo, con un delicioso sabor a cítrico, en una fórmula que se disuelve rápidamente, empacada en porciones individuales fáciles de llevar para tener respaldo inmunitario donde quiera que vayas.*
Qué hace que Mannatech sea único
MannaBOOM está formulado para respaldar el sistema inmunitario en múltiples niveles con ingredientes naturales pero poderosos.  La vitamina C y el zinc están respaldados por nuestro exclusivo Manapol, que puede mejorar la absorción de micronutrientes como la vitamina C. Este combinación significa que absorbes más nutrientes de MannaBOOM, lo que lo convierte en una fórmula más benéfica.*
4 Ingredientes principales in Cada MannaBOOM Slimstick
Manapol: exclusivo de Mannatech: Aloe 100 % de primera calidad para respaldar la comunicación entre las células.* Mannatech aprovechó los beneficios de la glicobiología nutricional del aloe antes que nadie más lo hiciera.* Manapol respalda la absorción de ciertos micronutrientes como las vitaminas C y E.* Ofrece un potente respaldo inmunitario a través de su contenido de Acemanano.* Manapol ofrece un respaldo inmunitario completamente natural, ya que funciona como un poderoso prebiótico.*
Cereza acerola: la fruta es conocida por ser una de las más ricas fuentes naturales del antioxidante vitamina C que ayuda a respaldar en contra de los daños a tus células causadas por los radicales libres.*[2]
Gluconato de zinc: el zinc es un oligomineral que juega un rol vital para respaldar la función inmunitaria, la función tiroidea y más.* Debido a que no se produce naturalmente por el cuerpo, es importante consumir alimentos y suplementos que ofrezcan zinc a diario. [4] [5]
Goma de acacia: es una goma y fibra dietética soluble en agua que se extrae del árbol de acacia. Es importante agregar fibra dietética a tu régimen diario debido a que los estudios sugieren que incrementar tu consumo diario puede ayudar a la digestión, ayudar a los niveles saludables de lípidos y azúcar en la sangre, a mantener un peso saludable, y a respaldar la salud cardiovascular.* [6]
¡Ayuda a activar tu sistema inmunitario ordenando tu MannaBOOM hoy mismo!* ¡Te lo agradecerás!
¡Haz tu pedido hoy!*Estas declaraciones no han sido evaluadas por la Administración de Medicamentos y Alimentos de Estados Unidos. Estos productos no tienen la intención de diagnosticar, curar, tratar o prevenir ninguna enfermedad.