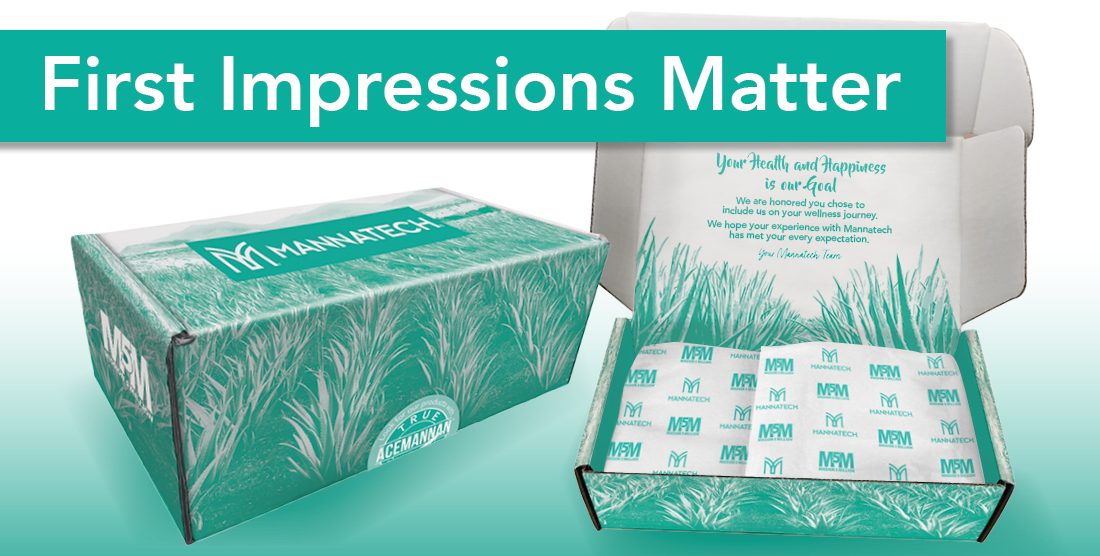 New First Order Box Experience Launch
We are delivering on our promise to enhance the Customer and Associate experience.
There is the age-old quote that says, "You never get a second chance to make a first impression." This is especially true when your new Customer or Associate receives their first order. They want to be surprised and delighted and we want to deliver on that expectation.
The New First Order Box Experience Journey
For the past few months our goal was twofold: not only did we want to present your new Customer and Associate with a "wow" experience, we wanted to share a little bit about who Mannatech is and what we stand for. We designed the box to be as appealing on the inside as it is on the outside. We feel we struck just the right balance between artistic simplicity and functionality.
The outside of the box has imagery of aloe fields, as well as a "True Acemannan" seal, representing the foundational source of Mannatech's products. At the ends of the box are a M5M Foundation insignia and a survey QR code they can scan to tell us about their experience. We even included a message inside that shares that their "Health and happiness is our goal."
New First Order Boxes Begin Shipping December 1
We are excited to share this news of our continued efforts to give your new Customer or Associate the best experience possible.
Thank you for trusting Mannatech to deliver superior quality and care.
---
首购礼盒新体验活动将于 12 月 1 日全新推出
 提升客户和经销商体验是我们一以贯之的庄严承诺。
常言道:"你没有第二次机会留下第一印象。"这句话恰当描述了新客户和经销商收到首购订单时的情景。他们期待惊喜,憧憬美好体验,而我们决不会辜负他们的期望。
首购礼盒全新活动
过去几个月,我们一直在努力实现两个目标:为新加入的客户和经销商倾心打造"惊喜"服务,同时传播美泰品牌形象和定位。这款礼盒内外设计精美,兼具艺术感与功能性,简单大方,实用合意。
礼盒外包装采用芦荟田图片,以"纯正乙酰甘露聚醣"字条密封,体现美泰产品立足之本。礼盒两端添加 M5M 基金会标志与调查二维码,轻轻一扫即可与美泰分享亲身体验。礼盒内部装有短笺——"您的健康与幸福正是我们的目标"。
全新首购礼盒将于 12 月 1 日起配送
我们很高兴与您分享这个消息,同时,我们会继续努力,为新客户和经销商打造最佳体验。
感谢您对美泰卓越品质的信赖和关注!
---
La Experiencia de la Nueva Caja del Primer Pedido se Lanzará
Estamos cumpliendo nuestra promesa de mejorar la experiencia de los clientes y asociados.
Hay una antigua frase que dice: "No hay una segunda oportunidad para una primera impresión". Esto es especialmente cierto cuando tu nuevo Cliente o Asociado recibe su primer pedido. Quieren estar sorprendidos y encantados, y queremos cumplir sus expectativas.
El Trayecto de la Experiencia de la Nueva Caja del Primer Pedido
En los últimos meses nuestra meta era de dos partes: no solo queríamos brindarles a tus nuevos Clientes y Asociados una experiencia increíble, también queríamos compartir un poco sobre lo que es Mannatech y sobre lo que creemos. Diseñamos la caja para que sea tan atractiva por adentro como por afuera. Creemos que hemos alcanzado el equilibrio perfecto entre la simplicidad artística y la funcionalidad.
La parte exterior de la caja tiene la imagen de campos de aloe, así como el sello de "Acemanano Verdadero", que representa el cimiento de los productos de Mannatech. En los extremos de la caja están las insignias de la Fundación M5M y un código QR para una encuesta, para que nos puedan decir más sobre su experiencia. Hemos incluido un mensaje en el interior que comparte que su "Salud y felicidad es nuestra meta".
Las Nuevas Cajas del Primer Pedido Empiezan a Enviarse el 1.o de Diciembre
Nos entusiasma compartir estas noticias sobres nuestros constantes esfuerzos para darte a ti y a tu nuevo Cliente o Asociado la mejor experiencia posible.
Gracias por confiar en Mannatech para llevarte calidad superior y cuidado.