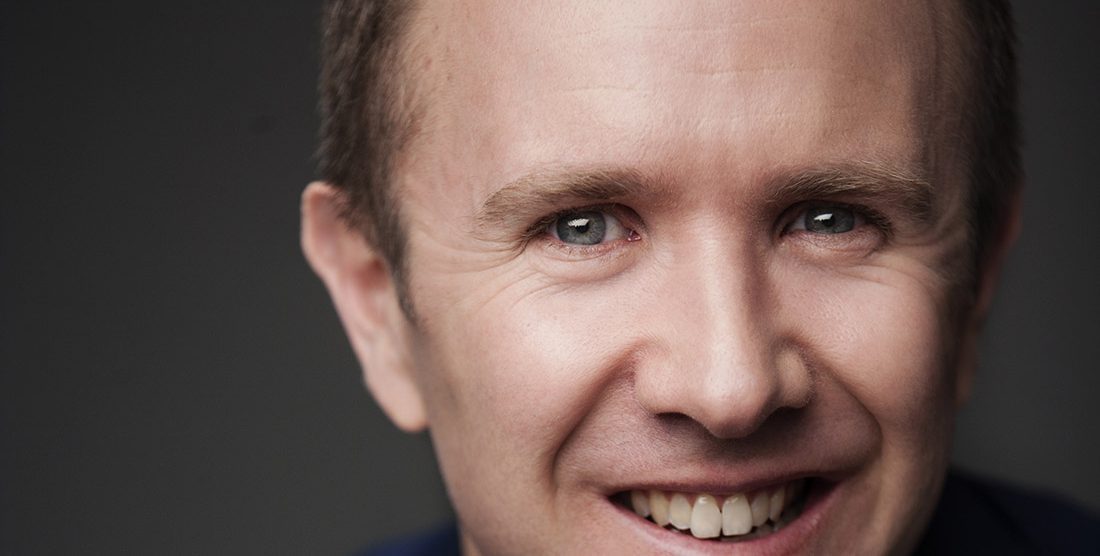 New Guest Speaker Added for MannaFest LIVE 2020
Big News! We are pleased to announce guest speaker Dr. Adam Fraser for the 2020 MannaFest LIVE virtual event.
Dr. Fraser is a peak performance researcher  consultant who helps people strive for "better" in everything they do and to push people beyond their potential. His company conducts cutting edge research with different universities all over the world and then disperses that information in a practical form through books, keynote presentations, workshops, training programs, online programs and customized consulting projects. He believes everyone has a superpower – some people can cook, some people can create amazing works of art, others can hug with the appropriate amount of pressure for the appropriate amount of time.  His superpower is the ability to make the complex simple and engaging. He takes his science and research results and translates it so that people can immediately apply it to their own lives. He has worked with elite level athletes, the armed forces and business professionals of all levels, covering topics including the psychology of performance, improvement of productivity, transformational leadership, engagement of teams, work life balance and development of high performing cultures.
Prepare for his focus on how to take action doing things that make you uncomfortable and how to change your mindset around those struggles and discomfort.
MannaFest is quickly approaching and this LIVE event will be the biggest one ever and will be livestreamed in English, Spanish, Chinese, Japanese and Korean.
So much to take in– The agenda includes tons of must-see content, including tips and training from top leaders, our new GI product rollout, along with product specials and product training. Plus, Leadership Development, 2019 and 2020 recognition, an emphasis on M5M, Action based training and so much more. Don't forget, this year Mannatech will be giving away $10,000 in prizes during the event to those that have registered and are actively viewing. So mark your calendars now for August 21 & 22 and be a part of MannaFest LIVE 2020!
Register at events.mannatech.com to virtually attend MannaFest LIVE and witness Dr. Fraser share his knowledge and expertise with you. Don't miss it!
---
2020美泰年会直播新演讲嘉宾
好消息!!我们很高兴地宣布,Dr. Adam Fraser将作为2020美泰年会直播活动的演讲嘉宾。
Dr. Fraser是一位出色的绩效研究顾问,他可以帮助人们在自己的所有事情中力求"更好",并激发人们发挥更大的潜能。 他的公司与世界各地的不同大学进行前沿研究,然后通过书籍,主题演讲,研讨会,培训课程,在线课程和定制的咨询项目等以实用的形式分享这些信息。 他认为每个人都具有超能力-有些人可以精于厨艺,有些人可以创造出令人赞叹的艺术品,另一些人可以在适当的时间内承受适当的压力。 而他自己的超级能力是使复杂的事物变得简单并令其投入。 他将自己的科学和研究成果进行分享,以便人们可以立即将其应用于自己的生活。他曾与各个级别的精英运动员、武装部队和商业专业人士合作,涉及的主题包括绩效心理学、生产力提高、变革型领导、团队参与、工作生活平衡和高绩效文化的发展。
做好准备来聆听他的演讲重点-如何采取行动去做那些使您感到不舒服的事情,以及如何改变心态去应对困难和令人不适的状况。
美泰年会即将到来,此次现场直播活动将是有史以来规模最大的活动,而且以英语、西班牙语、中文、日语和韩语进行直播。
此次活动内容纷呈 – 议程包括许多必看内容,包括领导精英的分享、新GI产品的推出以及产品优惠和产品培训。此外,还有个人发展培训、2019和2020年度的表彰、M5M、如何学以致用等等。不要错过,因为今年美泰将在活动期间向已注册并积极观看直播参与者赠出价值$10,000的奖品。因此,请即刻将8月21日和22日这个会议写在您的日历上,并成为参与2020美泰年会直播的一员!
立即注册来参加美泰年会直播,并收看Dr. Fraser与您分享他的学识和专长。机会难得,切莫错过!
---
Nuevo Presentador Invitado Agregado para MannaFest LIVE 2020
¡¡Grandes Noticias!! Nos complace anunciar al presentador invitado el Dr. Adam Fraser para el evento virtual MannaFest LIVE 2020.
El Dr. Fraser es un importante investigador y consultor que ayuda a personas a esforzarse para lograr lo "mejor" en todo y en impulsar el potencial de las personas. Su compañía realiza investigaciones revolucionarias con diferentes universidades en todo el mundo y luego difunde dicha información de forma práctica a través de libros, presentaciones, talleres, programas de entrenamiento, programas en línea y proyectos de consultoría personalizados. Él cree que todos tenemos un superpoder – algunas personas pueden cocinar, algunos pueden crear increíbles obras de arte, algunos pueden abrazar con la cantidad apropiada de presión por el espacio de tiempo apropiado.  El superpoder del Dr. Fraser es su habilidad de transformar lo complejo en algo simple e interesante. Él toma los resultados de su ciencia e investigación y los traduce para que las personas puedan inmediatamente aplicarlos a sus propias vidas.   Ha trabajado con atletas élite, con las fuerzas armadas y con profesionales de negocios en todos los niveles, cubriendo temas que incluyen las psicología del desempeño, mejoras a la productividad, liderazgo de transformación, participación de equipos, equilibrio de la vida laboral y desarrollo de culturas de alto desempeño.
Prepárate para su enfoque en cómo tomar acción al hacer cosas que te hacen sentir incómodo y cómo cambiar tu actitud mental alrededor de esas luchas e incomodidades.
MannaFest se acerca rápidamente a su evento EN VIVO que será el más grande de la historia y será transmitido en vivo en inglés, español, chino, japonés y coreano.
Tanta información — La agenda incluye un montón de contenido que no te puedes perder, lo que incluye consejos  y entrenamiento de nuestros líderes principales, el lanzamiento de nuestro nuevo producto para la salud gastrointestinal, con ofertas especiales y entrenamiento de producto. Además, desarrollo de liderazgo, reconocimientos para 2019 y 2020, un énfasis en M5M, acción basada en entrenamiento y mucho más. No te olvides, este año, Mannatech otorgará $10,000 dólares en premios durante el evento para aquellos que se hayan registrado y estén activamente participando. Así que marca tus calendarios ahora para el 21 y el 22 de agosto, ¡y sé parte de MannaFest LIVE 2020!
Regístrate ahora para asistir virtualmente a MannaFest LIVE y ver a Dr. Fraser compartir su conocimiento y experiencia contigo. ¡No te lo pierdas!
---
2020 메나페스트라이브의 새로운 초청강사의 추가
빅뉴스!! 우리는 2020 메나페스트 가상 행사의 초청 연설자 아담 프래져박사님을 기쁘게 소개합니다
프래져박사님은 최고 성과 연구자 상담가로 사람들이 모든 것에서 "더 좋은" 잠재력을 넘어 서도록 이끌어 낼수 있도록 돕고 있습니다.  그분의 회사는 전 세계 여러 대학과 함께 최첨연구를실시한 후 책, 주안점제시, 연수회, 교육프로그램, 온라인프로그램, 맞춤형 컨설팅계획을 통해 그 정보를 실제적인 형태로 배포하고 있습니다.그는 모든 사람들이 굉한한 능력을을 갖고 있다고 믿으며-어떤사람들은 요리를 할 수 있고, 어떤사람들은 놀라운 에술 작품을 만들 수 있고, 다른 사람들은 적절한 시간 동안 적절한 양의 압축으로 끌어안을 수 있다. 그의 굉장한 능력은 복잡함을 단순하게 사로잡는 능력을 갖고 있습니다.그는 자신의 과학과 연구 결과를 사람들이 즉시 자신의 삶에 적용할 수 있도록 옮기고 있습니다. 그는 우수한 운동선수들, 군대와 각급 기업 전문가들에게 수행심리학, 생산성 향상, 변혁적 리더십, 조직의 참여, 일과 삶의 균형, 높은 성과문화 개발등의 주제로 일하고 있습니다.
당신의 삶의 불편하게 만드는 일을 어떻게 할 것인지, 그리고 그 고민과 불편을 중심으로 사고방식을 어떻게 바꿀 것인지에 대하여 그에게 집중하십시오.
메나페스트는 사상 최대의 실시간 행사로 빠르게 다가오고 있으며 영어, 서반어, 중국어, 일어와 한국어로 실시간이어질 것입니다
굉장한 많은내용- 행사목록에 꼭 보셔야 할 많은 내용,팁과 최고 리더들의 교육,우리의 새 GI 제품에 대하여, 제품 스페샬과 제품 교육이 포함되어 있습니다 더 나아가, 리더쉽 개발,
2019년과 2020년 인증, M5M 역점, 행동기반 교육등 더 많은 것들. 놓치지 마십시오.
등록하시고 적극적으로 시청하시는 분들에게는 올해 메나텍에서는 이번 행사 기간동안 $10,000의 선물을 드릴 것 입니다. 지금 여러분의 달력에 8월 21일과 22일의 2020 메나페스트 라이브를 표시 하십시오.
지금등록 하여 가상참여 메나페스트 라이브 그리고 프래져 프래져 박사님의 지식과 경험 나눔이 당신과 함께 합니다. 놓치지 마십시오!
---