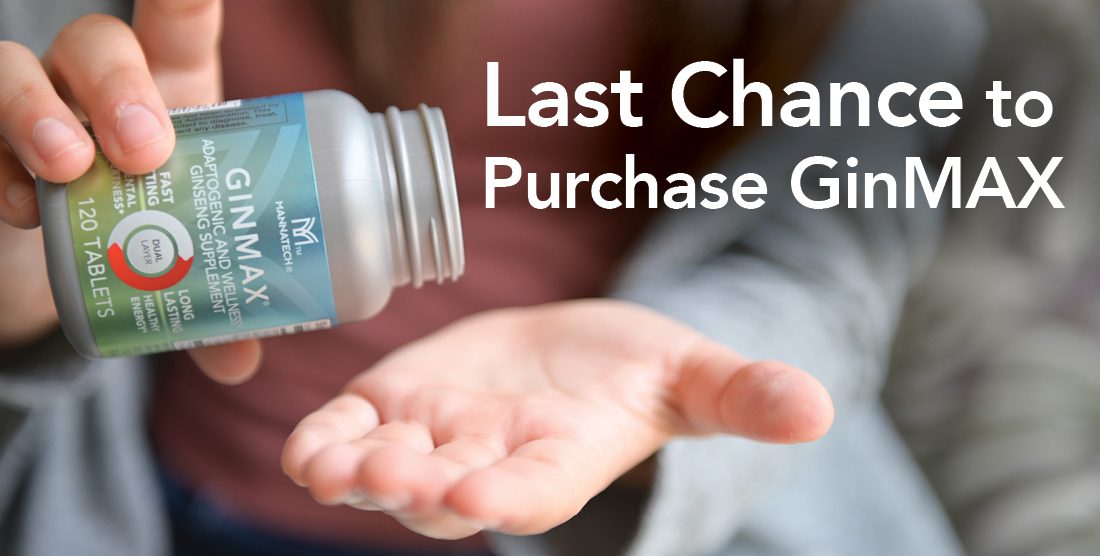 New Promotion item #74101 – GinMAX BOGO
You asked and Mannatech answered! As requested, our customers will have one final chance to purchase the last of the GinMAX® inventory at a very special savings. Starting January 11th, while supplies last – Buy One, Get One Free on GinMAX!
SKU #74101
One-time orders only
Product Expiration: 4/30/2021
Not For Resale in Canada
Mannatech technology captures bioactive ingredients in ginseng through a leading-edge fermentation process to bring a revolutionary and potent ginseng experience with GinMAX.
This unique dual-layer tablet is created with the world's first fermented white Panax ginseng and combined with a potent fermented red Panax ginseng, making GinMAX the most advanced ginseng supplement in the world. This fermentation process is designed to deliver a high absorption effect with increased efficiency. In short, it can work faster and last longer.*
To achieve balance and focus, use GinMAX tablets today!*
Benefits:
Supports healthy brain and cognitive functions.*
Promotes mental alertness and focus.*
Supports physical and mental energy.*
Supports healthy memory function.*
Source of antioxidants.*
Supports healthy aging.*
May support healthy immune system function.*
Gluten Free
Soy Free
Dairy Free
No MSG
Order yours today, before they are all gone!
---
新品促销 – 美泰人参精华片 (货号 74101 ),买一赠一
您之所需,美泰所能!应广大客户要求,最后一波震撼优惠强势来袭,您可尊享以特惠价购买美泰人参精华片的最后良机,尽揽最后一批存货。美泰人参精华片促销活动将于 1 月 11 日重磅启幕,买一赠一,售罄为止!
美泰人参精华片(#74101),买一赠一
仅限一次性订单
产品有效日期:2021 年 4 月 30 日
不得在加拿大转售
美泰技术通过尖端的发酵工艺提取出人参中的活性生物成分,推出革命性的强效美泰人参精华片。
该产品为独特的双层片剂,采用全球首创发酵白参,结合强效发酵红参,使美泰人参精华片成为全球最先进的人参营养品。这种发酵工艺更有利于吸收,可提高吸收率。简而言之,美泰人参精华片见效更快、作用更持久。*
要保持情绪平衡、提高注意力,立即服用美泰人参精华片!*
功效:
维护大脑健康和认知功能。*
提高大脑灵敏度和注意力。*
提高体力和精力。*
提高记忆功能健康。*
含抗氧化物。*
帮助健康长寿*
帮助促进免疫系统功能健康。*
不含麸质
不含大豆
不含乳制品
不含味精
立即下单,欲购从速!
*此说明尚未经过食品药品监督管理局评估。本产品不可用于诊断、治疗、治愈或预防任何疾病。
---
Nueva promoción, producto #74101 – GinMAX Compra 1, Llévate 1
¡Tú lo pediste y Mannatech respondió! Tal y como lo pidieron, nuestros clientes tendrán una oportunidad más de comprar el último inventario de GinMAX® con ahorros muy especiales. A partir el 11 de enero, hasta agotar existencias – ¡Compra Uno y Llévate uno Gratis para GinMAX!
Producto #74101
Solo para órdenes únicas.
Producto Vence 4/30/2021
NO PARA REVENTA (NFR) EN CANADÁ.
La tecnología de Mannatech captura los ingredientes bioactivos en el ginseng a través de un proceso líder de fermentación que resulta en una revolucionaria y potente experiencia de ginseng con GinMAX.
Esta tableta única de doble capa es creada con el primer ginseng Panax blanco fermentado en el mundo en combinación con un potente ginseng Panax rojo, lo que hace que GinMAX sea el suplemento de ginseng más avanzado en el mundo. Este proceso de fermentación está diseñado para ofrecer un efecto de alta absorción con máxima eficiencia. En resumen, trabaja más rápidamente y por un periodo más largo de tiempo.*
Para lograr equilibrio y enfoque, ¡usa las tabletas GinMAX hoy mismo!*
Beneficios:
Apoya las funciones cerebrales y cognitivas saludables.*
Promueve el estado de alerta mental y la concentración.*
Apoya la energía física y mental.*
Apoya la función saludable de la memoria.*
Es fuente de antioxidantes.*
Ayuda a un envejecimiento saludable.*
Puede ayudar a un sistema inmunitario saludable.*
Libre de gluten
Sin soya
Sin lactosa
Sin GSM
¡Haz tu pedido hoy mismo, antes de que se agoten!
*Estas declaraciones no han sido evaluadas por la Administración de Medicamentos y Alimentos de Estados Unidos. Este producto no tiene la intención de diagnosticar, curar, tratar o prevenir ninguna enfermedad.