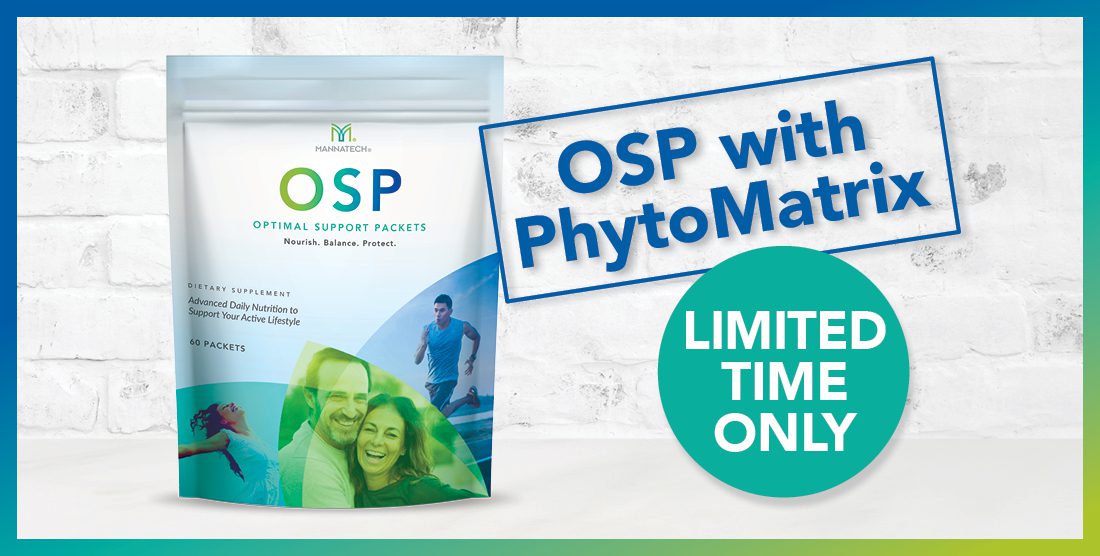 Notice about Optimal Support Packets – Last Chance for OSP with PhytoMatrix

At Mannatech, our customers are always top priority, so when loyal fans asked for one last chance to purchase OSP with PhytoMatrix (item #28201), we listened!
For a very limited time and only while supplies last, we will be offering the Original OSP with PhytoMatrix for one-time orders only. Order yours today, before they are all gone!
 Please note that with our next shipment we will be making the transition to the NEW OSP with Catalyst Multivitamin (NEW item #54601) for even better value and more benefits. To learn more about this exciting update please visit https://library.mannatech.com/10899.
Please contact Customer Care with any questions at custserv@mannatech.com
As always, know we are here to help and support you.
---
关于美泰健康营养包的通知——最后机会,订购包含美泰矿物质复合维生素片的美泰健康营养包
美泰始终秉承客户至上的经营理念。最近因为不少老客户提出,希望可以再次购买包括美泰矿物质复合维生素片的原版美泰健康营养包(货号 28201)。美泰积极听取客户反馈,正式决定:
限时推出包含美泰矿物质复合维生素片的原版美泰健康营养包,仅限一次性订单,售罄为止。欲购从速,先到先得!
 注:下一批的货运到达后,美泰健康营养包将全新过渡到搭配包含 Catalyst ™复合维生素(新品货号 54601),品质提升,呵护升级。访问链接,及时了解更多快讯 https://library.mannatech.com/10928.
如有任何问题,请联系我们的客服 custserv@mannatech.com
美泰始终是您的坚强后盾。
---
Notificación sobre los Paquetes Optimal Support – Última Oportunidad para OSP con PhytoMatrix
En Mannatech, nuestros clientes son siempre la prioridad principal, así que cuando los leales seguidores pidieron una última oportunidad para comprar los OSP con PhytoMatrix (producto #28201), ¡nosotros escuchamos!
Por un tiempo muy limitado y solo hasta agotar existencias, ofreceremos los Originales OSP con PhytoMatrix solo para órdenes únicas. ¡Haz to pedido hoy mismo, antes de que se agoten!
 Por favor, toma en cuenta que con nuestro siguiente envío estaremos haciendo la transición a los NUEVOS OSP con Multivitaminas Catalyst (NUEVO producto #54601) para un mejor valor por tu dinero y más beneficios. Para obtener más información sobre este emocionante cambio, por favor, visita https://library.mannatech.com/10927.
Por favor, llama a Atención a Clientes si tienes cualquier pregunta, a los custserv@mannatech.com
Como siempre, estamos aquí para ayudarte y apoyarte.