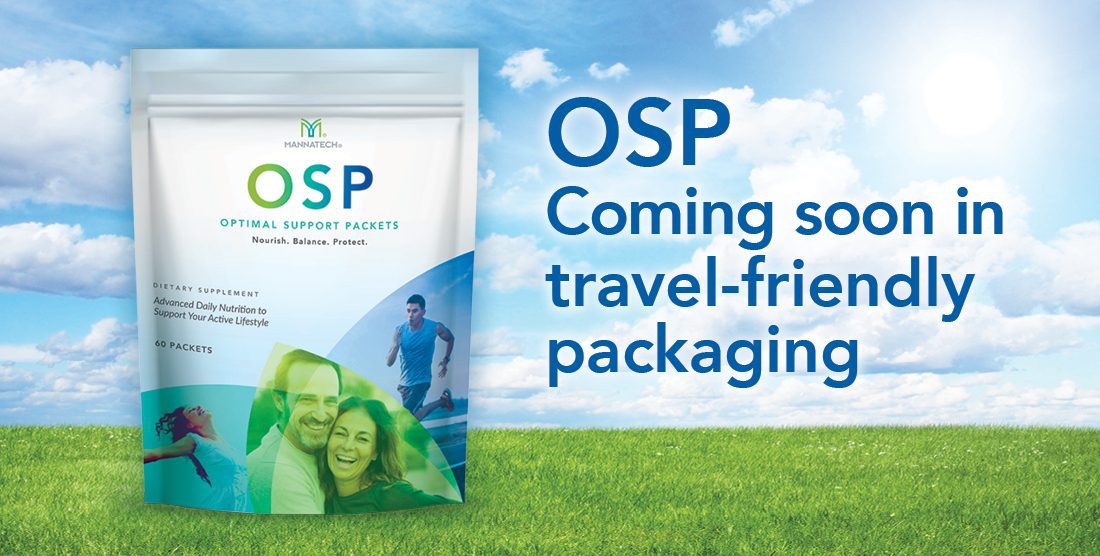 OSP Now More Travel-Friendly in New Recyclable Gusseted Bags
We know you love what's in OSP. Now you'll love the new packaging it comes in, too!
Optimal Support Packets are one of our best-selling products and are currently packaged in boxes. In mid/late spring 2020, we will switch from boxes to gusseted bags.
With this update you will enjoy several added benefits with the same exact product inside and at no additional cost:
Occupies less space in your cabinet, suitcase or gym bag.
Easy to travel with and carry.
Product stays fresh longer! Once opened, re-sealable bags reduce open space and air from reaching the product.
Recyclable and earth friendly!
Mannatech cares for your health, the health of our planet, and making life easier with more convenient packaging upgrades.
---
美泰健康营养包将采用全新的易携带、可回收立式自封包装袋
我们很清楚大家对美泰健康营养包的喜爱,现在,您也会爱上它的新包装!
美泰健康营养包是我们的畅销产品之一,现在使用的是盒式包装。在 2020 年春季中后期,我们将从盒装转向立式自封包装袋。
同样的产品,同样的价格,升级后的包装将为您带来诸多便利:
占用更少的置物柜、手提包和健身包空间。
携带更方便。
产品保质期更长!打开后,可重新密封的袋子能减少空间占用以及空气和产品的接触。
可回收,对环境无害!
美泰关心着您的健康和地球环境,利用包装升级来便利您的生活是我们的追求。
---
Los OSP son ahora más fáciles de llevar en la nueva bolsa reciclable con cierre
Sabemos que te encanta lo que contienen los OSP. ¡Ahora también te encantará el nuevo paquete en el que vienen!
Los Paquetes Optimal Support son uno de nuestros productos de más venta y actualmente vienen empacados en cajas. A mediados/finales de la primavera de 2020, cambiaremos de cajas a bolsas con cierre.
Con esta actualización disfrutarás de muchos beneficios agregados con exactamente el mismo producto adentro, y sin costo adicional:
Ocupa menos espacio en tu gabinete, maleta o bolsa para el gimnasio.
Es fácil para viajar y para llevar.
¡El producto se mantiene fresco por más tiempo! Una vez que se abren, las bolsas resellables reducen el espacio abierto y previenen que el aire llegue al producto.
¡La bolsa es reciclable y amable con el planeta!
A Mannatech le importa tu salud, la salud de nuestro planeta y hacer la vida más fácil con convenientes mejoras en los paquetes.
---
재활용이 가능한 새로운 거싯 백으로 휴대성을 높인 OSP
많은 분들이 OSP의 내용물을 좋아하십니다. 새롭게 선보이는 포장을 기대하셔도 좋습니다!
옵티멀 서포트 패킷은 가장 주문이 많은 제품 중 하나로 현재는 박스 포장 상태로 출고되고 있습니다. 2020년 중반 또는 늦은 봄에는 박스에서 거싯 백으로 포장이 변경될 예정입니다.
이번 업데이트를 통해 추가 비용 없이 그리고 내부는 완전히 동일한 제품으로 몇 가지 추가된 장점을 누릴 수 있습니다.
캐비닛, 여행가방 또는 헬스클럽 가방에서 부피를 덜 차지합니다.
여행 시 휴대하기가 편합니다.
제품이 더 신선하게 오래 유지됩니다! 개봉 후에도 다시 잠글 수 있어 공간 낭비를 줄이고 제품에 공기가 들어가는 것을 막아줍니다.
재활용이 가능해 환경 친화적입니다!
매나테크는 여러분의 건강은 물론 지구의 건강 또한 배려하고 있으며 보다 편리한 포장으로 더 손쉬운 생활을 만들고자 합니다.