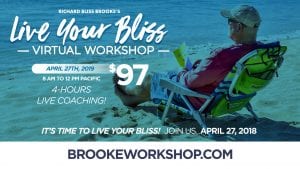 Join Richard Brooke on Saturday, April 27 from 8am to 12pm (PST) for his online training event. Richard will bring you a breakthrough at his highly acclaimed "Live Your Bliss Workshop". If you are ready to overcome yourself and breakthrough to the next level, this is the training for you.
Richard Brooke is a 42-year Network Marketing veteran and the author of "The Four Year Career®" and "Mach2: How to Master Self-Motivation and Stay on Fire". During MannaFest 2019, Richard has provided a special sales training that has inspired a lot of people. If you would like to learn more from Richard, this training event is a good chance, Richard will be covering:
Learn the power and freedom of living an authentic life
Embrace your natural gifts as your secret power
Experience why goal setting limits your progress
Learn how to craft a simple, inspiring, personal and powerful vision for every area of your life
For only $97, you can join Richard's training live on Saturday, April 27 from 8am to 12pm (PST). Those who register will receive access to a private Facebook group loaded with all the replays and support material that Richard shares during the event. Register today at https://www.brookeworkshop.com/ .