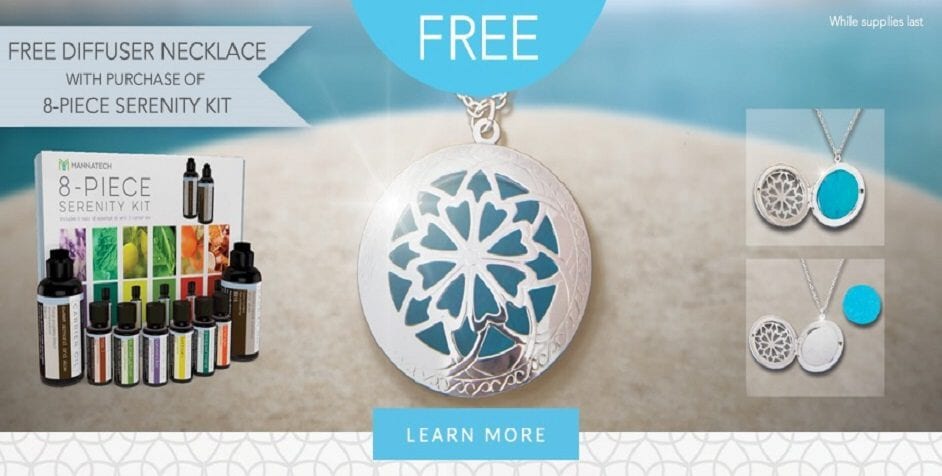 Ring in the Spring: Get a FREE Diffuser Necklace with Purchase of 8-piece Essential Oils Kit
We're ringing in the spring with a sweet-smelling promotion. While supplies last, purchase one of the new Serenity 8-Piece Essential Oil Kits at a 5% discount, and get a beautiful diffuser necklace, FREE.
Gift the kit and necklace to the special mother, daughter or graduate in your life or purchase it for yourself. Carry beautiful essential oil scents with you wherever you go!
Check out more details about this special offer here. Order item #31001. Available for U.S. only. Not for resale in Canada.  Available now  – June 3 or while supplies last.
---
Un regalo de primavera: obtén GRATIS un collar difusor con la compra del kit de 8 piezas de aceites esenciales (Essential Oils)
Estamos celebrando la primavera con esta aromática promoción. Hasta agotar existencias, compra uno de los paquetes de 8 piezas de aceites esenciales con un descuento del 5 % y obtén un hermoso collar difusor, GRATIS.
Obsequia el collar y el kit a una madre especial, hija, o a una estudiante que se acaba de graduar, ¡o regálatelo a ti! Lleva contigo los maravillosos aromas de nuestros aceites esenciales, ¡a donde quiera que vayas!
Consulta aquí los detalles sobre esta especial oferta. Orden de producto # 31001 Solo disponible en EE. UU. No para reventa en Canadá. Disponible ahora – hasta el 3 de junio, o hasta agotar existencias.
---
春天的体验:购买8件精油套装获免费精油散香项链。
我们正在进行春季芳香嗅觉体验优惠计划。
购买一套8件新型淡雅精油套装可获得5%折扣和一条免费精致的散香项链。
购买此款套装可当作礼品来赠送给您周围的家人, 亲朋好友们或您自己。无论你走到哪里,曼妙的精油香气都会伴随着你。
请进入这里可查看到有关此特别优惠的详细资料。产品编码 31001。仅限美国,加拿大客戶只可使用不得转售模式(NFR)。此优惠现在开始至六月三日,售完为止。