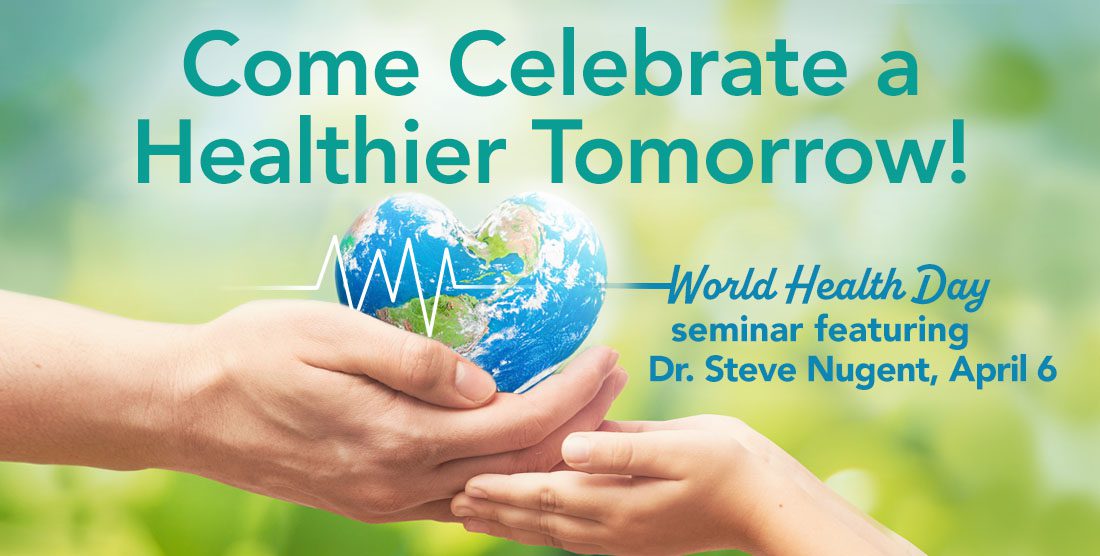 SAVE THE DATE: World Health Day Seminar Featuring Dr. Steve Nugent, April 6
April 7 is World Health Day. It's celebrated as a means to spread awareness of the importance of human dignity in our lives through self-esteem, physical fitness and a balanced healthy lifestyle.
To help us make healthier decisions that lead to a healthier lifestyle, our very own Dr. Steve Nugent, Mannatech's Chief Science and Health Officer, will be leading the webinar and will share his thoughts on the following:
World health trends
Awareness of the community
The importance of immunity
Gut health
How Mannatech meets these needs
It's the Perfect Prospecting Opportunity—Come Join Us!
In light of what we have all been through the past two years, being healthy is more vital than ever. Take advantage of this unique opportunity to present Mannatech in a fresh and innovative light to your prospects, Customers and Associates.
WHEN: Wednesday, April 6 – 6:00PM to 7:30PM CST
WHERE: Via Zoom: https://zoom.us/j/98602659761
Translations available in Chinese and Spanish.
---
请按时出席4 月 6 日关于世界卫生日研讨会,主讲人:Steve Nugent 博士
4 月 7 日是世界卫生日。世界卫生日旨在宣扬并提高我们在生活中对人类尊严重要性的意识,倡导自我尊重、身体健康和均衡的生活方式。
为帮助我们做出更有利健康的决定,实现更健康的生活方式,美泰首席科学和健康官Steve Nugent 博士将担任这次网络研讨会主讲,与我们分享他对以下几个方面的看法:
世界卫生趋势
社区意识
免疫力的重要性
肠道健康
美泰如何满足这些需求
这是绝佳的客户拓展机会——快来加入我们!
鉴于过去两年间的经历,我们比以往任何时候都更清楚保持健康的重要性。利用这次独特的机会,向您的潜在客户以及现有的客户和经销商,展示美泰最新、最有创意的亮点。
时间:4 月 6 日(周三)–晚上 6:00 至 7:30 (中部时间)
直播平台:Zoom:https://zoom.us/j/98602659761
会议提供中文和西班牙语翻译。
---
EL 7 DE ABRIL ES EL DÍA MUNDIAL DE LA SALUD Y SE CELEBRA COMO UN MEDIO PARA DIFUNDIR LA IMPORTANCIA DE LA DIGNIDAD HUMANA EN NUESTRAS VIDAS A TRAVÉS DE LA AUTOESTIMA, ALIMENTACIÓN ADECUADA, LA ACTIVIDAD FÍSICA Y, POR SUPUESTO, LA CORRECTA SUPLEMENTACIÓN.
PARA AYUDARNOS A TOMAR DECISIONES QUE NOS CONDUZCAN A UN ESTILO DE VIDA MÁS SALUDABLE, NUESTRA VOZ MÁS IMPORTANTE EN TEMAS DE BIENESTAR, EL DR. STEVE NUGENT, DIRIGIRÁ ESTE SEMINARIO DIGITAL, EN EL QUE COMPARTIRÁ SUS CONCLUSIONES SOBRE TEMAS RELACIONADOS CON EL BIENESTAR COMO LA IMPORTANCIA DE LA INMUNIDAD, EL BIENESTAR INTESTINAL Y COMO MANNATECH SATISFACE ESTAS NECESIDADES.
APROVECHA ESTA OPORTUNIDAD ÚNICA PARA PRESENTAR MANNATECH A TUS PROSPECTOS, CLIENTES Y ASOCIADOS.
¡ÚNETE A NOSOTROS!
¡CELEBREMOS JUNTOS UNA JORNADA DE BIENESTAR!
MIÉRCOLES 6 DE ABRIL DEL 2022
18:00 HORAS
ENVENTO VÍA ZOOM
HTTPS://ZOOM.US/J/98602659761