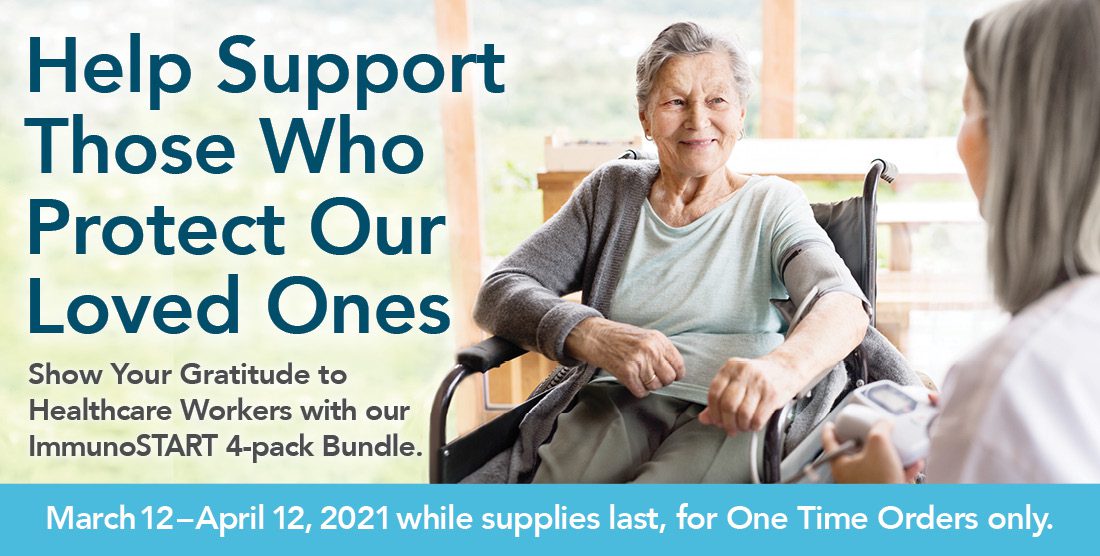 Show Your Gratitude to Healthcare Workers with ImmunoSTART Bundle
Do good, feel good! Healthcare workers give so much for those they serve. They put their life on the line, sacrificing for others' health and safety everyday without any thought of the danger to themselves.
To show our gratitude and support for the  healthcare worker heroes, Mannatech is offering you the opportunity to give back with our Do Good, Feel Good special.
Promotion Details
For every purchase of the ImmunoSTART® 4-pack bundle (item # 42701) at a special Associate/Preferred Customer price of $109.99 (Retail: $124.99, PV 103) † you'll receive 30% off YOUR ImmunoSTART AND Mannatech will donate 2 FREE bottles to healthcare workers! Now is your chance to help these heroes  strengthen their immunity as they fight to keep our loved ones healthy and safe!*
A healthy functioning immune system is essential throughout every season. ImmunoSTART is a year around supplement to support healthy immune function.*
Benefits include:
Provides peptides, amino acids and glycans‡ designed to naturally support immune responses.*
Boasts a targeted array of nutrients that build and nurture immune health.*
May increase plasma levels of the most abundant immune cells in the body.*
Supplies natural antibodies.*
Supports immune modulation.*
The only nutritional supplement with a proprietary chewable formula containing colostrum, β-glucan and modified citrus pectin.*
Immunity Support for Everyone! – ORDER TODAY!
Four bottles for you, two bottles for healthcare workers!

All donations will be going to Seniors Helping Seniors
Product Expiration Date: 6/30/2021
---
用ImmnuoSTART四盒套组来表达对医护人员的感激。
做好事,心情好!医护人员为他们的病人付出了很多。他们把生命放在前线,为了他人的健康和安全而不顾及自身安危。
为了表达谢意,同时也为了支持医护人员,美泰秉持做好事,心情好的信念,为您提供了回报这些英雄的机会。
促销活动详情
经销商/优惠客户购买 ImmunoSTART® 活性牛初乳咀嚼片 4 瓶装套组(货号 42701)时,可享受 109.99 美元的优惠价格(零售价格:124.99 美元,PV 103)†。如果您购买此套组,可享受 30% 的优惠折扣。另外,在您购买一次此套组的同时,美泰将向医护人员捐赠两瓶同款产品!这些英雄保护了我们所爱之人的安全和健康,现在帮助这些英雄捍卫免疫力的机会来了。
拥有健康的免疫系统在每个季节都至关重要。ImmunoSTART 活性牛初乳咀嚼片适合常年服用,是一种有益于人体免疫功能的营养补充剂。*
产品益处:
含有可天然支持免疫反应的肽、氨基酸和聚醣‡。*
含大量有益于增强和促进免疫健康的针对性营养素。*
可能帮助提高体内最丰富免疫细胞的血浆水平。*
提供天然抗体。*
支持免疫调控。*
ImmunoSTART 活性牛初乳咀嚼片是唯一含有初乳、β–葡聚糖和改良柑橘果胶并采用独家咀嚼配方的营养保健品。*
您每购买四瓶活性牛初乳咀嚼片,医护人员就会获赠两瓶同款产品!
所有的捐赠都会给"老年人互帮互助"(Seniors Helping Seniors)组织。
 https://seniorshelpingseniors.com/
 产品保质期:2021 年 6 月 30 日
†不得在加拿大转售。仅限一次性订单。本次促销活动不发放忠诚积分。此优惠促销不受美泰满意度保证的约束。所有销售均为最终销售,一经售出恕不退款或换货。
‡醣质营养素是源自天然的有益糖类。
*此说明尚未经过食品药品监督管理局评估。本产品不可用于诊断、治疗、治愈或预防任何疾病。
---
Muestra tu Gratitud a los Trabajadores de Servicios de Emergencia con el Paquete de ImmunoSTART
¡Haz el Bien, Siéntete Bien! Los trabajadores de salud dan tanto a aquellas personas a quienes sirven. Ellos ponen su vida en la línea, sacrificándose por la salud y seguridad de los otros todos los días, sin pensar en que ellos mismos se están poniendo en peligro.
Para mostrar nuestra gratitud y apoyo para nuestros los trabajadores de salud héroes, Mannatech te ofrece la oportunidad de ayudarlos con nuestro especial Haz el Bien, Siéntete Bien.
Detalles de la promoción
Por cada compra del Paquete Familiar de 4 Frascos de ImmunoSTART®, (producto# 42701) al precio especial de solo $109.99 (precio al público: $124.99, PV 103)†, ¡recibes un descuento de 30 % en TU ImmunoSTART Y Mannatech donará 2  frascos GRATIS a trabajadores de salud! ¡Ahora en tu oportunidad de ayudar a estos héroes a fortalecer su inmunidad mientras luchan para mantenernos saludables y seguros!*
Un saludable funcionamiento del sistema inmunitario es esencial en cada temporada. ImmunoSTART es un suplemento para promover una función inmunitaria saludable todo el año.*
Los beneficios incluyen:
Otorga péptidos, aminoácidos y glicanos‡ diseñados para respaldar naturalmente las respuestas inmunitarias.*
Incluye una variedad de nutrientes específicos para construir la salud inmunitaria natural.*
Puede incrementar los niveles de plasma de las células inmunitarias más abundantes en el cuerpo.*
Suministra anticuerpos naturales.*
Respalda la modulación inmunitaria.*
El único suplemento alimenticio con una exclusiva fórmula masticable, que contiene calostro, β-glucano y pectina modificada de cítricos. *
¡Respaldo Inmunitario para Todos! – ¡HAZ TU PEDIDO HOY!
Cuatro frascos para ti, ¡dos frascos para los trabajadores de salud!
Todos los donativos se destinarán a Seniors Helping Seniors (Adultos mayores ayudando a adultos mayores).
https://seniorshelpingseniors.com/
Fecha de caducidad del producto: 6/30/2021
No para reventa en Canadá. Aplicable solo para órdenes únicas. No se entregarán Puntos de Lealtad para esta promoción. Esta promoción especial no está sujeta a la Satisfacción Garantizada de Mannatech. Todas las ventas son finales. No se aceptan cambios ni devoluciones.
‡Los Gliconutrientes son sacáridos benéficos que se encuentran en la naturaleza.
*Estas declaraciones no han sido evaluadas por la Administración de Medicamentos y Alimentos de Estados Unidos. Estos productos no tienen la intención de diagnosticar, curar, tratar o prevenir ninguna enfermedad.