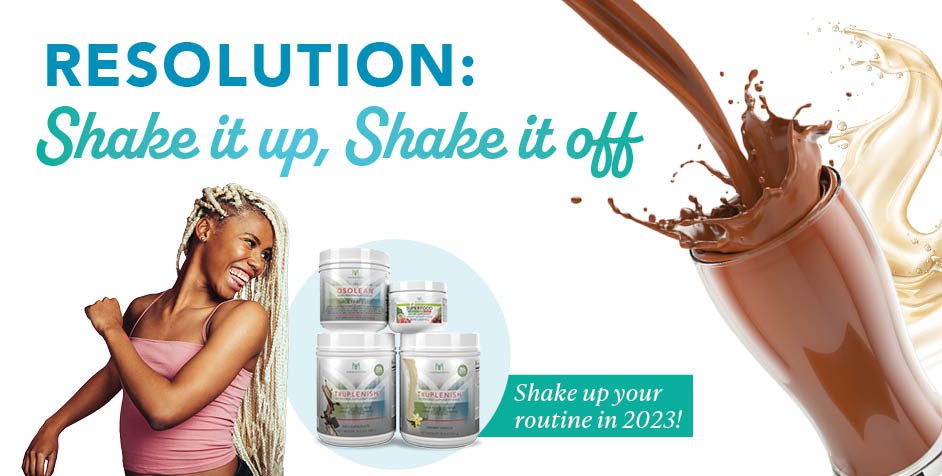 Simplify Your Resolution 💃 Shake Up 2023
The ideal weight isn't just a number, it's more of a feeling. Feeling like doing more, feeling rejuvenated, feeling confident. Mannatech has three very amazing, very different powder formulas to help you Shake It Up, Shake It Off!
BUNDLE & SAVE 16%
1  OsoLean
1 Superfood Greens & Reds
1 TruPlenish Nutritional Shake (Choice of Rich Chocolate or Creamy Vanilla)
SKU: 28601 | Associate Price: $129.99 USD | PV: 130
Offer ends December 31 OR WHILE SUPPLIES LAST!
Shop now so you can SHAKE, SHAKE, SHAKE into the new year!
OsoLean®:Our whey protein isolate is Scientifically studied to help you sustain a high metabolism, lose fat‡ while maintaining lean muscle and feel full for longer. *†
Superfood Greens & Reds: 20 phytonutrients come together in this unique formula to help fill nutritional gaps and support healthy cortisol levels.*
TruPLENISH™: This plant-based shake is full of vitamins, minerals, probiotics, Glycans and 20 grams of protein to help you feel fuller longer. * Available in Rich Chocolate or Creamy Vanilla.
HOW TO BENEFIT
Drink a shake midmorning or in the afternoon as a refreshing alternative to diet drinks or plain water. Shakes are also an excellent way to supplement light meals! And most importantly, shake up some excitement in your 2023 self-care routine, and shake off the doubt — you can do this!
FOR ONE-TIME ORDERS ONLY. NOT FOR RESALE IN CANADA. ORDERS CANNOT BE REDEEMED USING LOYALTY POINTS. THERE WILL BE NO FIRST ORDER BONUS FOR FIRST ORDERS OF THIS PROMOTIONAL ITEM DURING THIS PROMOTIONAL PERIOD AND/OR WHILE SUPPLIES LAST. ALL SALES FINAL.
†Study was at least partially funded by Mannatech. In some cases, this means that Mannatech donated the product that was studied. In other cases, additional funding was provided.
‡When used in conjunction with a reduced calorie diet and exercise.
*This statement has not been evaluated by the Food and Drug Administration. This product is not intended to diagnose, treat, cure or prevent any disease.
---
轻松达标 💃重塑 2023
理想体重不只是一个数字,更多的是带来一种感觉,一种活力四射、精神焕发、自信满满的感觉。美泰有三款各有千秋的神奇粉剂配方,可以帮助您舞动起来,活力全开!
购买套组,优惠 16%
1 罐美泰乳清蛋白粉
1 罐 Superfood Greens and Reds
1 罐美泰营养代餐粉(浓香巧克力口味或奶油香草口味)
SKU: 28601 | 经销商价:129.99 美元 | PV:130
优惠将于 12 月 31 日结束或售完为止!马上购买,舞动起来,尽情享受新的一年!
美泰乳清蛋白粉:经科学研究证明,我们的乳清蛋白补充剂不仅可以帮助您维持高水平的新陈代谢,有利于减少脂肪‡,同时还能强健肌肉,让饱腹感更为持久。*†
Superfood Greens and Reds:这款产品的独特配方内含 20 种植物营养素,有助于填补营养缺口,保持健康的皮质醇水平。*
美泰营养代餐粉:这款植物奶昔不仅富含维生素、矿物质、益生菌和聚醣,还含有 20 克蛋白质,可以帮助您长时间维持饱腹感。*可选择浓香巧克力或奶油香草口味。
建议用法
早上或下午可以用一杯奶昔替代低糖饮料或白开水,帮助提神。此外,奶昔还可以作为轻食的绝佳补充!最重要的是,可以让 2023 年的日常自我护理流程充满活力,清空烦恼 — 您一定 可以!
仅适用于一次性订单。不得在加拿大转售。不能使用忠诚度积分兑换订单。在此促销期间和/或截止促销产品售完期间,订购此促销产品将不享受首购推荐奖金。所有销售均为最终销售。
†美泰至少对研究提供部分资金支持。在某些情况下,这意味着用于研究的产品是美泰捐赠的。而在其他情况下,则提供了更多的资金支持。
‡服用时建议配合低热量饮食并定期锻炼。
*此说明尚未经过食品药物管理局评估。本产品不可用于诊断、治疗、治愈或预防任何疾病。
---
Simplifica tus Propósitos 💃 Agita el 2023
El peso ideal no es solo un número, es más una sensación. Sentir ganas de hacer más cosas, sentirte más joven, sentirte con más confianza. ¡Mannatech tiene tres increíbles y muy diferentes productos en fórmulas de polvo para ayudarte a Agitar y Bajar!
COMPRA EN PAQUETE Y AHORRA UN 16 %
1 OsoLean®
1 Superfood Greens & Reds
1 Malteada Nutricional TruPLENISH™ (tu elección de Chocolate Intenso o Crema de Vainilla)
SKU: 28601 | Precio para Asociados: $129.99 USD | PV: 130
¡La oferta termina el 31 de diciembre O HASTA AGOTAR EXISTENCIAS! ¡Compra ahora y puedes AGITAR, AGITAR Y AGITAR tus bebidas en el año nuevo!
OsoLean®: Nuestro proteína de suero de leche aislada está científicamente estudiada apara ayudarte a mantener un alto metabolismo y perder grasa‡ al mismo tiempo en que mantienes el músculo magro y te sientes lleno por más tiempo. *†
Superfood Greens & Reds: 20 fitonutrientes se unen en esta fórmula única para ayudarte a cubrir los vacíos nutricionales y respaldar los niveles saludables de cortisol.*
TruPLENISH™: Esta malteada basada en plantas está cargada de vitaminas, minerales, probióticos, Glicanos y 20 gramos de proteína para ayudarte a sentirte lleno por más tiempo.* Disponible en sabores de Chocolate Intenso o Crema de Vainilla.
CÓMO BENEFICIARTE
Agita y toma una malteada a media mañana o en la tarde como una refrescante alternativa a las bebidas dietéticas o al agua simple. ¡Las malteadas también son una forma excelente de suplementar los alimentos ligeros! Y sobre todo, agita algo de entusiasmo a tu rutina de cuidado personal en 2023 y olvídate de las dudas— ¡tú puedes lograrlo!
SOLO PARA PEDIDOS ÚNICOS. NO PARA REVENTA EN CANADÁ. LOS PEDIDOS NO PUEDEN PAGARSE USANDO PUNTOS DE LEALTAD. NO HAY BONO DE PRIMERA COMPRA PARA LOS PRIMEROS PEDIDOS CON ESTE ARTÍCULO PROMOCIONAL DURANTE ESTE PERIODO DE PROMOCIÓN Y/O HASTA AGOTAR EXISTENCIAS. TODAS LAS VENTAS SON FINALES.
†El estudio fue, por lo menos parcialmente, financiado por Mannatech. En algunos casos, esto significa que Mannatech donó el producto que fue estudiado. En otros casos, se otorgó financiamiento adicional.
‡Cuando se usa junto con una dieta baja en calorías y ejercicio.
*Estas declaraciones no han sido evaluadas por la Administración Medicamentos y Alimentos de Estados Unidos. Este producto no tiene la intención de diagnosticar, curar, tratar o prevenir ninguna enfermedad.