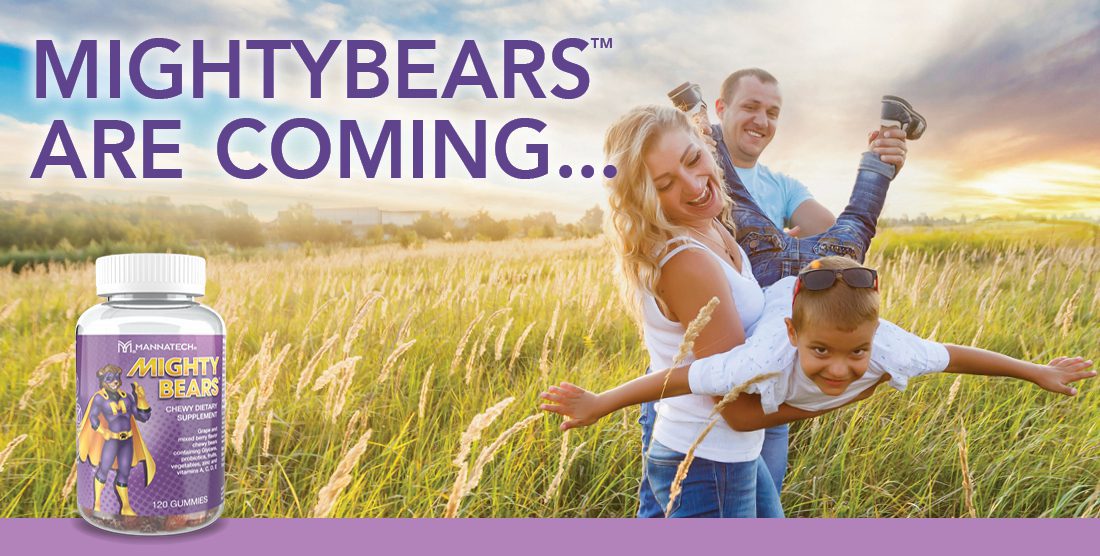 Something Mighty is Coming Your Way
If you and your family enjoy MannaBears™… then you're going to LOVE the new, powerful, and even more nutritious formula of MightyBears™, which will soon make its debut!
MightyBears are flavorfully sweet, tangy, chewy, pectin gummies that provide good sources of vitamins A, C, D, E, and zinc! But the yummy goodness doesn't stop there, MightyBears also contain probiotics; 1 Billion CFU per serving to be exact!
MightyBears gummies help support:
Immune Health*
Gut Health*
Eye Health*
Bone Health*
Growth and Development*
Brain Health*
 Incredibly delicious MightyBears gummies provide nutrition for kids of all ages, BIG and SMALL.
MightyBears provide:
A great source of vitamin D for growth and development, as well as bone health.*
Zinc and vitamin A for brain health and development.*
Vitamins A, E and Beta-carotene for eye health.*
Vitamin C and zinc to support a healthy immune system.*
Prebiotic fiber AND Probiotics totaling 1 billion CFU's in each serving, to support healthy, happy tummies.*
What You Need To Know:
MightyBears, will eventually replace MannaBears in the product lineup once inventory of MannaBears is depleted.
Member Pricing: $34.99 | 33 PV
With each purchase of MightyBears, receive a free Activity Book and Sticker! Available only while supplies last.
Stay tuned for more information about the MightyBears launch!
*These statements have not been evaluated by the Food and Drug Administration. These products are not intended to diagnose, treat, cure or prevent any disease.
©2021 Mannatech, Incorporated. All rights reserved. MannaBears, MightyBears, Mannatech and Stylized M Design are trademarks of Mannatech, Incorporated.
---
Algo poderoso viene hacia ti
Las MightyBears™ vienen en….
Si tú y tu familia disfrutan las MannaBears™… te va a ENCANTAR esta nueva, poderosa e incluso más nutritiva fórmula de las MightyBears™, ¡y pronto hará su debut!
Las MightyBears son unas gomitas de pectina dulces, ácidas, masticables, que ofrecen buenas fuentes de vitaminas A, C, D, E, y Zinc! Pero los deliciosos beneficios no acaban ahí, MightyBears también contienen probióticos: ¡1,000 millones de Unidades Formadoras de Colonias para ser exactos!
Las MightyBears ayudan a respaldar:
La Salud Inmunitaria*
La salud gastrointestinal*
La salud de los ojos*
La salud de los huesos*
El crecimiento y el desarrollo*
La salud del cerebro*
 Increíblemente deliciosas, las gomitas MightyBears ofrecen nutrición para niños de todas las edades GRANDES y PEQUEÑOS.
Las gomitas MightyBears ofrecen:
Una excelente fuente de vitamina D para el crecimiento y desarrollo, así como para la salud de los huesos.*
Zinc y vitamina A para la salud y desarrollo del cerebro.*
Vitaminas A, E y Betacaroteno para la salud de los ojos.*
Vitamina C y zinc para respaldar el sistema inmunitario.*
Fibra prebiótica, y probióticos totalizando 1,000 millones de Unidades Formadoras de Colonias en cada porción, para respaldar sistemas gastrointestinales saludables y felicies.*
Lo que necesitas saber:
MightyBears, eventualmente reemplazará a las MannaBears en la línea de productos, una vez que el inventario de MightyBears se haya agotado.
Precio para Miembros: $34.99 | 32 PV
Con cada compra de MightyBears, ¡recibe gratis un libro de actividades y calcomanías! Disponible hasta agotar existencias.
¡Mantente al pendiente para más información sobre el lanzamiento de las MightyBears!
*Estas declaraciones no han sido evaluadas por la Administración de Medicamentos y Alimentos de Estados Unidos. Estos productos no tienen la intención de diagnosticar, curar, tratar o prevenir ninguna enfermedad.
©2021 Mannatech, Incorporated. Todos los derechos reservados. MannaBears, MightyBears, Mannatech y Stylized M Design son marcas registradas de Mannatech, Incorporated.
---
强势来袭
MightyBears 醣小熊果胶软糖即将与您见面…
若您和您的家人醉心于之前的美泰小熊糖®,那么您也会钟爱新品 MightyBears 醣小熊果胶软糖,这款软糖功效强大、营养更丰富,即将惊艳上市!
MightyBears 醣小熊果胶软糖是一种甜香四溢、浓醇诱人、Q 弹耐嚼的果胶软糖,富含维生素 A、C、D、E 和锌!这款软糖不仅宠溺您的味蕾,还富含益生菌,每份 MightyBears 醣小熊果胶软糖产品含益生菌共计 10 亿 CFU!
MightyBears 小熊糖有助于促进:
免疫健康*
肠道健康*
视力健康*
骨骼健康*
生长发育*
脑部健康*
 美味 MightyBears 醣小熊果胶软糖适合各年龄段的儿童,不论年龄大小。
MightyBears 小熊糖可提供:
维生素 D,促进生长发育和骨骼健康。*
锌和维生素 A,促进大脑健康发育。*
维生素 A、E 和 β-胡萝卜素,有益于眼部保健。*
维生素 C 和锌,保障免疫系统健康。*
每份产品含益生元纤维和益生菌共计 10 亿 CFU,有助于胃部的舒适健康。*
须知:
美泰小熊糖®产品库存清空后,MightyBears 醣小熊果胶软糖将取代美泰小熊糖®的产品线。
会员价:99 美元 | 32 PV
您每次购买 MightyBears 醣小熊果胶软糖,都将免费获赠一本活动手册和贴纸!售完即止。
敬请关注有关 MightyBears 醣小熊果胶软糖上市的详细信息!
*此说明尚未经过食品药品监督管理局评估。本产品不可用于诊断、治疗、治愈或预防任何疾病。
©2021 Mannatech, Incorporated。保留所有权利。MannaBears、MightyBears、Mannatech 和独特的 M 设计是 Mannatech, Incorporated 的商标。此为中文翻译,如有歧义,一切以英文版本为准。