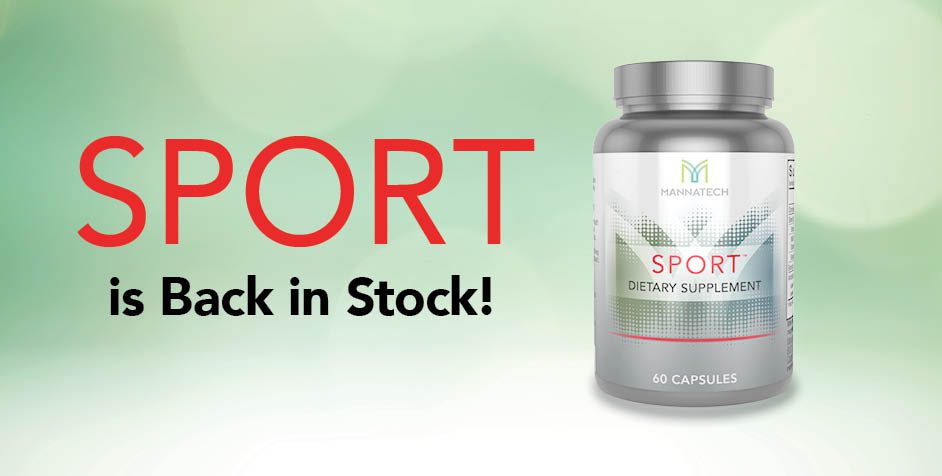 SPORT is Back in Stock!
Stay Fit. Stay Energized
We are excited to announce that SPORT™ (12101) is now back in stock!
If your fitness regimen has ever left you feeling tired, rundown or worn out, your answer might be in the that you are not getting the right nutrition. SPORT capsules with a blend of herbs and herbal extracts can help maintain normal blood sugars so you can stay active during and after the gym.*
SPORT offers cellular support designed to help promote energy and performance needed for physical activity, support healthy body composition†, and provide essential nutrients to support healthy carbohydrate utilization.
BENEFITS:
Supports carbohydrate utilization.*
Helps maintain a healthy, glucose/blood sugar range.*
Plant sterols and other ingredients in SPORT may help support healthy blood lipid levels and heart health.*
Supports energy and performance.*
Supports a healthy body composition.*
† When taken in conjunction with a reduced calorie diet and regular exercise. Individual results may vary
---
SPORT美泰运动宝胶囊现已到货!
葆健康。蓄活力
很高兴向大家宣布:SPORT美泰运动宝胶囊现已到货!
若您在健身后顿感疲惫不堪、筋疲力尽或疲乏无力,其原因可能是您未能摄取合理的营养。SPORT美泰运动宝胶囊甄采植物和植物提取物混合配制而成,服用此胶囊可帮助您保持正常血糖水平,让您在健身时和健身后活力满满。*
SPORT美泰运动宝胶囊能够为细胞提供支持,增强身体运动时的能量供应和人体机能,促进身体结构健康发展†,提供必需营养素,促进对碳水化合物的健康利用。
 优势:
提高对碳水化合物的利用。*
有助于维持正常的血糖水平。*
植物甾醇和 SPORT美泰运动宝胶囊中的其他成分有助于支持健康的血脂水平和心脏健康。*
提升精力和机能。*
支持健康的身体构成。*
† 建议搭配低热饮食并定期锻炼。效果可能因人而异
*此说明尚未经过食品药品监督管理局评估。本产品不可用于诊断、治疗、治愈或预防任何疾病
---
¡SPORT está nuevamente en existencias!
 Mantén tu buen estado físico – Mantén tu energía
¡Estamos entusiasmados de anunciar que SPORT™ (12101) está nuevamente en existencias!
Si tu régimen de ejercicio alguna vez te ha dejado agotado, fatigado, o sin energía, esto puede deberse a que no estás recibiendo la nutrición correcta. Las cápsulas SPORT con una mezcla de hierbas y extractos herbales pueden ayudarte a mantener niveles normales de azúcar en la sangre para que te mantengas activo durante y después de tu tiempo en el gimnasio.*
SPORT ofrece respaldo celular diseñado para ayudar a promover la energía y el desempeño necesarios para la actividad física, para respaldar una composición corporal saludable†, y para darte los nutrientes esenciales para apoyar una utilización saludable de los carbohidratos.
BENEFICIOS:
Respalda la utilización de carbohidratos.*
Ayuda a mantener un rango saludable de glucosa/azúcar en la sangre.*
Los esteroles de plantas y otros ingredientes en SPORT pueden ayudar a respaldar los niveles saludables de lípidos en la sangre y la salud del corazón.*
Apoya la energía y el rendimiento atlético.*
Respalda la composición corporal saludable.*
† Cuando se toman junto con una dieta baja en calorías y se realiza ejercicio de forma regular.  Los resultados individuales pueden variar.
*Estas declaraciones no han sido evaluadas por la Administración de Medicamentos y Alimentos de Estados Unidos. Este producto no tiene la intención de diagnosticar, curar, tratar o prevenir ninguna enfermedad.