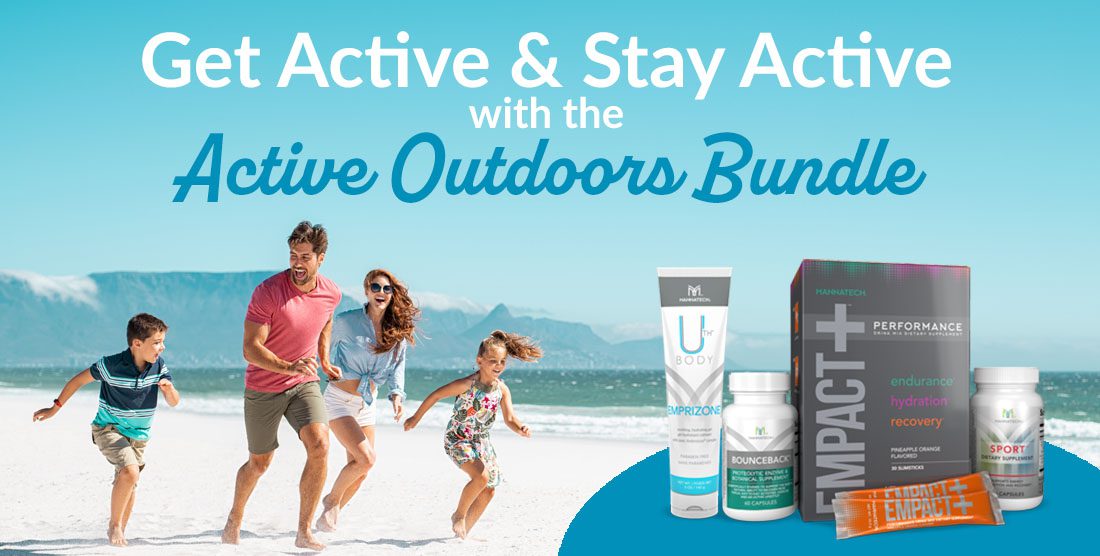 Summer Is HERE!…and so is the Active Outdoors Bundle!
Our new Active Outdoors Bundle is ready to help you relax, refresh and rejuvenate from all the fun in the sun!*
What are you doing this Summer to stay active and healthy? Whether you are hiking, kayaking, working on your summer body or simply tackling home improvements, you are likely feeling and seeing the benefits, but you may be also feeling a little worn out. *
That's why we created the NEW Active Outdoors bundle.
It includes SPORT™, EMPACT+®, BounceBack® and Emprizone® so you can take advantage of the outdoors no matter what kind of activity you choose! *
Active Outdoors Bundle: Includes 1 SPORT, 1 EMPACT+, 1 BounceBack, and 1 Emprizone
SKU 66801
Retail Price: $174.99
Associate/Member Price: $158.99
PV 159
15 % Savings
For One-time and Auto Orders
SPORT capsules, which include a blend of herbs and herbal extracts, can help maintain normal blood sugars so you can support your body's natural ability to utilize carbohydrates. *
EMPACT+ provides a wide spectrum of electrolytes and supports energy levels as well as supports muscle repair and recovery. * Drink it before, during or after any activity that has you sweating and your blood pumping. It's also safe to sip while lounging by the pool!
BounceBack capsules are a powerful combination of select ingredients scientifically studied to support the body's natural ability to recover from exercise and typical day-to-day activities. *
Emprizone is a water-based gel, enriched with Aloe vera gel extract, vitamin E and A. It hydrates and soothes skin while providing a protective barrier. This unique formula is ideal for after sun exposure, waxing or any sensitive dry, irritated skin.
Stay Active. Stay Healthy. Stay Outdoors.
Add our NEW Active Outdoors Bundle to your monthly subscription!
*These statements have not been evaluated by the Food and Drug Administration. These products are not intended to diagnose, treat, cure or prevent any disease.
---
夏天到啦!我们的户外活力套装也上市了!
全新户外活力套装,助您放松身心、恢复精力、焕发活力,尽情享受阳光下的乐趣!*
这个夏天,您想如何保持活力与健康呢?无论是徒步旅行、划皮艇、夏日健身,还是简单地进行家庭装修,或许您都能感受并看到这些活动带来的好处,但您也可能会觉得有些疲惫乏力。*
因此,我们针对性地打造了全新户外活力套装。
套装包含 SPORT™ 美泰运动宝胶囊、EMPACT+® 美泰活力能量饮料、美泰骨关节胶囊和 Emprizone® 多醣芦荟胶。无论选择什么活动,您都能尽情享受户外带来的乐趣!*
户外活力套装:包含 1 瓶 SPORT 美泰运动宝胶囊、1 瓶 EMPACT+ 美泰活力能量饮料、1 瓶美泰骨关节胶囊和 1 支 Emprizone 多醣芦荟胶
SKU 66801
零售价:99 美元
经销商/会员价:99 美元
PV 159
优惠 15%
适用于一次性订单和自动订单
SPORT 美泰运动宝胶囊甄采植物和植物提取物混合配制而成,服用此胶囊可帮助您保持正常血糖水平,提高身体对碳水化合物的自然利用能力。*
EMPACT+ 美泰活力能量饮料提供非常多样化的电解质,助您保持活力,并帮助肌肉修复和恢复。*在进行任何让您流汗和血液循环加速的活动之前、期间或之后都可饮用该饮料。还可以在泳池旁的躺椅上饮用!
美泰骨关节 胶囊的强效配方选用经过科学验证的成分,帮助支持人体运用自然能力从日常活动和常规锻炼中恢复过来。*
Emprizone 多醣芦荟胶是一款富含芦荟提取物、维生素 E 和维生素 A 的水基凝胶,能够在舒缓皮肤的同时提供保护屏障。这款配方独特的产品适合敏感皮肤和干燥受损皮肤,在日晒、蜜蜡除毛之后使用效果尤佳。
持续保持活力。维持健康状态。坚持户外活动。
*此说明尚未经过食品药品监督管理局评估。本产品不可用于诊断、治疗、治愈或预防任何疾病。
---
 ¡El verano ya está AQUÍ! ¡…y también está aquí el Paquete Actividad al Aire Libre!
 ¡Nuestro nuevo Paquete Actividad al Aire Libre está listo para ayudar a relajarte, revitalizarte y rejuvenecer, después de toda la actividad bajo el sol!*
¿Qué estás haciendo este verano para mantenerte activo y saludable? Ya sea que estés haciendo senderismo, paseando en kayak, ejercitando tu cuerpo para el verano o simplemente trabajando en mejoras para la casa, probablemente estás sintiendo y viendo los beneficios, pero también puedes sentir el agotamiento.*
Es por eso que creamos el NUEVO paquete Actividad al Aire Libre.
Incluye SPORT™, EMPACT+®, BounceBack® y Emprizone® para que puedas tomar ventaja del aire libre, ¡sin importar la actividad que elijas!*
Paquete Actividad al Aire Libre: Incluye 1 SPORT, 1 EMPACT+, 1 BounceBack, y 1 Emprizone
SKU 66801
Precio al Público: $174.99.
Precio para Asociados/Clientes Preferenciales: $158.99
PV 159
Ahorros de 15 %
Para Pedidos Únicos y Órdenes Automáticas
Las cápsulas SPORT, que incluyen una mezcla de hierbas y extractos herbales, pueden ayudar a mantener niveles normales de azúcar en la sangre para que puedas respaldar la habilidad natural del cuerpo de utilizar los carbohidratos.*
EMPACT+ ofrece un amplio espectro de electrolitos y respalda los niveles de energía así como la reparación y recuperación muscular.* Tómalo antes, durante y después de la actividad que te tiene sudando y que acelera tu corazón. ¡También es seguro para disfrutarse mientras descansas junto a la piscina!
Las cápsulas BounceBack son una poderosa combinación de selectos ingredientes que han sido científicamente estudiados para respaldar la habilidad natural del cuerpo de recuperarse de los dolores musculares que son resultado del ejercicio y de las actividades cotidianas.*
Emprizone es un gel basado en agua, enriquecido con extracto de gel de aloe, vitaminas E y A. Hidrata y alivia la piel al otorgar una barrera protectora. Esta fórmula única es ideal para después de la exposición al sol, la depilación con cera, o para cualquier piel sensible, seca o irritada.
Mantente en Actividad.  Mantente Saludable. Mantente al Aire Libre.
¡Agrega nuestro NUEVO Paquete Actividad al Aire Libre a tu suscripción mensual!
*Estas declaraciones no han sido evaluadas por la Administración de Medicamentos y Alimentos de Estados Unidos. Estos productos no tienen la intención de diagnosticar, curar, tratar o prevenir ninguna enfermedad.