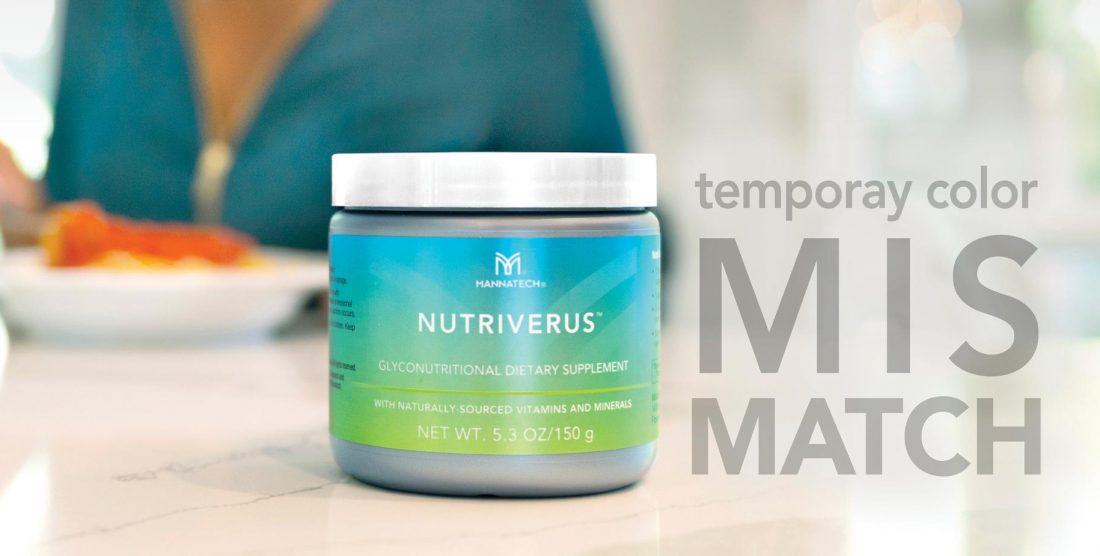 Temporary Lid Color Change for NutriVerus
When given the choice to indefinitely delay your NutriVerus™ order to maintain packaging appearance or temporarily provide a different color lid, for us it was a no-brainer. This change is due to supply chain shortages.
The temporary lid color will be white instead of silver. Please rest assured the mismatched packaging is a temporary change, and one that we want to resolve as quick as we can.
We will also be providing a sticker to the top of the while color lids that will feature the following disclaimer:
"Please pardon the temporary color mis-match! In order to avoid a long delay in shipping your NutriVerus, we decided on this white lid as the silver is on backorder. Rest assured that this product is the same great formula and benefits!"
This lid color change will affect following markets at the projected times:
US/CA NFR/EU – Projected in market January
HK – Projected in market December
ZA – Projected in market end of April
MX – Projected in market June
We will keep you posted on when we know more about when the silver lids will be made available for each market. We apologize for this inconvenience and appreciate your patience and understanding concerning this matter.
---
临时变更美泰醣质果蔬营养粉的瓶盖颜色
为维持原来包装外观而将无限期延误美泰醣质果蔬营养粉订单,还是临时变更为另一种颜色的瓶盖保持供应,我们会毫不犹豫做出选择。供应链短缺是做出此次变更的原因。
瓶盖的颜色将由银色临时变更为白色。请放心,此次包装的变更只是临时的,我们希望能尽快解决这一问题。
我们还会在白色瓶盖的表面贴一枚贴纸,其中附有以下免责声明:
"敬请谅解短期内不匹配的颜色!由于银色瓶盖缺货,为避免您的美泰醣质果蔬营养粉发货时间延误过久,我们决定使用这种白色的瓶盖。请放心,这款产品的强大配方和功效并没有发生变化!"
此次变更颜色的瓶盖在以下市场投入的计划时间:
US/CA NFR/EU——计划在一月投入市场
HK——计划在十二月投入市场
ZA——计划在四月底投入市场
MX——计划在六月投入市场
如果我们得知更多有关何时能向各个市场供应银色瓶盖的信息,我们会随时通知您。对于给您带来的不便,我们深表歉意,我们衷心感谢您对此次变更保持的耐心和理解。
---
Cambio Temporal en el Color de la Tapa de NutriVerus
Cuando se ofrece la opción de retrasar definitivamente tu pedido de NutriVerus™ para mantener la apariencia del empaque o temporalmente se ofrece un color distinto para la tapa, para nosotros no había ninguna duda. Este cambio se debe a una escasez en la cadena de suministro.
El color de la tapa durante el cambio temporal será blanco en lugar de plata. Ten por seguro que el cambio en el empaque es temporal, y queremos que esto se resuelva tan pronto como sea posible.
También contaremos con una calcomanía en la parte superior de las tapas con la siguiente declaración:
"¡Por favor, disculpa este cambio temporal de color! Para evitar los largos retrasos en el envío de tu NutriVerus, hemos decidido usar esta tapa mientras la tapa color plata está agotada. Puedes estar seguro que el producto es la misma maravillosa fórmula con los mismos beneficios!"
Este cambio temporal en el color de la tapa, afectará a los siguientes mercados en los siguientes tiempos estimados.
EE.UU./CA NFR/UE – Se pronostica que estará en el mercado en enero
HK – Se pronostica que estará en el mercado para diciembre
ZA – Se pronostica que estará en el mercado a finales de abril
MX – Se pronostica en el mercado en junio
Te informaremos cuando tengamos más información sobre cuándo las tapas plata estarán disponibles para cada mercado. Te pedimos una disculpa por este inconveniente y agradecemos tu paciencia y comprensión en este asunto.