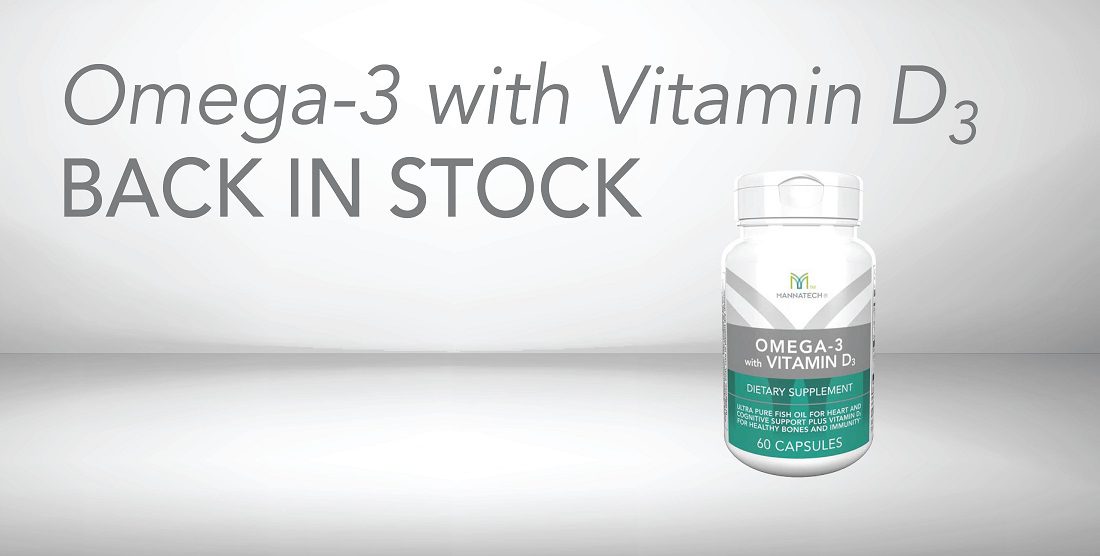 UPDATE Regarding Omega-3 with Vitamin D3
Thank you for your ongoing business with Mannatech!
We are excited to let you know that Omega-3 with Vitamin D3 (SKU# 16601) is now available! We were able to find a solution through a trusted Korean supplier that manufactures the same Omega 3 with Vitamin D3 capsules for our Japan market.
There is only a slight difference in the gel cap formulas: the Japan formula is a fish gelatin whereas the current formula is a bovine gelatin. However, this will not affect the quality nor the efficacy of the product. We do not anticipate any impact to taste as this formula will also have the subtle lemon flavor.
Please note that we anticipate receiving replenishment of the regular US formula (with the bovine gelatin capsule) around the November time frame; this will begin circulating in orders as soon as the Japan formula has been depleted.
We appreciate your patience and understanding as we work diligently to minimize the impact of raw material shortages and supply chain restraints.
As always, know we are here to help and support you.
---
美泰鱼油维生素 D3 胶囊迎来最新进展
感谢您长久以来持续与美泰开展业务!
我们很高兴能通知您,美泰鱼油维生素 D3 (#16601) 胶囊现已有货!我们通过一家值得信赖的韩国供应商找到了解决对策,该公司为我们的日本市场生产相同的美泰鱼油维生素 D3 胶囊。
与之前的产品相比,只有软胶囊配方存在细微差别:日本配方使用的是鱼明胶,目前配方使用的则牛明胶。但是,这不会对产品的质量和功效造成影响。我们预计这种差别不会给口味带来任何改变,因为这款配方也有淡淡的柠檬香味。
请注意,我们预计将在 11 月左右收到补货的常规美国配方(使用骨明胶胶囊)产品;待日本配方产品售罄后,这一款产品便会投放至流通市场。
十分感谢您给予我们的耐心和理解,我们正竭力将原材料短缺和供应链限制的影响降到最低。
美泰始终是您的坚强后盾。
---
ACTUALIZACIÓN sobre Omega-3 with Vitamin D
¡Gracias por tu continuo negocio con Mannatech!
¡Nos entusiasma dejarte saber que el Omega-3 with Vitamin D3 (#16601) está ahora disponible! Pudimos encontrar una solución a través de un confiable proveedor coreano que manufactura las mismas cápsulas Omega 3 with Vitamin D3 para nuestro mercado de Japón.
Hay solo una ligera diferencia en las fórmula de la cápsula de gel: la fórmula de Japón es una gelatina de pescado mientras que la fórmula actual es gelatina bovina. Sin embargo, esto no afecta la calidad ni la eficacia del producto. No anticipamos ningún impacto en el sabor, ya que esta fórmula tiene un sutil sabor a limón.
Por favor, ten en cuenta que anticipamos recibir más producto de nuestra fórmula regular para EE. UU. (con la cápsula de gelatina bovina) alrededor de noviembre, que empezarán a circular en los pedidos tan pronto como se agote la fórmula de Japón.
Apreciamos tu paciencia y comprensión conforme trabajamos de forma diligente para minimizar el impacto de la escasez de materias primas y problemas en la cadena de suministro.
Como siempre, estamos aquí para ayudarte y apoyarte.