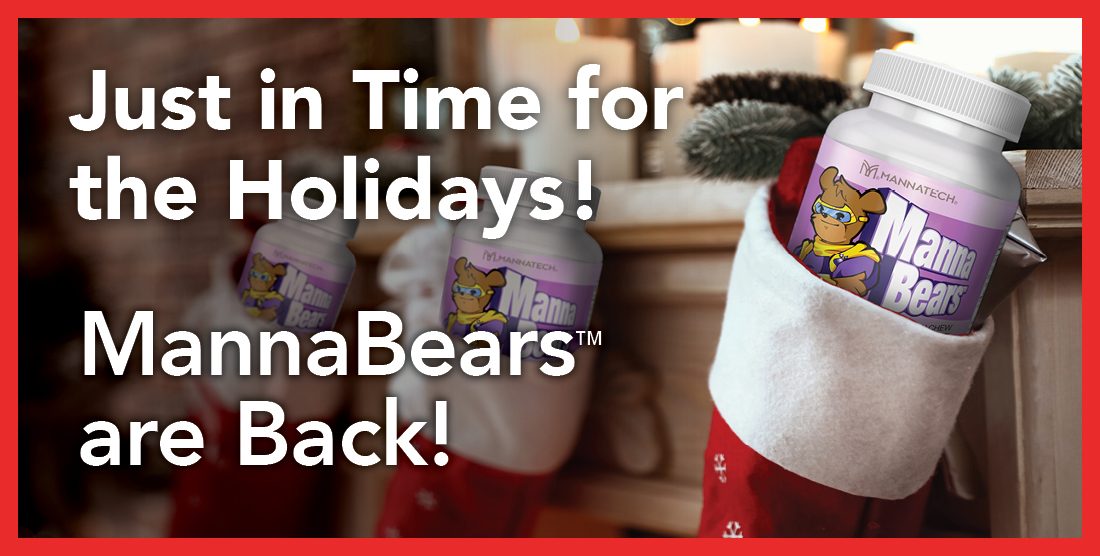 We are happy to announce that MannaBears™ are back just in time for holiday gift-giving!
MannaBears are a colorful, chewy, pectin bear-shaped gummy designed to not only be delicious, but also to support cellular communication through Glycans and to provide antioxidant support from vitamin C in a 4-gummy serving.*
 MannaBears are packed with the same great nutrients you love:
 Provide a natural source of Glyconutrients† which support cellular-communication. *
Provide antioxidant support from vitamin C. Vitamin C contributes to immune defense by supporting various cellular functions. *
Full of natural ingredients including: amla, raspberry, broccoli, carrot, kale, tomato, and spinach.
Incredibly delicious!
 †Glyconutrients are beneficial saccharides found in nature.
---
我们很兴奋地宣布,恰逢假日赠礼时节,我们迎来万众期待的美泰小熊糖醣质果胶软糖!
美泰小熊糖醣质果胶软糖是彩色耐嚼的果胶小熊形状软糖,不仅美味可口,而且其中的聚醣支持细胞沟通,4粒份量的维生素 C 可提供抗氧化支持。*
 美泰小熊糖醣质果胶软糖包含与以前喜爱的相同的健康营养成分:
 提供支持细胞之间沟通的天然来源醣质营养素 †。*
提供抗氧化支持的维生素 C。维生素 C 通过支持各种细胞功能来增强免疫力。*
全部采用天然成分,包括余柑子、覆盆子、西兰花、胡萝卜、羽衣甘蓝、西红柿和菠菜。
不可抵挡的超级美味!
 †醣质营养素是来自大自然的有益糖化物。
 *此说明尚未经过食品药物管理局评估。本产品不可用于诊断、治疗、治愈或预防任何疾病。
---
Nos complace anunciar que los MannaBears estarán disponibles para la compra a partir del [1.o de diciembre de 2020], ¡justo a tiempo para los regalos de las fiestas!
Los MannaBears son unas coloridas gomitas de pectina con forma de oso, diseñadas no solo para ser deliciosas, sino también para respaldar la comunicación celular a través de Glicanos y para otorgar respaldo antioxidante de vitamina C.*
 MannaBears están llenos de los mismos maravillosos nutrientes que te encantan:
 Ofrecen una fuente natural de Gliconutrientes que apoyan la comunicación celular.*
Otorgan respaldo antioxidante de vitamina C. La vitamina C contribuye a la defensa inmunitaria al respaldar las varias funciones celulares.*
Cargados de ingredientes naturales: amla, frambuesa, brócoli, zanahoria, col rizada, tomate y espinaca.
¡Increíblemente deliciosos!
 †Los Gliconutrientes son sacáridos benéficos que se encuentran en la naturaleza.
 *Estas declaraciones no han sido evaluadas por la Administración de Medicamentos y Alimentos de Estados Unidos. Este producto no tiene la intención de diagnosticar, curar, tratar o prevenir ninguna enfermedad.