October 2023
Upgrading Mannatech.com to Upgrade Your Business
We've got some awesome news: The latest upgrades to Mannatech.com will make your business even better. We've been working hard to enhance your experience, and here's a look at what's been rolled out!
Simplified Checkout Experience
We get that nobody likes a complicated checkout process. That's why we've streamlined it to make it easier to get the products you and your customers want.
That means less time spent filling in fields, a clean and modern look, and, of course, it's mobile-friendly. Your Mannatech shopping experience just got a whole lot smoother! Link to Mannatech.com
Luminovation: Page + Personal Mannatech Website (PMW)
Have you checked out our gorgeous webpage for the just-launched Luminovation K-Beauty Skincare System?
Dive in to see the beautifully designed page that details the four individual products that make up this luxury collection. Plus, it's your one-stop-spot for the product information sheet, answers to FAQs, Supplement Facts and usage tips.  Check out the Luminovation page .
 And you can now get your very own Luminovation PMW.  How?  Simple.
Log in to Mannatech.com, head to the dashboard and choose "Referral Links." Grab your link and share it with the world. Need some tips on how to share? Check out our How to Share & Invite tool located in the Mannatech Library.
It's not just a website; it's your virtual skin care hub with product information that helps you get the orders rolling in.
What's next?
This is just the beginning of new updates. Watch the blog because we're about to revolutionize the way you earn!
---
October 2022 – March 2023 Updates
New Stress & Sleep Support shareable pages — Mandarin/Spanish also available! 
NEW Stress & Sleep Support Gummies were created to give you the support you need to conquer the day and the night.* Along with the Stress & Sleep Support pages, the new Sleep + Stress Connection pages are a great resource to share for those looking to better understand the relationship between sleep and stress. The pages offer valuable information on the effects of stress on sleep and vice versa, as well as a sample routine for improving both. Learn more about Stress and Sleep support.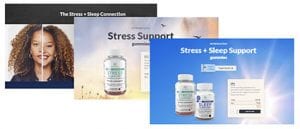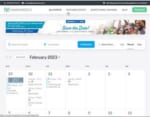 Events Site updates
The Events site has just received a major upgrade! With new performance features and a new look and feel, navigating the site has never been easier. The functional maps are a welcome addition, and with the full-screen design, this site is simple to use. Be sure to save the date for  MannaFest 2023!  Check out the Events Site>
Digital Tools Suite — Mandarin and Spanish available! 
The Digital Tools Suite, which has a list of resources that can help you launch and grow your business, is now available in Mandarin and Spanish.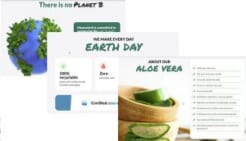 New Sustainability shareable page
We have a new shareable page that showcases our commitment to promoting sustainable practices through our partnership with Natural Aloe de Costa Rica. It's available in English, Mandarin and Spanish. See how we're making every day Earth Day>
New Associate Onboarding page
We want our Associates to start on the right foot. So, we've created a 6-step onboarding process that makes it easy for new Associates to learn what Mannatech is all about and how they can build their businesses. Make sure to share this helpful resource with your new team members! View onboarding steps>
Home Page updates
Mannatech.com has two additions to its Home Page! An Instagram feed has been added, allowing visitors to easily see the latest social media posts. Plus, a mailing list collector has been added, enabling visitors to sign up for Mannatech's newsletter and more. Go to the home page>
All Things Recognition — We want to recognize you for all your hard work and help you recognize others! View the links below for the latest in recognition.
Check out new leaders>
See who's in the Achiever's Club>
Learn about the Business Development Bonus>
---
August – September 2022 Updates
New Superfood Greens and Reds Vanity Page — Mandarin and Spanish available! – Did you know, according to the CDC, as many as 94% of Americans do not consume the daily recommended amounts of fruits and vegetables? NEW Superfood Greens and Reds was created to help fill those nutritional gaps! Every scoop includes 20 phytonutrients from fruits, vegetables and plant extracts so you can boost your daily nutrition and help others do the same.* Meet your new healthy habit!
New Blue Water Vanity Page  – Blue Water just launched at MannaFest, and very soon, this limited-time product can be yours to enjoy and share! Reinventing Hydration, this functional beverage features Costa Rican blue zone water and 100% pure Aloe vera pulp in every bottle. Plus, it offers both hydration and immune support, so you can make the most of your water.* Get to know Blue Water.
Daily Pay Now Part of Mannatech Pay  – Mannatech just released Daily Pay to everyone who sign ups for Mannatech Pay! Daily Pay allows you to be paid every 24 hours for any of your First Order Bonuses when "Weekly Pay" is selected. That means you can almost instantly enjoy the rewards of your sales. This is part of the Mannatech vision plan to align with the insta-pay economy.
Success Tracker — FREE for 12 months with each new Associate sign-up! – Success Tracker gives you everything you need to analyze your business metrics. Quickly access total sales volumes and track the activity/inactivity in your organization with standardized reports. Every Associate you personally enroll = You getting Success Tracker FREE for 12 months.
Flipbooks Have Arrived – New product guide flipbooks are available in the U.S. in four languages — English, Mandarin, Korean and Spanish! View all the flipbooks.
THEY'RE BACK: Social Media Leadership Badges – Social Media Recognition Badges are back! These are the perfect way to recognize your team members who rank up. They're available in multiple languages and compatible with ALL social media platforms so you can recognize your up-and-comers. Learn more and download.
All Things Recognition – We want to recognize you for all your hard work and help you recognize others! View the links below about recognition.
Check out new leaders
See who's in the Achiever's Club
Learn about the Business Development Bonus
*These statements have not been evaluated by the Food and Drug Administration. These products are not intended to diagnose, treat, cure or prevent any disease.
---
July  2022 Updates
Digital Tool Suite – We have created a resource page that provides a brief overview of each of the Digital Tools, along with a link to download or open the app/webpage. For both new and seasoned Associates alike, we hope this resource page makes Mannatech a little easier to navigate. In your Mannatech.com back office, located under the "Business" category, you will find a new link to "Digital Tool Suite". (US and CA)
Homepage and Shopping Experience  – We are modernizing our approach to how our Customers and Members use the homepage by giving a fresh, new modern design that highlights product features, customer reviews and a focus on providing visitors with a memorable shopping experience. Highlighting what sets Mannatech apart: our proprietary Aloe vera technology and our history of dedication to science and nature. We proudly showcase the progress of our mission to help undernourished children around the world through Mission5Million® foundation.  (US)

---
March 2022 Updates
New Liveyourbestyearyet.net (PMW) Lead Capture Email w/ ebook download – We've added a new, enticing lead capture form to incentivize prospects to fill in their contact information. For doing so they will receive an email with a link to download the ebook as well as learn more about how they earn another stream of income with Mannatech.  Login and choose the Referrals Link tab to get your liveyourbestlifeyet.net PMW link. (US and CA)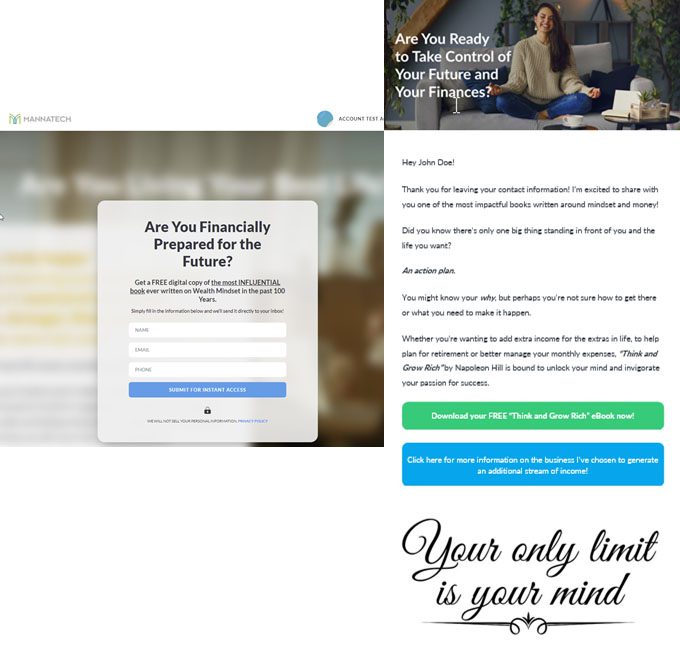 Recognition  – We know how important it is to be recognized and to recognize your team for their hard work. That's why we are regularly updating the following areas of allaboutmannatech.com:

Events – Save the Date for MannaFest. Be sure to mark your calendars for all the upcoming events that you and your team won't want to miss. We update pages regularly, so you won't miss a beat! Visit Events.mannatech.com to see all meetings.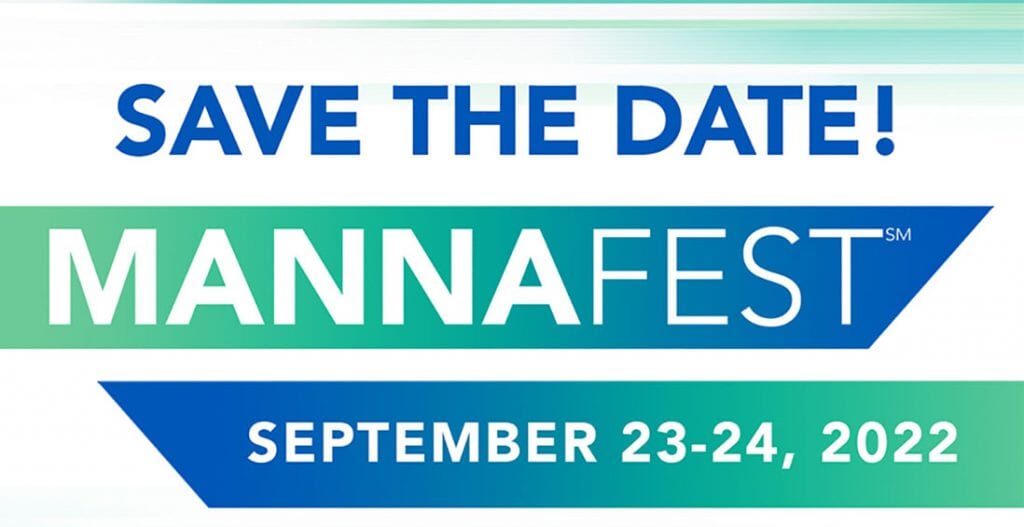 ---
February 2022 Updates
Styling + Look Updates to the Dashboard – With our cleaner layout, we've made it easier to access the links you use the most during your day with our "Quick Links" section. The links are front and center, at the top, and easy to find. We've also added Leadership Rank badges to the refreshed Business Activity page. (All countries)

Global referral links – For all the countries that have ecommerce, we have made it easier to send a Personal Mannatech Website (PMW) link to someone in another country or who speaks another language. Simply choose the country and language from the drop down list, copy the link and send it on its way. It's that easy! (All countries)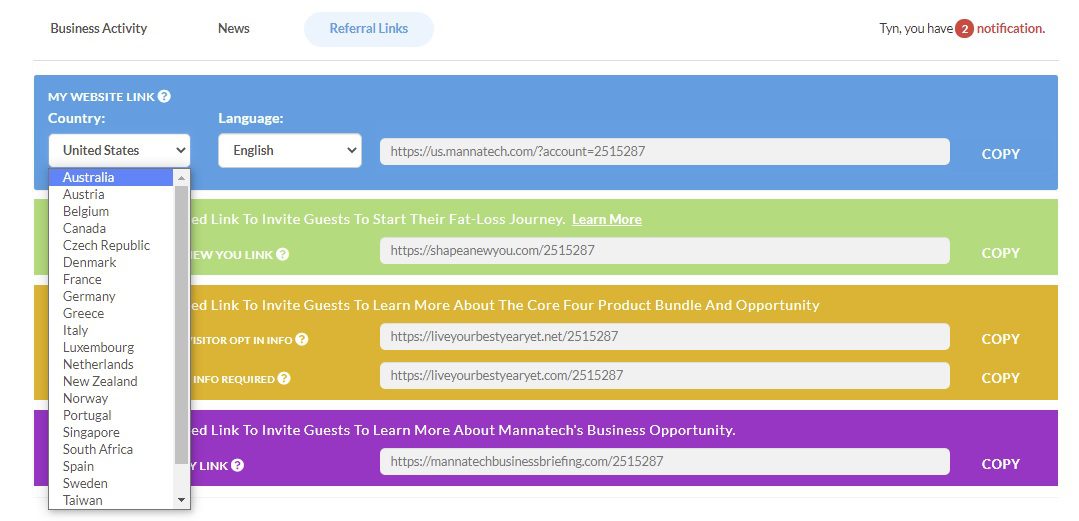 Momentum 2021 Replays – If you missed any of the great presentations from the Momentum 2022 event, don't worry, you can now view the audio replays; available in five languages.

Order Complete PDF Receipt Updates – After placing your order you have the option to save your receipt as a PDF, and print for your records. We have now included additional fields to give you more detail about your order.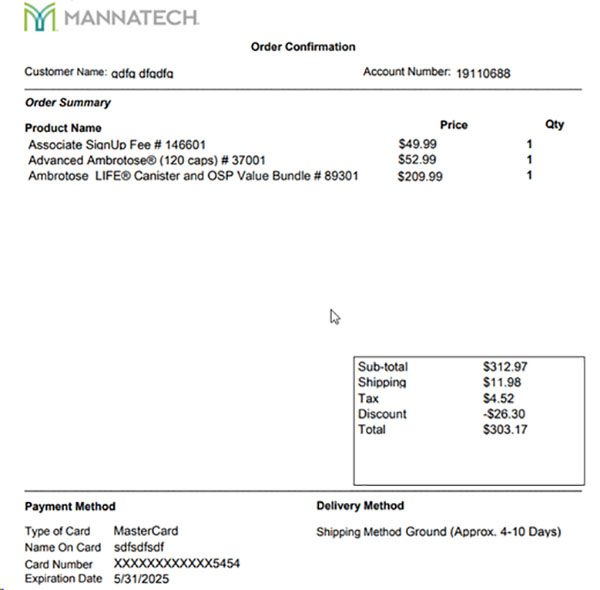 ---
November – January 2022 Updates
MightyBears Page – We couldn't be more excited about the launch of MightyBears earlier this month, along with its new vanity page! The newly designed page includes an updated product description and benefits sections, as well as a new video that shares how MightyBears are FUNdemental nutrition for the whole family. Be sure to share the new page with your friends, family and prospects. US only.

Happy Gut Page – As you know, optimal health starts with a healthy, nourished gut. That's why we are excited to share the new Happy Gut Box page that shares the four key products that are essential to optimal gut health. The page also includes a section for your prospects to easily sign up for the Happy Gut Box subscription that is delivered right to their home each month! Click the link to see the new page and be sure and share it on your social media! (US)

M5M Corporate Page Redesign—The M5M Foundation page not only has been freshly updated with eye-popping graphics, we also introduce our new partnership with Kids Around the World, including the HopeZone locations where kids are ministered to and care for. Best of all, we have included five new superbly-produced videos from a recent trip to Ecuador that are perfect to share on social media about how to get involved with the M5M cause. Click the link to see the new page. (all countries)
Welcoming 5 EU Companies: In-Language Sites—We would like to extend a warm welcome to the newest partner countries to the Mannatech family: Belgium, France, Greece, Italy and Luxembourg. Each country has access to their own in-language link on the "Welcome to Mannatech" home page, as well as in-language access to the Mannatech Library.
Union Pay—Union Pay Credit Card payments are easier than ever. Simply provide your mobile phone number when you select this payment method, and the provider will send the purchaser a one-time pin (OTP) via SMS to enter during the payment process. US and Canadian Associates are no longer redirected to approve the transaction. Instead, they will now receive an SMS to approve the charge. Make sure to give it a try! (US/CA only)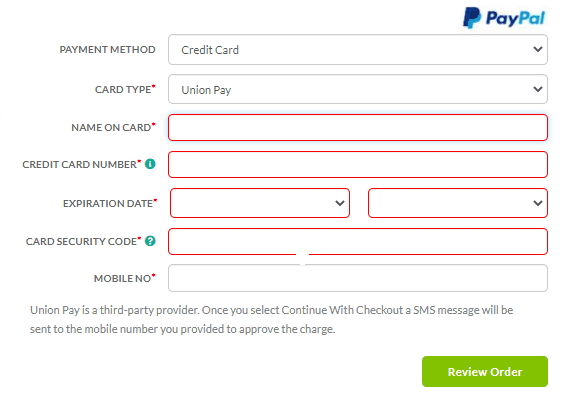 ---
October 2021 Updates
Estimated Delivery Date – From behind the login, there will be no need to guess when your one-time order will be delivered. Estimated delivery dates will be posted on product detail pages, the shopping cart and the one-page checkout. US and CA only.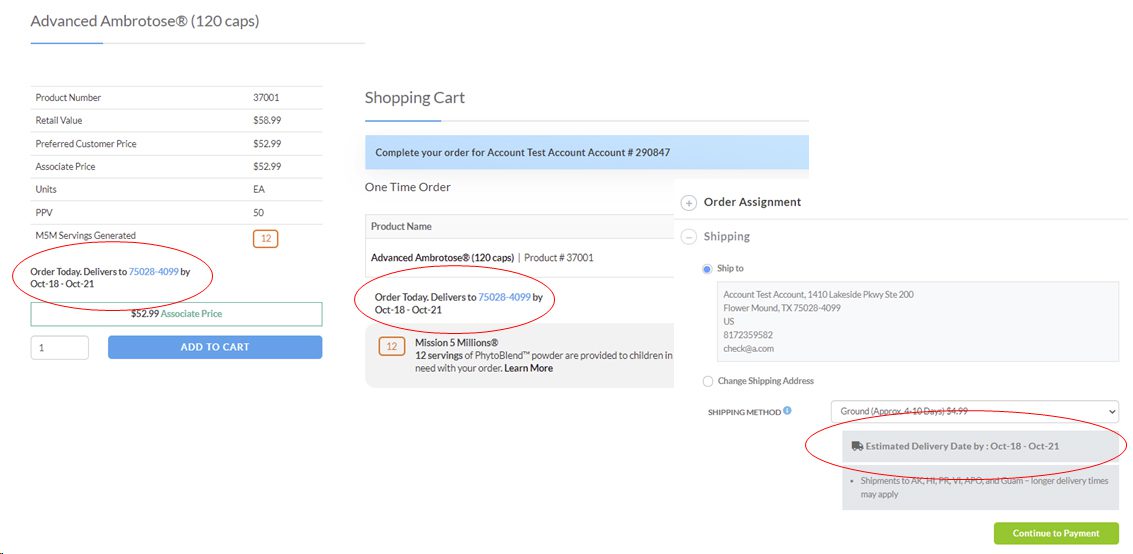 New "Look" Behind the Login – Improvements have been made to the top navigation, page footer and express shop. All the familiar links are still available; just in more user-friendly colors and arrangements. (global)

Now Pay with PayPal—We now accept PayPal for One Time Orders. Simply look for the PayPal logo during checkout. Availability for Automatic Orders coming soon!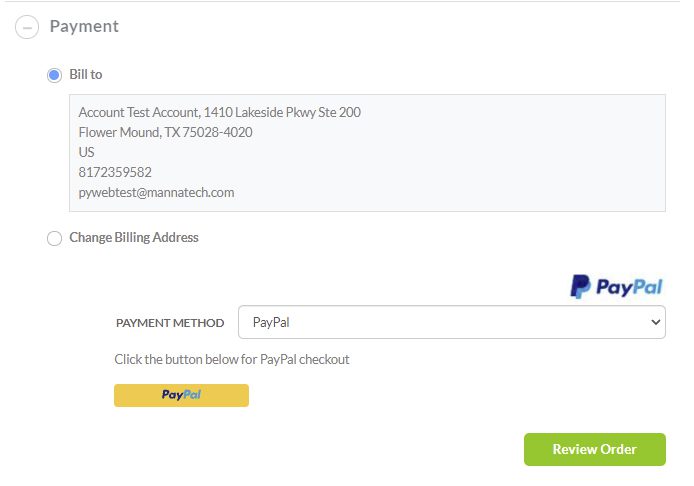 Retail Pricing—Pre-login, you will now see Retail and Member price on the product grid and detail pages. We brought back the term "Retail Price" to better distinguish between the price that Retail customers pay, and the price that Associates/Customers pay. Available for US and CA only. Look for more updates to terminology around the site.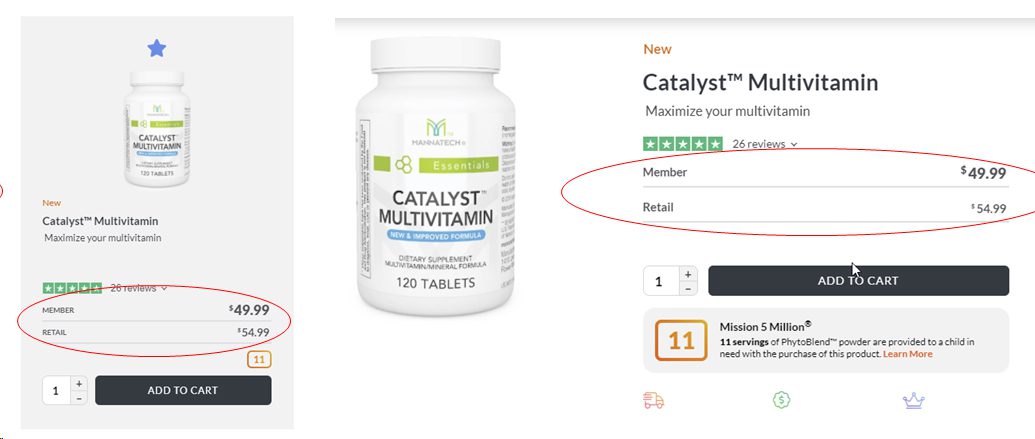 Member Upgrade—Upgrade your Member account and keep your same account number as well as all your loyalty points and loyalty tier level. Your Sponsor/Enroller will remain the same. You must purchase a $49 upgrade pack. (US/CA only)
---
September 2021 Updates
Detailed M5M Servings– you feel good knowing that each purchase you make for over $100 goes to nourish children with the M5M foundation. Now you'll see how many servings of PhytoBlend powder are going directly to a child in need. Individual product servings are located on product grid, product detail pages and checkout pages for all markets.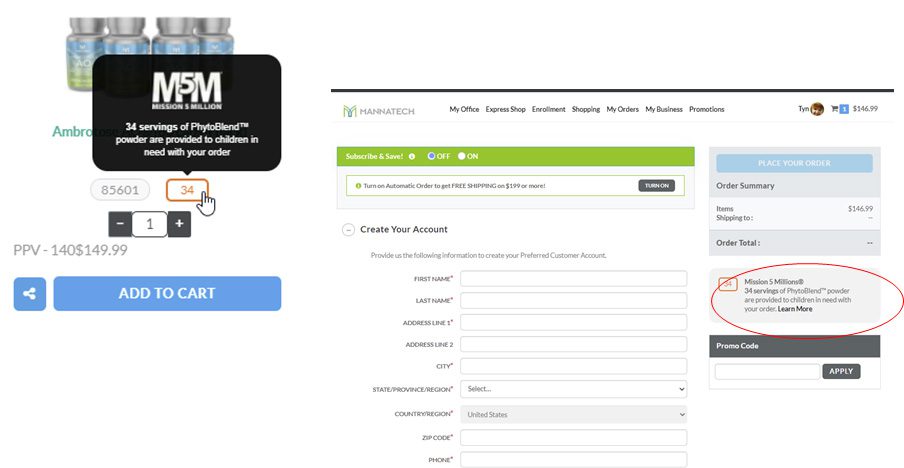 "Notify Me" Backorder Email—Receive an email when products you want to buy are on backorder. Look for the "Notify Me When Available" link displayed below the product for backorder items. Simply enter your email address and you'll be notified the moment the product is back in stock.  US and Canada only.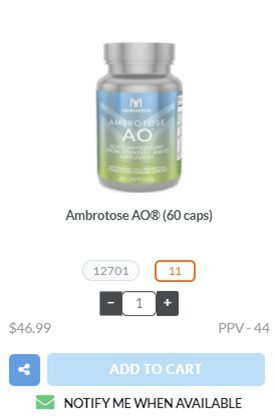 Mannatech Pay for Automatic Orders —Mannatech Pay's commission payout service enables you to receive commissions quickly and easily across multiple countries worldwide—100% electronically. Now you can use it to pay for your Automatic Orders. You must have an active account, and if you don't have enough funds, the remaining balance will be charged to your credit card. Available for all countries where Mannatech Pay is available.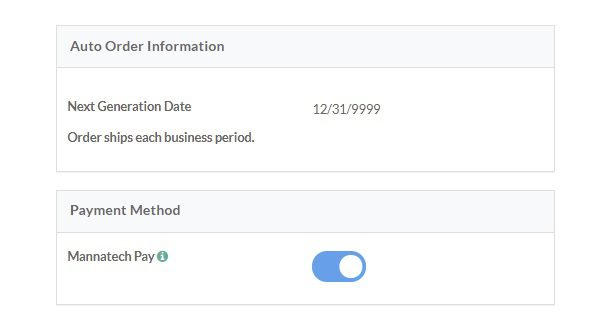 Upcoming Enhancements
Express Shop New Design and Header Updates- get ready for a more seamless look and feel from public sites to behind the login.  Headers and color schemes will soon be consistent.
Expected delivery dates.
---
August 2021 Updates
TrustPilot – Did you know that over 1/3 of Internet users look up customer feedback before they make a purchase decision? TrustPilot.com posts reviews, ratings and consumer feedback on over 4 million businesses including Mannatech products. Having reviews is a powerful and transparent way to help you attract and retain new customers. Reviews are located on every product detail page, the product grid and in the website footer.
MannatechBusinessBriefing.com—you have mastered the one-on-one process of sharing Mannatech, but are looking to replicate that same success online. We've got you covered. In addition to your own website, we have created four other online sales funnels with personalized links that you can send to anyone to learn more about Mannatech.  Login to mannatech.com to view your personalized links from the dashboard.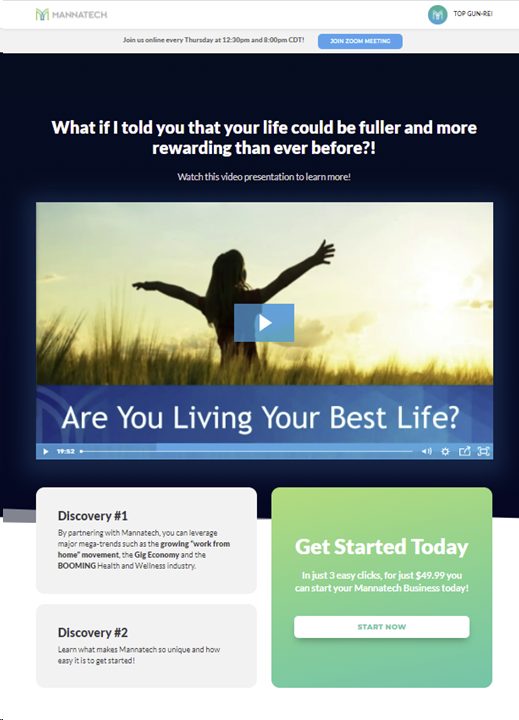 Saved Carts—Your customers are busy and sometimes they don't finish their shopping and leave products in their online carts. Our "Saved Carts" feature allows them to come back later and finish checkout without having their online shopping cart emptied. It saves theme time and is super convenient and result in more sales.  Save from the cart and retrieve saved carts under Shopping/My Saved Carts.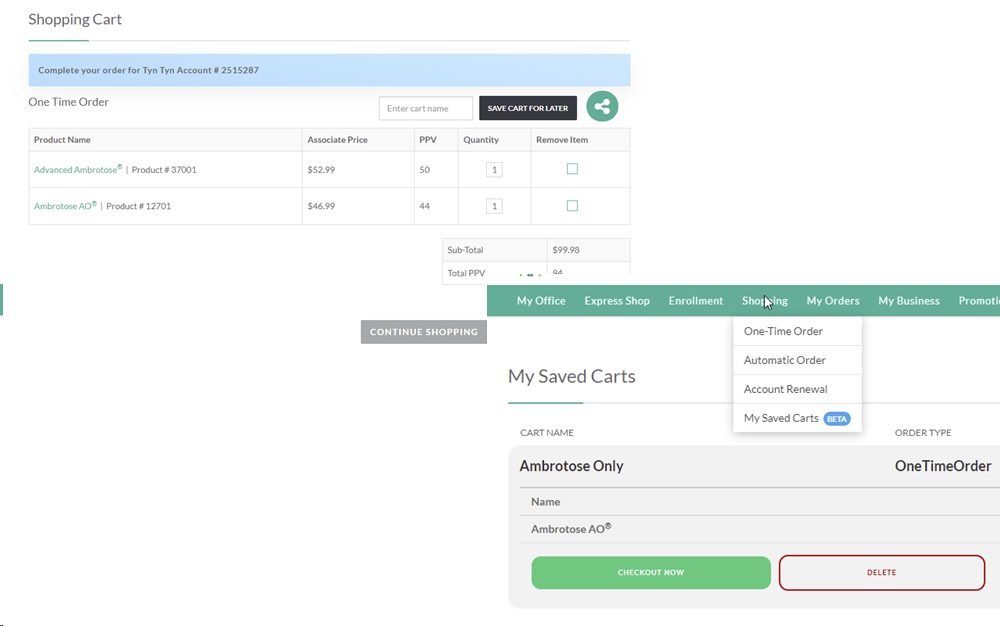 Loyalty Points Detail—We are always looking for ways to make it easier for you and your customers to use their Loyalty Points located in the back office. Now you can review your Loyalty Points history, monitor when they will expire, and even how to start a new Loyalty Reward Order.  Located under My Business in the backoffice.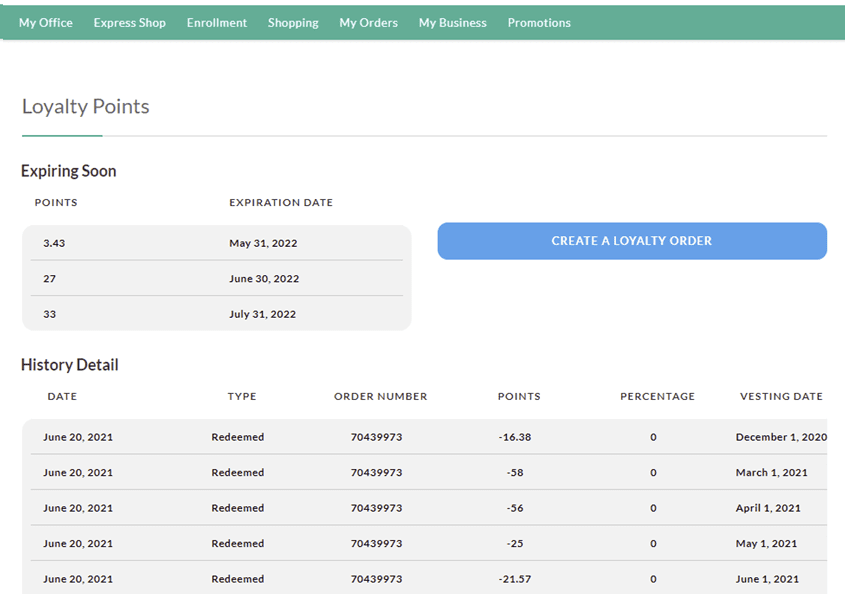 Added Portugal Site —We have a dedicated part of the website to both serve Associates and customers in Portugal.  Select Portugal from the country-selection on mannatech.com.
Enhanced Sharing—An Associate can now share a link to a prospective preferred customer or associate that will sign them up without a product purchase. You can also assign a different sponsor/enroller which will be embedded in the link.
Social Media Studio/Promo Republic – Now you can take advantage of the best of the best content for creating conversations on your social media accounts. Spare yourself from stressing over locating great content to share. Available to Mannatech+ Premium Subscribers.  If you have a subscription, the link will display as a Quick Link from the dashboard.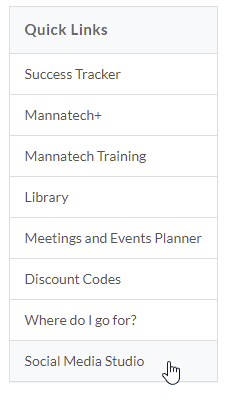 Upcoming Enhancements
M5M Serving – You will soon be able to view individual servings per order.  Servings will display in the product grid and during the checkout process.
Express Shop New Design and Header Updates- get ready for a more seamless look and feel from public sites to behind the login.  Headers and color schemes will soon be consistent.
Notify me when products are back in stock.