October 2021 Updates 
Estimated Delivery Date – From behind the login, there will be no need to guess when your one-time order will be delivered. Estimated delivery dates will be posted on product detail pages, the shopping cart and the one-page checkout. US and CA only.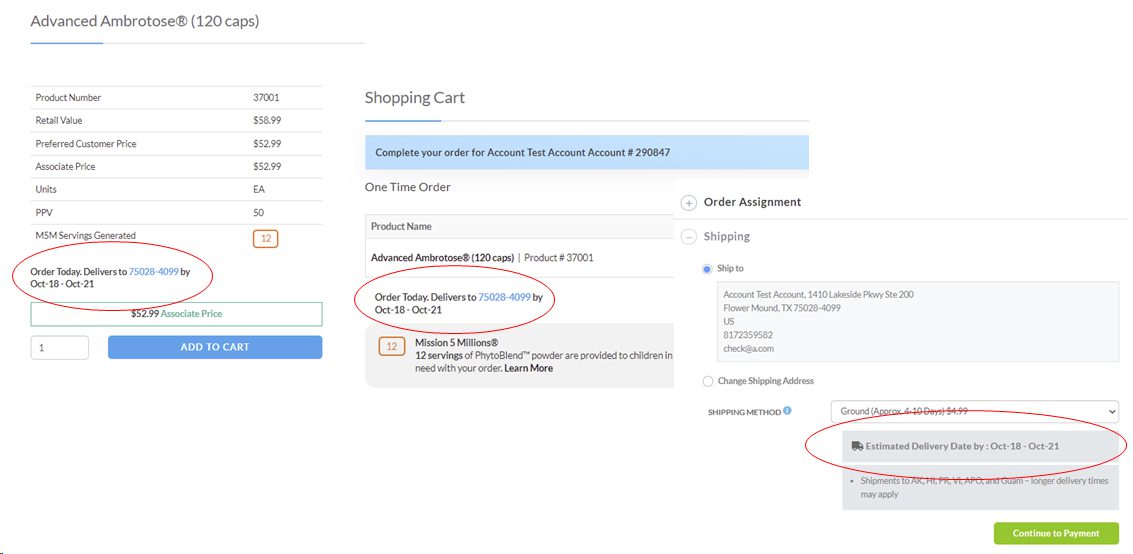 New "Look" Behind the Login – Improvements have been made to the top navigation, page footer and express shop. All the familiar links are still available; just in more user-friendly colors and arrangements. (global)

Now Pay with PayPal—We now accept PayPal for One Time Orders. Simply look for the PayPal logo during checkout. Availability for Automatic Orders coming soon!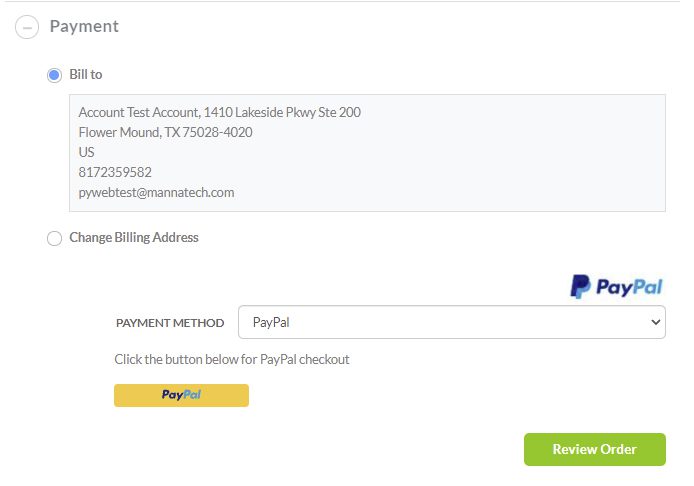 Retail Pricing—Pre-login, you will now see Retail and Member price on the product grid and detail pages. We brought back the term "Retail Price" to better distinguish between the price that Retail customers pay, and the price that Associates/Customers pay. Available for US and CA only. Look for more updates to terminology around the site.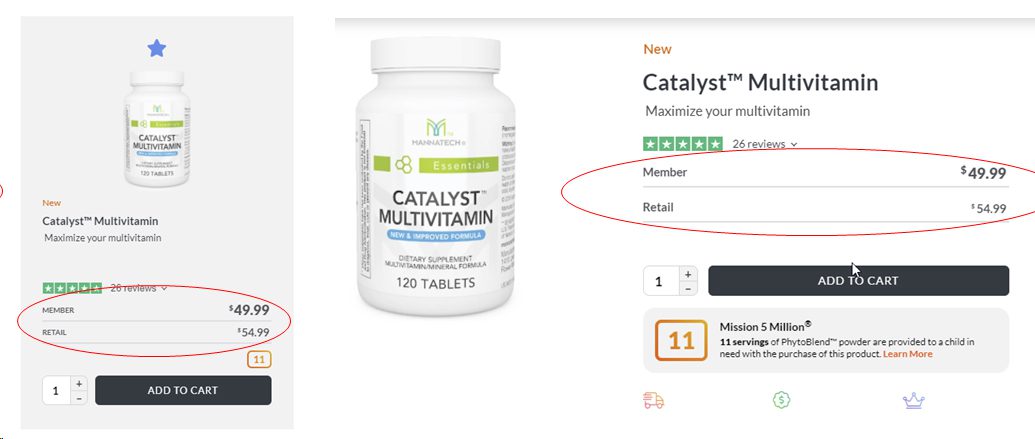 Member Upgrade—Upgrade your Member account and keep your same account number as well as all your loyalty points and loyalty tier level. Your Sponsor/Enroller will remain the same. You must purchase a $49 upgrade pack. (US/CA only)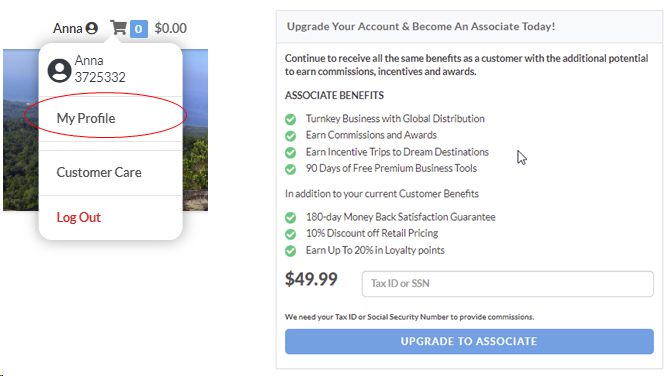 ---
September 2021 Updates
Detailed M5M Servings– you feel good knowing that each purchase you make for over $100 goes to nourish children with the M5M foundation. Now you'll see how many servings of PhytoBlend powder are going directly to a child in need. Individual product servings are located on product grid, product detail pages and checkout pages for all markets.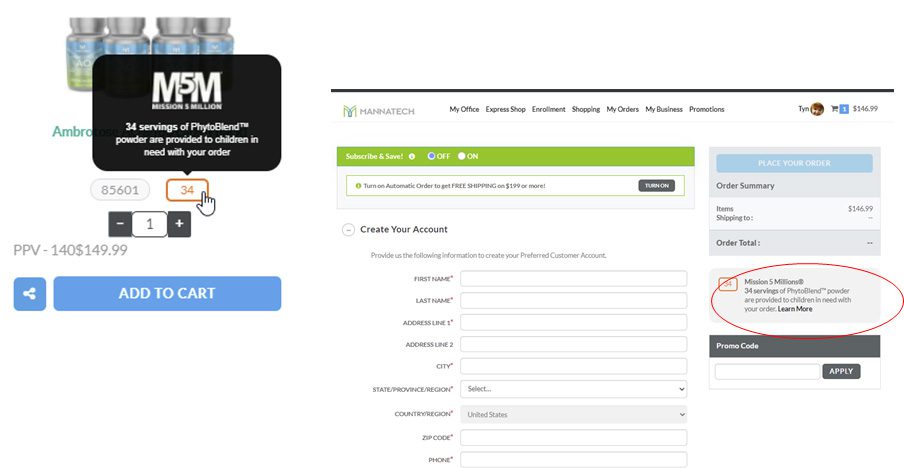 "Notify Me" Backorder Email—Receive an email when products you want to buy are on backorder. Look for the "Notify Me When Available" link displayed below the product for backorder items. Simply enter your email address and you'll be notified the moment the product is back in stock.  US and Canada only.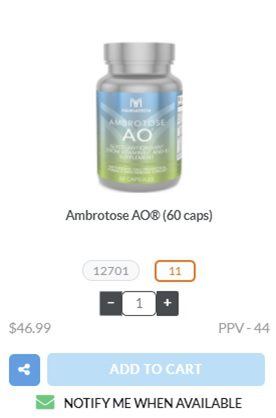 Mannatech Pay for Automatic Orders —Mannatech Pay's commission payout service enables you to receive commissions quickly and easily across multiple countries worldwide—100% electronically. Now you can use it to pay for your Automatic Orders. You must have an active account, and if you don't have enough funds, the remaining balance will be charged to your credit card. Available for all countries where Mannatech Pay is available.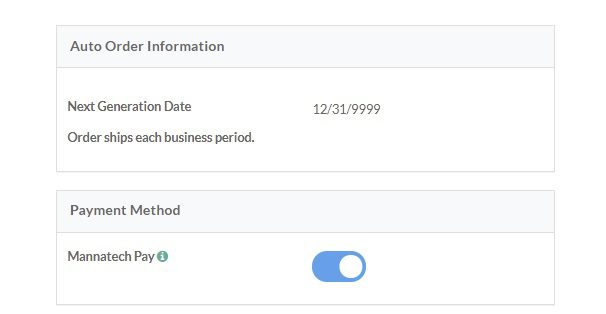 Upcoming Enhancements
Express Shop New Design and Header Updates- get ready for a more seamless look and feel from public sites to behind the login.  Headers and color schemes will soon be consistent.
Expected delivery dates.
---
August 2021 Updates 
TrustPilot – Did you know that over 1/3 of Internet users look up customer feedback before they make a purchase decision? TrustPilot.com posts reviews, ratings and consumer feedback on over 4 million businesses including Mannatech products. Having reviews is a powerful and transparent way to help you attract and retain new customers. Reviews are located on every product detail page, the product grid and in the website footer.
MannatechBusinessBriefing.com—you have mastered the one-on-one process of sharing Mannatech, but are looking to replicate that same success online. We've got you covered. In addition to your own website, we have created four other online sales funnels with personalized links that you can send to anyone to learn more about Mannatech.  Login to mannatech.com to view your personalized links from the dashboard.
Saved Carts—Your customers are busy and sometimes they don't finish their shopping and leave products in their online carts. Our "Saved Carts" feature allows them to come back later and finish checkout without having their online shopping cart emptied. It saves theme time and is super convenient and result in more sales.  Save from the cart and retrieve saved carts under Shopping/My Saved Carts.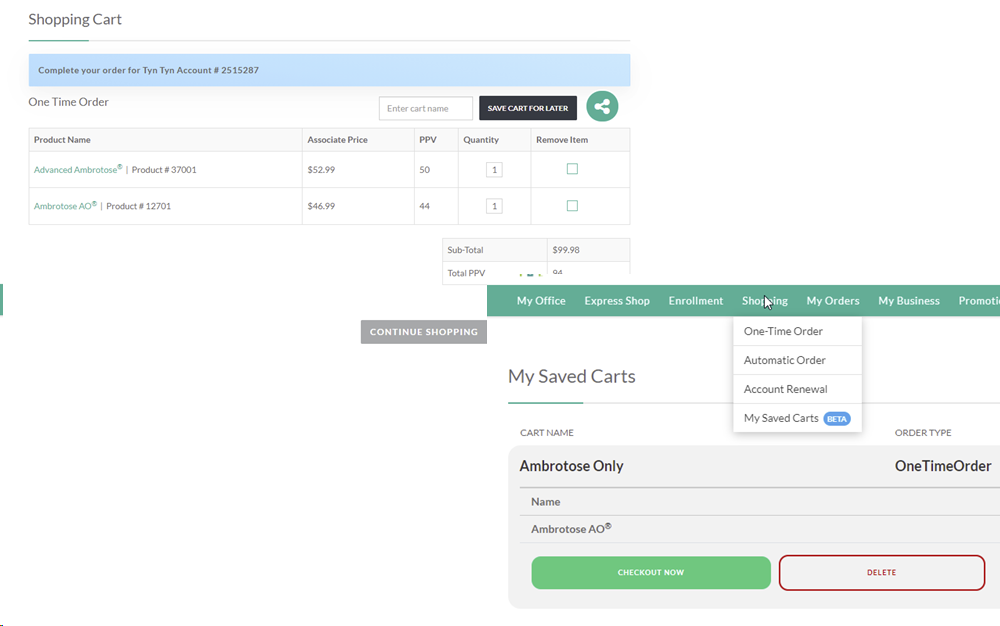 Loyalty Points Detail—We are always looking for ways to make it easier for you and your customers to use their Loyalty Points located in the back office. Now you can review your Loyalty Points history, monitor when they will expire, and even how to start a new Loyalty Reward Order.  Located under My Business in the backoffice.
Added Portugal Site —We have a dedicated part of the website to both serve Associates and customers in Portugal.  Select Portugal from the country-selection on mannatech.com.
Enhanced Sharing—An Associate can now share a link to a prospective preferred customer or associate that will sign them up without a product purchase. You can also assign a different sponsor/enroller which will be embedded in the link.
Social Media Studio/Promo Republic – Now you can take advantage of the best of the best content for creating conversations on your social media accounts. Spare yourself from stressing over locating great content to share. Available to Mannatech+ Premium Subscribers.  If you have a subscription, the link will display as a Quick Link from the dashboard.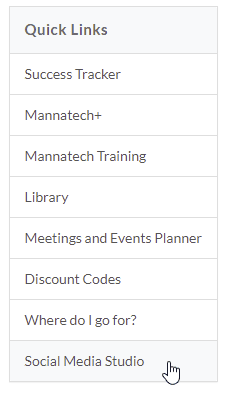 Upcoming Enhancements
M5M Serving – You will soon be able to view individual servings per order.  Servings will display in the product grid and during the checkout process.
Express Shop New Design and Header Updates- get ready for a more seamless look and feel from public sites to behind the login.  Headers and color schemes will soon be consistent.
Notify me when products are back in stock.