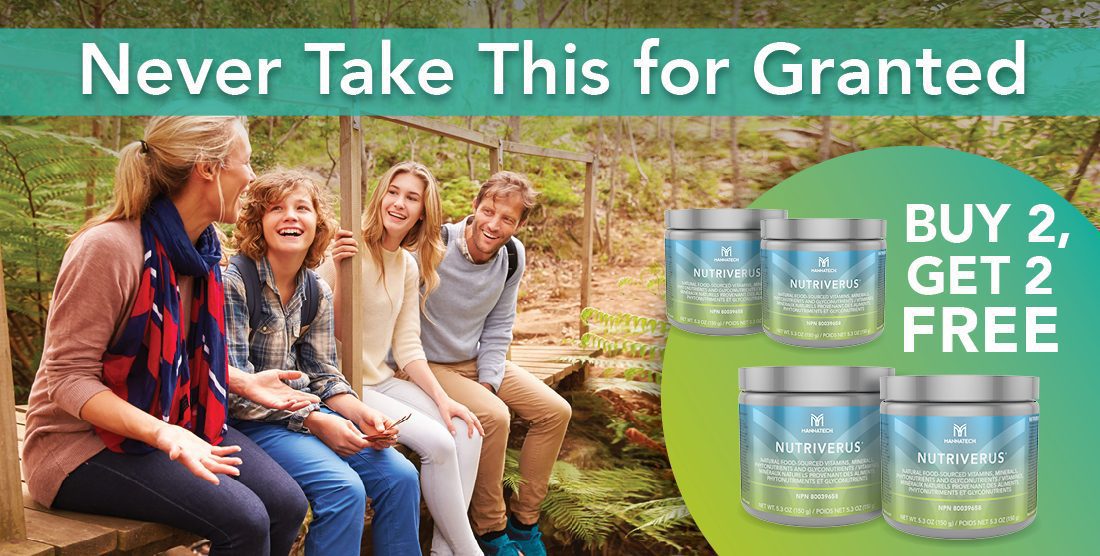 Healthy Family, Happy Family: Focus on Health in 2020
Many of us take our health for granted. We wake up every day giving our physical and emotional health little thought. But without our health, we have nothing. The old adage holds true–Health is our greatest wealth.
This year, make your family's health a priority by investing in the long-game. Short-term fad diets or exercising for one week won't cut it. We have to create small changes every day that align with our best, healthiest selves.
Provide for your family by serving healthy meals. Add NutriVerus™ powder to bolster their diets with the vitamins, minerals, antioxidants and Glyconutrients their bodies need.
Beginning January 20 , Buy 2, Get 2 FREE NutriVerus canisters, while supplies last.
NutriVerus –
Item # 69511
Associate/ Preferred Customer Price: $127.98
Retail Price: $141.98
PV 128
One Time Orders only.  Available for Canada Only. While Supplies Last.
Sprinkle on food, mix with smoothies or add to your favorite recipes. NutriVerus is a great way to invest in your family's health!
---
阖家健康,阖家欢乐:2020 年关注健康大事
很多人都会以为健康与生俱来。我们每天早晨醒来时很少会去思考身体和情绪健康方面的问题。但健康又是如此重要,如果没有健康,人们就一无所有。"健康就是最大的财富",这句古老格言道出了真理。
请从今年开始投入这场持久战,将家人的健康放在第一位。仅仅一周的流行节食法或者锻炼都不是解决之道。我们要每天迈出一小步,在通往最健康、最优秀自我的道路上不断前行。
让我们以家人的健康饮食作为起点。在膳食中加入美泰醣质果蔬营养粉,全家共享身体所需的维生素、
矿物质、抗氧化物质和醣质营养素。
自 1 月 20 日开始,美泰醣质果蔬营养粉买 2 赠 2,售完即止。
美泰醣质果蔬营养粉 –
货号 69511
经销商/优惠顾客价:127.98 美元
零售价:141.98 美元
PV 128
欲购从速!
仅限一次性订单。本次活动仅限加拿大。售完为止!
可撒在食物表面,混入奶昔或加入您最喜欢的菜肴。美泰醣质果蔬营养粉是投资家人健康的上佳之选!