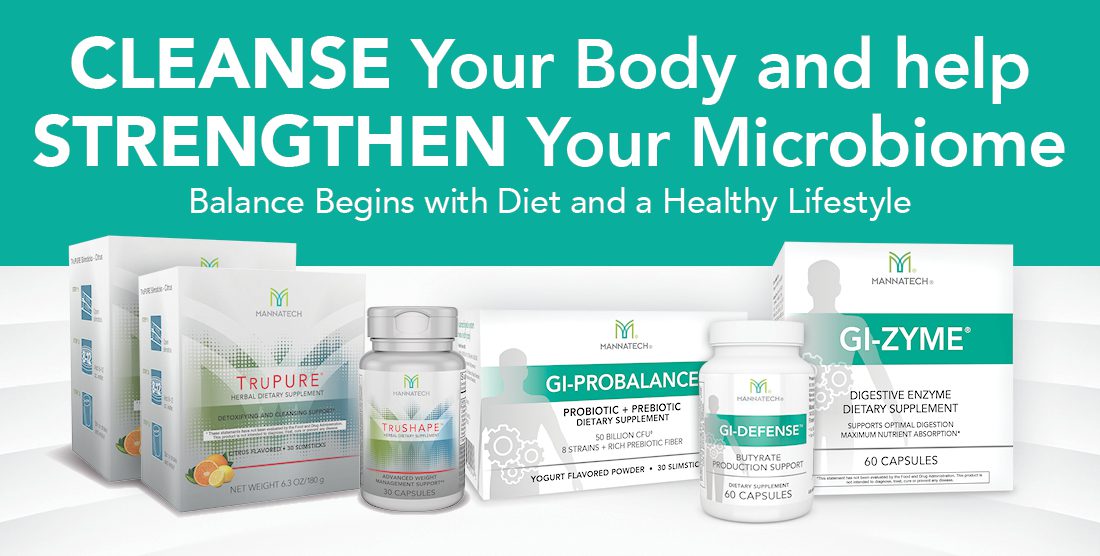 CLEANSE Your Body and Help STRENGTHEN Your Microbiome
Balance Begins with Diet and a Healthy Lifestyle
For better and for worse, what you eat and how you nourish your body can affect your gut bacteria. Changes in your gut bacteria, or microbiome, also cause changes in your weight and body composition.
That's why Mannatech's 30-Day Jump Start Cleanse bundle combined with the GI-Biome System™ can help you achieve the balance your body needs as well as accomplish your fat-loss goals.*†
 CLEANSE Your Body with TruPURE® and TruSHAPE™
TruPURE is a unique, nutritional cleansing, citrus flavored drink mix is formulated with natural ingredients to help support your body's ability to cleanse or diminish toxins that can cause oxidative stress.*¥
TruSHAPE capsules is the SAFE and EFFECTIVE way to aid in your body's ability to utilize carbohydrates, to help you change your body composition more effectively without the use of dangerous stimulants.*
Use the TruHealth Approved Foods List as a handy shopping guide!
STRENGTHEN Your Microbiome with the GI-Biome System††
GI-ProBalance® slimsticks are a convenient and tasty blend of probiotic strains and rich prebiotic fiber specially formulated to help strengthen and improve the composition of your gut microbiome by enhancing the natural balance of good bacteria to maintain healthy digestion.*
GI-Zyme® capsules offer a blend of enzymes with different pH levels designed to breakdown many types of foods, all throughout the different stages of digestion.* You help strengthen your body by supporting nourishment through optimal digestion.*
GI-Defense® capsules feature the "Glycobiome and Butyrate Support Blend," formulated to enable your body to naturally replenish butyrates within the gut.* Butyrates help strengthen and nourish the intestinal lining, providing a stable environment for your microbes to carry on their most important mission.*
The GI-Biome System may support a healthy weight when combined with a healthy diet.*
5 Tips to Achieving Healthy Microbiome & Body Composition
Eat whole, organic unprocessed, unrefined foods.
Try reducing unnecessary sugar intake like candy, sodas and refined carbohydrates.
Include vegetables and fruit with each meal but try to eat more vegetables than you do fruit.
Your gut will appreciate whole foods high in fiber like kale, squash, peas, broccoli, apples, bananas and strawberries!
Supplementation can be a great way to add additional support for your healthy lifestyle.
Don't Forget TruPLENISH™ Nutritional Shakes!
You can easily nourish and supplement your microbiome with Mannatech's TruPLENISH Nutritional Shake—a plant-based, nutritional shake mix full of vitamins, minerals, probiotics, Glyconutrients and over 20 grams of protein.
Order the 30-Day Jump Start Cleanse (74001) and GI-Biome System (30301) for only $199.99 today! 
†When taken in conjunction with a reduced calorie diet and regular exercise.
¥When four TruPURE slimsticks are taken/day in conjunction with the TruHEALTH System recommendations (i.e., plentiful water intake [32-48 ounces/day on four cleanse days/month]; intake of healthy foods; elimination or low intake of processed foods, alcohol, caffeine, etc.
††The GI-Biome System may support a healthy weight when combined with a healthy diet.
---
DESINTOXICA tu cuerpo y ayuda a FORTALECER tu microbioma
El equilibrio empieza con la dieta y un estilo de vida saludable
Para bien o para mal, lo que comes y la forma en que nutres tu cuerpo puede afectar la bacteria de tu tracto gastrointestinal. Los cambios en tu bacteria gastrointestinal, o microbioma, también causa cambios en tu peso y en tu composición corporal.
Es por eso que el paquete 30-días de desintoxicación acelerada combinado con el sistema GI-Biome System™ pueden ayudarte a lograr el equilibrio que tu cuerpo necesita así como alcanzar tus metas de pérdida de grasa.*†
DESINTOXICA tu cuerpo con TruPURE® y TruSHAPE™
TruPURE es una mezcla única para preparar una bebida nutricional y purificadora con sabor a cítrico, que está formulada con ingredientes naturales y para ayudar a la habilidad del cuerpo para purificarse y reducir las toxinas que causan el estrés oxidativo.*†
Las cápsulas TruShape son una forma SEGURA y EFECTICA para ayudar a la habilidad de tu cuerpo a utilizar carbohidratos para ayudarte a cambiar tu composición corporal de forma más efectiva sin el uso de estimulantes peligrosos.*
¡Usa la Lista TruHealth de alimentos aprobados como una útil guía para tus compras!
FORTALECE tu Microbioma con el sistema GI-Biome System††
Los paquetes individuales slimsticks de GI-ProBalance® son una mezcla conveniente y deliciosa de cadenas de probióticos y rica en fibra prebiótica especialmente formulada para fortalecer y mejorar la composición del microbioma de tu tracto gastrointestinal al mejorar el equilibrio natural de bacteria benéfica para mantener una digestión saludable.*
Las cápsulas GI-Zyme® ofrecen una mezcla de enzimas con diferentes niveles de pH diseñados para descomponer muchos tipos de comida a través de los diferentes pasos de la digestión. Ayudas a fortalecer tu cuerpo al respaldar la nutrición a través de digestión óptima.*
Las cápsulas GI-Defense® cuentan con una mezcla de respaldo de Glicobioma y Butiratos, formulada para permitir que tu cuerpo naturalmente reponga los butiratos dentro de tu tracto gastrointestinal. Los butiratos ayudan a fortalecer y alimentar el recubrimiento intestinal, otorgando un medioambiente estable para que tus microbios puedan realizar su misión más importante.*
El sistema GI-Biome System puede respaldar un peso sano cuando se combina con una dieta saludable.*
5 Consejos para lograr un microbioma y composición corporal saludables
Come alimentos integrales, orgánicos, sin procesar y sin refinar.
Trata de reducir la ingesta de azúcar como dulces, sodas y carbohidratos refinados.
Incluye vegetales y frutas en cada alimento, pero trata de comer más vegetales que frutas.
¡Tu tracto gastrointestinal apreciará los alimentos integrales altos en fibra, como col rizada, calabaza, chícharos, brócoli, manzanas, plátanos y fresas!
Uso de suplementos puede ser una maravillosa forma de agregar respaldo adicional a tu estilo de vida saludable. 
¡No te olvides de las malteadas nutricionales TruPLENISH™!
Fácilmente puedes nutrir y suplementar tu microbioma con la malteada nutricional TruPLENISHTM de Mannatech –es un batido nutritivo lleno de vitaminas, minerales, probióticos, Gliconutrientes y más de 20 gramos de proteína.
¡Pide hoy mismo el sistema de 30 días de desintoxicación acelerada (74001) y el sistema GI-Biome System (30301) por solo $199.99! 
†Cuando se toma junto con una dieta baja en calorías y se realiza ejercicio de forma regular.
†Cuando se toman cuatro TruPURE Slimsticks al día junto con las recomendaciones del Sistema TruHealth (por ejemplo: ingesta de agua [32-48 onzas al día en cuatro días de desintoxicación al mes]; consumo de alimentos saludables; eliminación de alimentos procesados, alcohol, cafeína, etc.
††El sistema GI-Biome System puede respaldar un peso sano cuando se combina con una dieta saludable.
*Estas declaraciones no han sido evaluadas por la Administración de Medicamentos y Alimentos de Estados Unidos. Estos productos no tienen la intención de diagnosticar, curar, tratar o prevenir ninguna enfermedad.
---
帮助身体排毒,增强人体微生物组
均衡生活源自合理膳食与健康生活方式
我们摄入的膳食和身体滋养方式会为肠道细菌带来或好或坏的影响。肠道细菌或微生物组的变化也会引起体重和人体成分的变化。
美泰为此专门推出 30 天速效排毒套组搭配美泰健康肠道菌群系统™,助您轻松达成减脂目标,合理均衡身体需求。*†
美泰草本排毒粉与美泰减脂胶囊助您轻松排毒
美泰草本排毒粉是美泰推出的滋养排毒营养品,此款独特的混合净化饮料采用天然成分配制而成,营养丰富,散发清新柑橘香气,可帮助身体净化或减少导致氧化应激的毒素。*^
美泰减脂胶囊能够"安全有效"地提高人体利用碳水化合物的能力,无需使用危险刺激成分便可有效改变身体成分。*
TruHealth 建议食品清单还为您准备了方便的购物指南!
美泰健康肠道菌群系统为微生物组添动力††
美泰益生菌粉包含丰富的益生元纤维与益生菌菌株,专为维持益生菌占比平衡以及消化系统健康而设计,有助于增强和改善肠道菌群,不仅味道可口,也便于服用。*
美泰酵素胶囊能提供适应多种酸碱度的酶,这些酶专为在消化过程的不同环节中分解多种食物而设计。*通过实现最佳消化状态,为人体提供丰富营养,进而增强体质。*
美泰护肠素 GI-Defense 胶囊主打"醣基生物素和丁酸盐生成支持混合物",专为肠道自然补充丁酸盐而设计。丁酸盐通过为微生物提供稳定的环境,帮助它们以最佳状态发挥作用,从而增强和滋养肠道内壁。*
美泰健康肠道菌群系统能够结合健康膳食,助您维持健康体重。*
实现微生物组和身体构成健康的 5 条健康贴士
选择摄入天然有机、未加工精制的健康食物。
减少摄入不必要的糖分,如糖果、汽水和碳水化合物精制食品。
每餐都要有果蔬,不过要尽量多吃蔬菜,水果可以少吃。
人体肠胃喜欢纤维丰富的天然健康食物,如甘蓝、南瓜、豌豆、西兰花、苹果、香蕉和草莓!
营养品能够为您的健康生活方式提供更多营养支持。
不要忘记搭配美泰营养代餐奶昔!
美泰营养代餐奶昔以植物为基础,富含维生素、矿物质、益生菌、醣质营养素和超过 20 克蛋白质,入口美味,助您轻松滋养微生物组,更添营养动力。
即刻订购 30 天美泰速效排毒套组 (74001) 和美泰健康肠道菌群系统 (30301),今日特价仅售 $199.99!
†建议配之以低热饮食和定期锻炼。
^根据 TruHealth 系统建议,每天宜饮用四条美泰草本排毒粉(建议多喝水 [每月 4 个排毒日期间,每日宜饮用 32-48 盎司水];搭配健康食品;减少或杜绝摄入加工食品、酒精和咖啡因等等)
††美泰健康肠道菌群系统能够结合健康膳食,助您维持健康体重。
*此说明尚未经过食品药品监督管理局评估。本产品不可用于诊断、治疗、治愈或预防任何疾病。