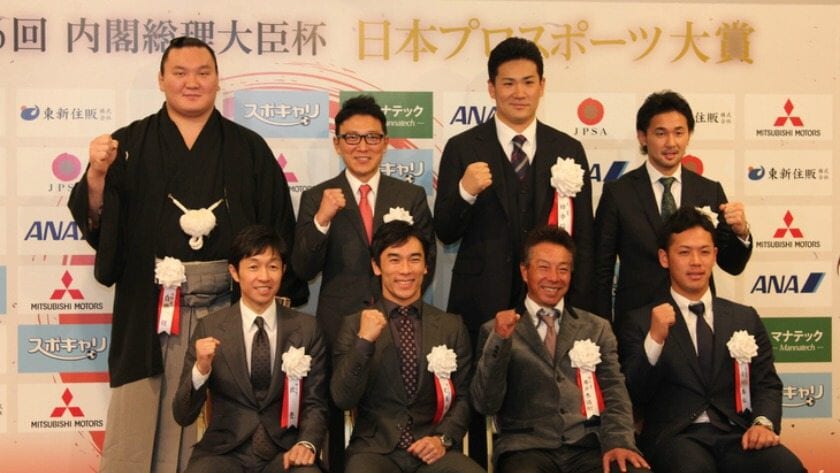 Mannatech Japan Recognizes Pro Athletes!
The Best Rookie of the Year award, otherwise called the "Mannatech Prize," was awarded during Japan's fourth annual Pro Sports Awards (Prime Minister's Cup) event on Friday, December 27th. This most prestigious event in Japan awards famous, domestic pro athletes.
The "Mannatech Prize" winner was Yasuhiro Ogawa, pro baseball player of Tokyo Yakult Swallows who received a year's worth of Mannatech products. The Grand Prize, a trophy and a new car, was awarded to Masahiro Tanaka, pro baseball player of Tohoku Rakuten Golden Eagles, a team based in northeastern Japan where the 2011 tsunami hit.
NutriVerus™ powder was delivered to all attendees. The Mannatech logo and M5M℠ message was broadcast all over Japan on local media. After the event, there was a briefing with Japan Committee for UNICEF chairperson, Ms. Ryoko Akamatsu, who we offered support for earthquake-affected areas in Japan.
On February 1, 2014, Japan will hold their first social entrepreneurship event, the Social Business Grand Prix 2014 Winter, where they will introduce the M5M movement to attendees and recognize up-and-coming domestic social entrepreneurs.
Hosts will be the Social Entrepreneur School and the Japan School of Policy Making. Keynote speakers will include active and highly esteemed university professors and social entrepreneurs.
Way to go Mannatech Japan!