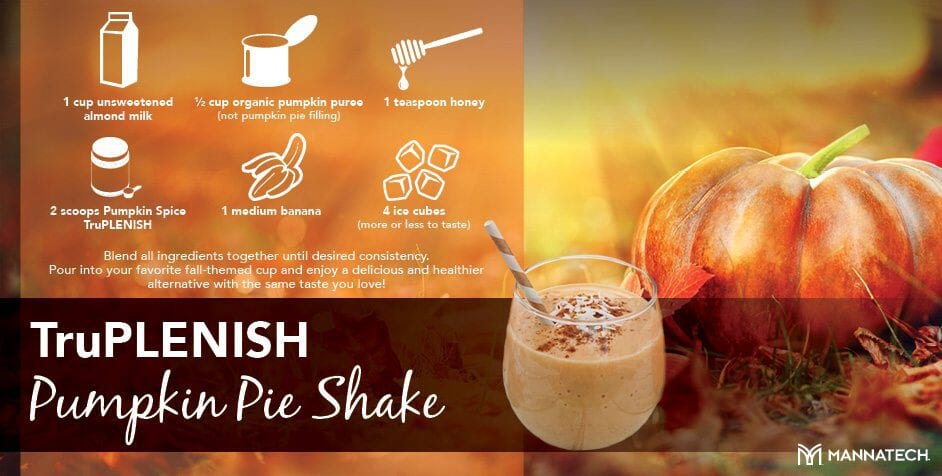 SHAKE IT UP, BABY
Pumpkin spice is one of the most-loved flavors of fall, and our Pumpkin Spice TruPLENISH® shakes bring that flavor in a wonderfully healthy way. Our Pumpkin Spice TruPLENISH shakes are particularly delicious when mixed with unsweetened almond milk, but if you want another variation on this limited-time flavor (and who wouldn't?) try this fun recipe for a TruPLENISH® Pumpkin Pie Shake.
Here's what you'll need to really get your taste buds rolling in fall flavor:
1 cup of unsweetened almond milk
½ cup organic pumpkin puree (not pumpkin pie filling)
1 teaspoon of honey
2 scoops of Pumpkin Spice TruPLENISH®
1 medium banana
4 ice cubes (more or less depending on how thick or thin you like your shakes)
Blend all of these ingredients together until it has the consistency you want. Pour this delicious mix into your favorite fall-themed cup and enjoy a delicious and healthier alternative with that pumpkin spice taste that everybody loves!
Keep in mind that Pumpkin Spice TruPLENISH® is only around for a limited time, and when it is gone, it is gone until next autumn. Stock up with enough to get you through the holidays!
To order Pumpkin Spice TruPLENISH®, visit mannatech.com or contact your Mannatech Associate today!