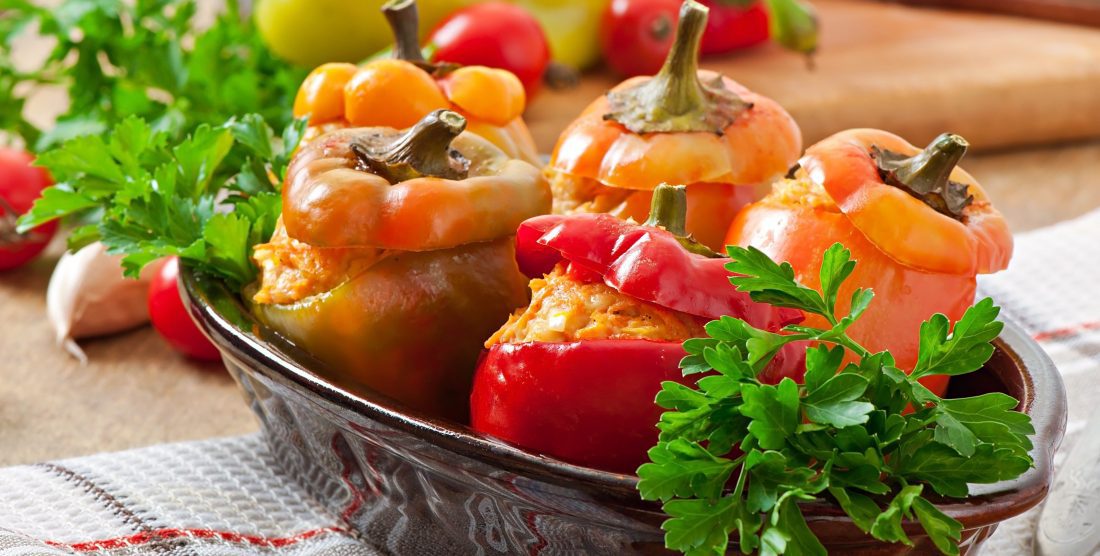 TruHealth™ – Stuffed Bell Peppers and Cauliflower Popcorn Recipes
The TruHealth 30-Day Fat-Loss System includes a comprehensive guidebook with grocery lists and meal plan suggestions for a proper diet while you're on the program.
Since the launch of TruHealth, we've come up with a few more recipes for you to enjoy. Check out the TruHealth recipe "book" available in pdf format in the Mannatech Resource Library for some tasty snacks and treats.
Our newest recipes include Stuffed Bell Peppers and Cauliflower "Popcorn." We hope you enjoy them!
Stuffed Bell Peppers
6 servings
Ingredients:
3 bell peppers
3 cooked chicken breasts, diced
2 cups prepared black beans (rinse if canned)
1 diced avocado
1 cup grape tomatoes, halved
2 Tbs. chopped green onions
2 Tbs. chopped cilantro
juice of 2 fresh squeezed limes
1 Tbs. extra virgin olive oil
1 tsp ground cumin
sea salt and pepper to taste
Preheat oven to 375 degrees.
Slice 3 bell peppers in half lengthwise.
Remove seeds.
Place peppers in a glass baking dish.
In a large bowl combine cooked chicken breasts, black beans, avocado, grape tomatoes, green onions, cilantro, lime juice, olive oil, cumin, sea salt and pepper to taste.
Scoop mixture into peppers and bake at 375 for 15-20 minutes or until heated through.
Serve and enjoy.
Cauliflower "Popcorn"
Ingredients:
1 medium cauliflower head
1 ½ Tbs. coconut oil
¼ to ½ tsp salt
½ tsp curry powder
Preheat the oven to 450 degrees F.
Core and wash cauliflower and cut the florets into bite-size pieces.
Place in a large bowl.
Toss the cauliflower with the olive oil, salt and curry powder.
Spread cauliflower on to large baking sheet.
Bake for 18-20 minutes, stirring occasionally, until the cauliflower is browned in spots and is crisp – tender.
Serve immediately.
** Experiment with different herbs and seasonings. This recipe is quite versatile. Broccoli is also a great alternative.