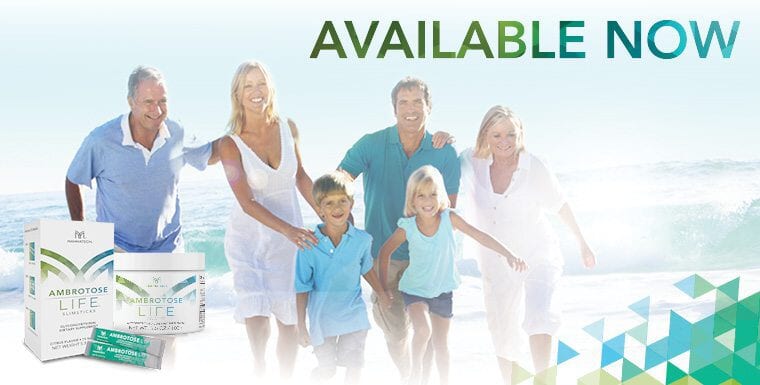 AVAILABLE NOW: New Ambrotose LIFE Powder
Due to popular demand, we moved up the release date!
Ambrotose LIFE™ powder is available NOW to order in North America! It is the most powerful Ambrotose® product ever. With 2x the Manapol®powder (compared to Advanced Ambrotose®) the new Ambrotose LIFE can:
Support cellular communication*††
Improve cognitive function, concentration and memory*††
Improve mood and decreases irritability*††
Support digestive function**††
Support immune function**††
Promote gastrointestinal health*††
You can log into your Back Office now to order!
Click Here to learn more about Ambrotose LIFE
†† These studies were conducted on the core technology found in the Ambrotose LIFE formulation. Studies were funded by Mannatech.
Not for Resale in Canada
---
应广大顾客的强烈要求,我们已将公开发售日期提前!
北美地区现在即可订购美泰新生代醣质营养素粉!它是目前为止功效最强的醣质营养素产品。因含 2 倍美泰醣质芦荟萃取粉(与美泰加强型醣质营养素相比),全新泰新生代醣质营养素具有以下功效:
促进细胞之间的沟通*††
改善认知功能,提高专注度,增强记忆力*††
调节心情,缓解焦躁情绪*††
增强消化功能*††
增强免疫功能*††
促进肠胃健康*††
您现在即可登录到 Back Office 进行订购!
††这些研究针对美泰新生代醣质营养素配方中采用的核心技术开展。美泰出资支持了这些研究。
不得在加拿大转售
---
¡Debido a la demanda popular, hemos adelantado la fecha de lanzamiento!
¡El polvo Ambrotose LIFE™ está AHORA disponible en Norte América! Es el Ambrotose® producto más poderoso de la historia.
Con el doble del polvo Manapol® (en comparación al Advanced Ambrotose), el nuevo Ambrotose LIFE puede:
Respaldar la comunicación celular*††
Mejorar la función cognitiva, la concentración y la memoria*††
Mejorar el estado de ánimo y reducir la irritabilidad*††
Respaldar la función digestiva*††
Apoyar la función inmunitaria*††
Promover la salud gastrointestinal*††
¡Puedes iniciar sesión en tu Oficina Virtual y levantar tu pedido ahora mismo!
Obtén más información sobre Ambrotose LIFE
††Estos estudios fueron realizados sobre la tecnología principal encontrada en la fórmula de Ambrotose LIFE. Los estudios fueron financiados por Mannatech.
No para reventa en Canadá.