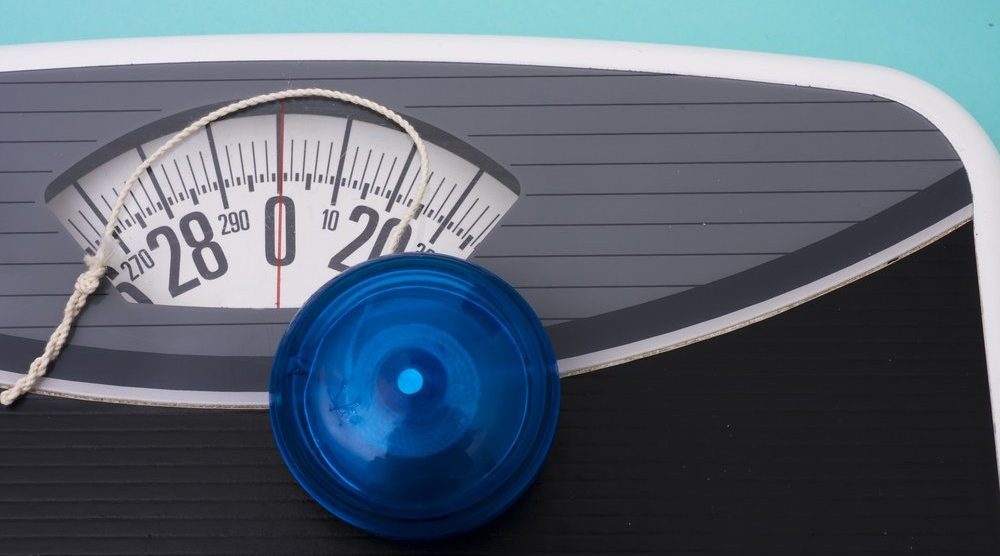 Don't Fall in the Yo-yo Cycle of Weight Loss
The Yo-yo Phenomenon
The yo-yo phenomenon of weight loss can be seen in unfortunate stories like that of Danny Cahill, the winner of Season 8 of the reality show "The Biggest Loser." Cahill lost an impressive 239 pounds in seven months only to gain 100 pounds back despite his own efforts to keep it off. A study done on the show's Season 8 contestants demonstrated that the majority experienced significantly lower basal metabolic rates (BMR) after being on the show, which contributed to their substantial weight regain that they had worked so hard to lose.
Dr. David Ludwig, Director of the New Balance Foundation Obesity Prevention Center, commented on the study above, saying the results prove that there is a need for a new approach to weight control.
The BMI Lie
Programs used by "The Biggest Loser," Weight Watchers and the majority of other diet and weight-loss fads out there all abide by one standard unit of measurement of a person's body weight: the Body Mass Index (BMI). This measurement focuses on scale weight and shedding pounds, and can often miscalculate a person's true body composition and overall health. The infographic below demonstrates two people considered "obese" on the BMI scale. But clearly this is inaccurate.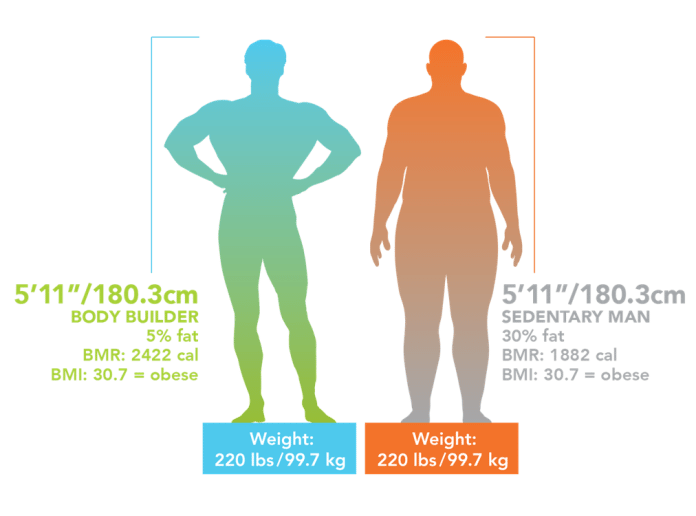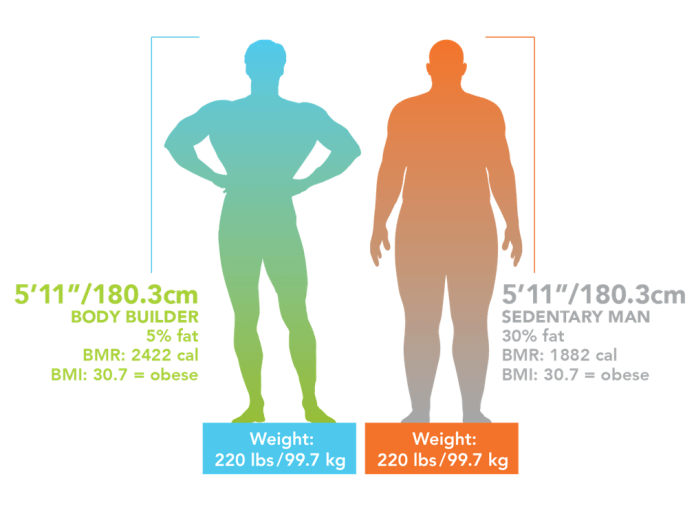 The ideology behind BMI can also disillusion people into thinking they can and need to drop pounds as fast as possible if they want to look their best. But this can result in a lack of proper nutrition as well as losing valuable lean muscle. Furthermore, this approach is not structured in a way to keep the pounds off for good, enabling a never-ending yo-yo effect of gaining and losing weight which many people struggle with today.
The culprit needs to be called out. The problem is using BMI as a measure of health.
The Mannatech Solution
Mannatech, a global health and wellness company dedicated to helping transform lives, is leading the charge against BMI with a new fat-loss system that measures Body Composition.
"Body Composition measures a person's fat mass and lean mass, not just pounds like BMI does. It evaluates body fat as well as muscle mass that can help create a better path to successful weight management and overall health," said Dr. Steve Nugent, Mannatech's Global Wellness Director and Chairman of the Mannatech Global Scientific Advisory Board.
Mannatech's TruHealth™ Fat-Loss System was specifically designed to improve better body composition by targeting fat loss instead of weight loss to help participants lose inches sustainably while building muscle.* Proper nourishment is an important building block of this program, which includes three all plant-based, naturally sourced products, free from allergens such as dairy, gluten, soy, whey, and artificial sweeteners and stimulants. These products will help propel you into a more sustainable lifestyle of keeping the fat off long-term.*ŧ
Join the Fight
Think fat loss not weight loss.
It's time to stop the yo-yo trend of shedding pounds with false miracle cures for a quick, but temporary, fix.
It's time to say goodbye to BMI and hello to better Body Composition. Throw out your scales and start improving your physique.
Learn more about Mannatech's groundbreaking TruHealth Fat-Loss System and the 30-day program you can start today by visiting the TruHEALTH Facebook Page. Share your progress with us on social media by using #TruHealthJourney.
To begin transforming your life or the lives of those around you, please visit Mannatech.com.

ŧ Always consult with your physician or other qualified healthcare provider before embarking on a new diet or program. This program is not recommended for pregnant or lactating women. If you are taking medications, have a health condition or are planning a medical procedure, consult your health professional before beginning this program. It is also not recommended for children under the age of 18. If you have any specific questions about these matters you should consult your doctor or other healthcare provider.