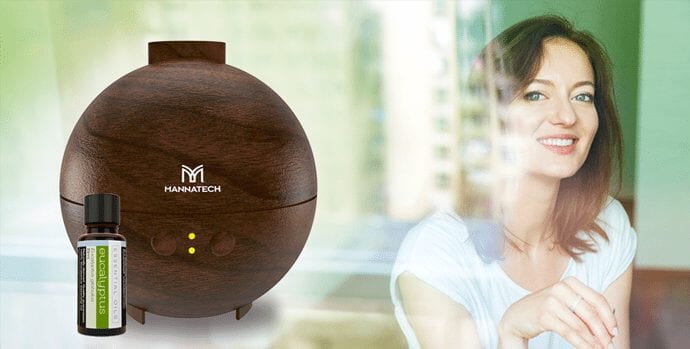 Enjoy Amazing Savings on This Outstanding Bundle!
Unwrap the wellness this holiday season with this special bundled offer. Order before December 31 and you'll receive our fabulous Serenity Home Diffuser and a 15 ml bottle of eucalyptus essential oil—saving you as much as $26.99 (30%) when you buy them together! Let's take a closer look at these wonderful products in this bundle.
Serenity Diffuser
This handsome and versatile diffuser will aerate your essential oils throughout your home and help create a personal environment of calm and rejuvenation. It functions as a humidifier, atomizer and aroma diffuser in one elegant, simple-to-use product. This stunning diffuser normally retails for $89.99 ($69.99 for Associates).
Eucalyptus Essential Oil
Used largely in health and personal care products, eucalyptus has amazing uses!
Provides respiratory support.
Inhaling eucalyptus oil has been used to help keep sinuses clear.
A few drops with coconut or olive oil gives hair a nice moisturizing pick-me-up, and can help condition the scalp.
It is great for keeping skin feeling fresh and youthful.
Can be used in massages to help relieve sore muscles.
Natural home cleanser.
Can be used to help control insects.
You'll receive a 15-ml bottle to go with your Serenity Diffuser (retails at $18.99 / $16.99 for Associates).
This kind of discount doesn't come often. Take advantage of this special while supplies last.
Not For Resale in Canada
Shipping / Loyalty info fine print: Free ground shipping for one-time orders, Auto Orders and NFR orders that contain a promotional item number. Excludes expedited orders and air shipments. Loyalty Points for one-time orders containing the promotional item number will be issued after the month-end closing of the purchased month. Loyalty Points will not be issued for orders redeemed using Loyalty Points.