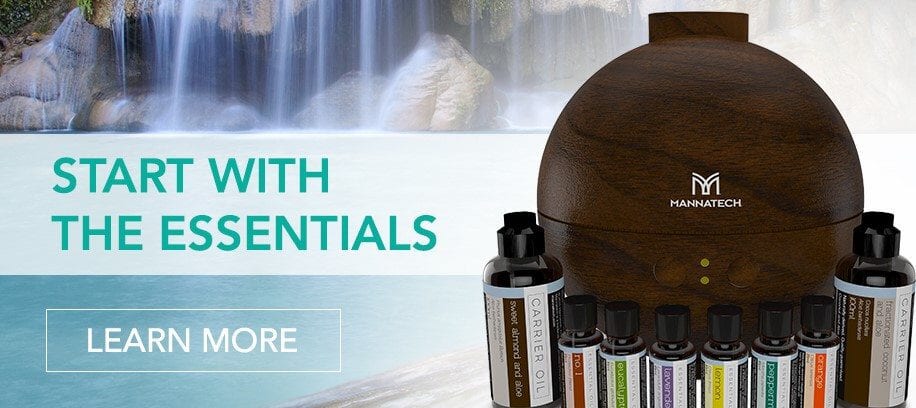 Mannatech's Essential Oils – Now Available in Europe (+Español)
Turn your home into a sanctuary

Essential Oils can help improve your life by making your surroundings healthier, less stressful, cleaner and more pleasant.
Mannatech Europe is delighted to announce that the new line of Essential Oils as well as the Serenity Home Diffuser and carrier oils are available to order from Business Period 3 (11th February).
Mannatech's Essential Oils are designed to help you foster a healthy home. The range of revitalising botanicals are available in 8 unique scents, each with their own health and practical benefits: lavender, peppermint, lemon, eucalyptus, orange and a proprietary No. 1 Protective Blend, Sweet Almond and Aloe Carrier Oil and Fractionated Coconut and Aloe Carrier Oil. Mannatech 100% Essential Oils can be diffused, inhaled or applied topically with the use of the carrier oils.
Contrary to the word "oil," essential oils are not really oily-feeling at all. Because these oils are extracted from plants, they may contain some of the most powerful chemicals plants synthesize. Unlike perfume or fragrance oils which contain artificial substances and offer no therapeutic benefits, essential oils are derived from true plants and contain the true essence of the plant they are derived from. Most importantly, all of Mannatech's single oils are organic and we hope you will enjoy using them!
Renew the air in your home during the dry winter months with Mannatech's Serenity Diffuser. With the heat cranked up and little moisture in the air, homes can have a dreary, stale atmosphere. Mannatech's Serenity Diffuser produces a gentle, continuing mist for up to 10 hours which both freshens and humidifies dull indoor air.
As spring is round the corner why not brighten your home and try one of our essential oil kits.  For your convenience we have put together a 5 piece and 8 piece Essential Oils Kit, which come with essential oils, carrier oils and you also have the choice to include the diffuser if you prefer.
Here are some great ways essential oils can be used 
LAVENDER – Diffuse in a spray bottle with a few ounces of water and spray on bed linens to support a restful sleep.
EUCALYPTUS – Mix with a carrier oil and rub on the chest to help support clear breathing.
ORANGE – Add a few drops to your floor cleaner to freshen up any space.
PEPPERMINT – Dilute a few drops with a carrier oil and pamper yourself with a gentle temple and neck massage
Transform your life and your business today with Mannatech's exciting new essential oils.
For more information on Mannatech's Essential Oils please visit mannatech.com
---
Los Aceites Esenciales de Mannatech – Ahora Disponibles en Europa
Convierte tu hogar en un santuario
Los aceites esenciales pueden ayudar a mejorar tu vida haciendo tu entorno
más saludable, menos estresante, más limpio y más agradable

Mannatech Europa se complace en anunciar que la nueva línea de aceites esenciales, así como el difusor Serenity Home y los aceites portadores están disponibles para pedidos desde el Período Empresarial 3 (11 de febrero).
Los aceites esenciales de Mannatech están diseñados para ayudarte a fomentar un hogar saludable. La gama de revitalizantes botánicos está disponible en 8 aromas únicos, cada uno con sus propios beneficios prácticos y de salud: lavanda, hierbabuena, limón, eucalipto, naranja y una exclusiva mezcla de protección Nº 1, Aceite Portador de Almendra Dulce y Aloe y Aceite de Coco Refinado y Aceite Portador de Aloe. Los aceites esenciales Mannatech pueden ser rociados, inhalados o aplicados tópicamente con el uso de los aceites portadores.
Contrariamente a la palabra "aceite", los aceites esenciales no son realmente aceitosos en absoluto. Debido a que estos aceites se extraen de plantas, pueden contener algunos de los químicos más potentes que las plantas pueden sintetizar. A diferencia de perfumes o de aceites con fragancia que contienen sustancias artificiales y no ofrecen beneficios terapéuticos, los aceites esenciales provienen de las plantas y contienen la verdadera esencia de la planta de la que derivan. Lo más importante, ¡todos los aceites individuales de Mannatech son orgánicos y esperamos que disfrute al usarlos!
Renueva el aire en tu casa durante los meses secos de invierno con el difusor Serenity de Mannatech. Con la calefacción a tope y poca humedad en el aire, las casas pueden tener una atmósfera triste y olor a húmedo. El difusor Serenity de Mannatech produce una niebla suave y continua durante un máximo de 10 horas, lo que refresca y humecta el interior del aire.
Como la primavera está a la vuelta de la esquina por qué no alegrar tu casa y probar uno de nuestros kits de aceites esenciales. Para tu comodidad hemos compuesto un kit de aceites esenciales de 5 piezas y otro de 8 piezas, que contienen aceites esenciales, aceites portadores y también tiene la opción de incluir el difusor si lo deseas.
A continuación hay algunas formas en las que los aceites esenciales se pueden utilizar 
LAVANDA – Pulverice con una botella de spray con un poco de agua y aplíquelo sobre la ropa de cama para ayudar a tener un sueño reparador.
EUCALIPTO – Mézclelo con un aceite portador y frótelo en el pecho para ayudar a mantener la respiración descongestionada.
NARANJA – Añada unas gotas a su limpiador para refrescar cualquier espacio.
MENTA – Diluya unas gotas con un aceite portador y mímese con un suave masaje en las sienes y cuello.
Transforma tu vida y tu negocio hoy con los nuevos emocionantes aceites esenciales de Mannatech.
Para obtener más información sobre los Aceites Esenciales de Mannatech, visite mannatech.com