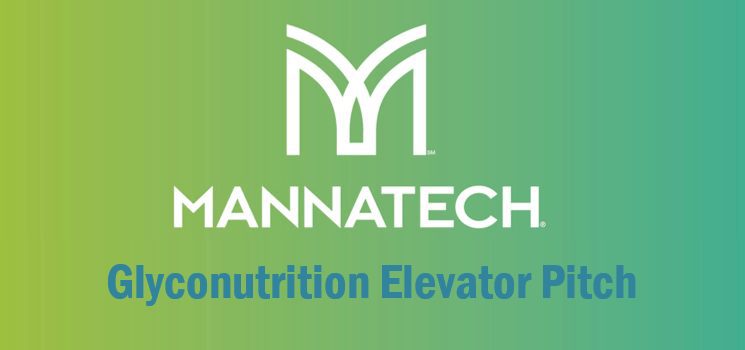 Mannatech's New Brand Story – Glyconutrition Elevator Pitch
Mannatech's new brand can help you more easily share the Mannatech story with others to help you grow your business. One of the core elements of Mannatech's success can be attributed to its pioneering work in the field of Glyconutrition, which is at the heart of many of its most successful products.
But what is Glyconutrition? The answer to that question can be highly scientific and technical. Most of us are not trained molecular biologists or physicians, so explaining the virtues of Glyconutrition may take you down a path you (and your prospect) are not all comfortable with. That is the purpose behind the creation of the Glyconutrition Elevator Pitch that was developed along with the new brand.
First, an "elevator pitch" is called that because it is brief and compelling. It is something you could share with someone in the span of an elevator ride. Because Glyconutrition can be complex, boiling its benefits down into a brief statement will help drive home how powerful Mannatech products can be in a minute, or so. It also frees Associates from having to become experts in cellular biology and create presentations that lose their power because they take up more time than prospects can tolerate.
Why do we focus so much on Glyconutrition? Glyconutrition is the transformative ingredient to Mannatech. Part of the message is that Mannatech is "Powered By Glyconutrition."  This is similar to the famous slogan "Intel Inside."
"It is what differentiates us from all of our competition," said Joel Bikman, Mannatech's Senior Vice President of Global Sales and Marketing and the force behind the rebrand. "Glyconutrition is an umbrella over all of our products.
Why are our fat loss products, skincare, immune products, nutrition or business opportunity better than any other companies? It's because of Glyconutrition. This positioning is exclusively ours. No one else has it."
The "Powered By Glyconutrition" can be visualized in this graphic that captures the technology's application through Mannatech's product categories: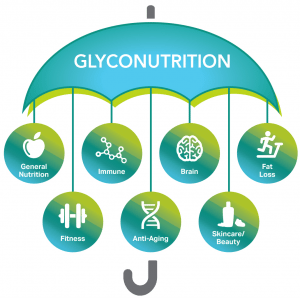 As for the elevator pitch itself, Bikman and his team developed two pitches and this VIDEO for Associates to use and share during their interactions with others:
Short Glyconutrition elevator pitch:
"Transform your wellness by nourishing your cells."
Long Glyconutrition elevator pitch:
"The human body is a miracle. There are trillions of cells in your body, and they communicate with one another. These cells know when they need nourishment, protection, repair, and even destruction. When cells don't have proper nutrition, however, they don't communicate well. But with the right kind of nourishment, your body can do amazing things. This specific nourishment is called Glyconutrition. Mannatech is the pioneer and patent holder for this groundbreaking technology that's revolutionizing nutrition, immune health, weight loss, skincare and more."
"These messages are simple, brief and consistent," said Bikman. "Anyone can memorize and adapt this. When coupled with a personal, compliant testimonial, the elevator pitch will be incredibly powerful."
---
Historia de la nueva marca de Mannatech – Discurso de elevador sobre la gliconutrición
La nueva marca de Mannatech te ayudará a compartir más fácilmente la historia de Mannatech con otras personas para que puedas crecer tu negocio. Uno de los elementos centrales del éxito de Mannatech puede atribuirse a que es una compañía pionera en el campo de la gliconutrición, lo que está en el corazón de muchos de sus exitosos productos.
Pero, ¿qué es la Gliconutrición? La respuesta a esa pregunta puede ser demasiado técnica y científica. La mayoría de nosotros no contamos con entrenamiento en bilogía molecular, ni somos médicos, así que explicar las virtudes de la gliconutrición puede llevarte por un camino que no es cómodo para ti (ni para tu prospecto).
Esta es la razón que se encuentra detrás de la creación del Discurso de Elevador de Mannatech, que fue desarrollado junto con la nueva marca.
Primero que nada, un "discurso de elevador" recibe ese nombre porque debe ser breve y convincente. Es algo que puedes compartir con alguien en el tiempo que dura un viaje en elevador. Debido a que la gliconutrición puede ser compleja, el resumir sus beneficios en unas cuantas frases ayudará a comunicar el poder de los productos Mannatech en aproximadamente un minuto. También libera a los Asociados de tener que convertirse en expertos en biología celular y de crear presentaciones que pierden su poder debido a que toman más tiempo que el que los prospectos pueden tolerar.
¿Por qué nos enfocamos tanto en la gliconutrición? Piensa en esto, si Mannatech "Transforma tu vida", entonces la gliconutrición es el ingrediente que logra la transformación. Parte del mensaje es que Mannatech está "Impulsada por la Gliconutrición".  Esto es similar al famoso eslogan de "Intel Inside" ("Intel Adentro").
"Esto es lo que nos hace diferente de nuestros competidores", dice Joel Bikman, Vicepresidente Senior de Ventas Globales y Mercadotecnia de Mannatech, y quien es la fuerza detrás de nuestra nueva marca. "La gliconutrición es el paraguas sobre todos nuestros productos".
"¿Por qué nuestros productos para pérdida de grasa, cuidado de la piel, apoyo inmunitario, nutricionales y la oportunidad de negocio son mejores que los de otras compañías? Es debido a la Gliconutrición. Este posicionamiento es exclusivamente nuestro. Nadie más lo tiene".
El lema "Impulsados por la Gliconutrición" puede visualizarse en esta gráfica que captura la aplicación de la tecnología a través de las categorías de productos Mannatech.
Gliconutrición
Nutrición general
Sistema Inmunitario
Cerebro
Pérdida de grasa
Buen estado físico
Combate al Envejecimiento
Cuidado de la piel/Belleza
En cuanto al discurso de elevador, Birkman y su equipo han creado dos discursos y este VIDEO para que los Asociados los usen y los compartan durante las interacciones con otras personas:
Discurso breve de elevador sobre la gliconutrición:
"Transforma tu bienestar alimentando tus células".
Discurso largo de elevador sobre la gliconutrición:
"El cuerpo humano es un milagro. Hay billones de células en tu cuerpo y se comunican entre sí. Estas células saben cuándo necesitan alimentación, protección, reparación e incluso saben cuando deben destruirse. Sin embargo, cuando las células no tienen la nutrición correcta, no pueden comunicarse bien. Pero con la nutrición correcta, tu cuerpo puede hacer cosas increíbles. Esta nutrición especializada se llama Gliconutrición. Mannatech es pionera y propietaria de patentes para esta innovadora tecnología que está revolucionando la nutrición, la salud inmunitaria, la pérdida de peso, el cuidado para la piel y más".
"Estos mensajes son simples, breves y consistentes", dijo Bikman. "Cualquier persona puede memorizar esto y adaptarlo. Cuando se cuenta con un testimonio personal y convincente, el discurso de elevador será increíblemente poderoso".
Etiquetas: Discurso de elevador gliconutrición nueva marca Transforma tu bienestar Qué es la Gliconutrición
*Estas declaraciones no han sido evaluadas por la Administración de Medicamentos y Alimentos de Estados Unidos. Estos productos no tienen la intención de curar, tratar o prevenir ninguna enfermedad.