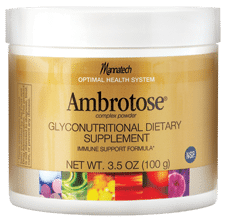 New, Approved Claims for Ambrotose® Powder
Mannatech has announced a new, approved set of U.S. product claims on the technology behind the Ambrotose products that reinforce how Ambrotose can play an important role in supporting a person's overall health and wellness. Mannatech's Ambrotose powder is the first dietary supplement to combine a standardized blend of plant-sourced glyconutrients. More than 50 patents worldwide have been issued on this breakthrough discovery in health. The studies that are the basis of these new product claims are derived from human clinical trials conducted on an ingredient in our Ambrotose powders: arabinogalactan. You can read more about Ambrotose and these studies at mannatechscience.org.** New claims for Ambrotose powder:
Can [support, improve, bolster, enhance, activate] [the/your] body's immune response to vaccinations against bacterial infections;
May help keep your immune system strong year-round;
Can enhance your body's response to vaccinations;
[Stimulates/boosts/bolsters/enhances/activates] [your/the] immune system;
May [Support, improve, bolster, enhance/activate] [the/your] body's ability to respond to pathogens;
[Supports, improves, bolsters, enhances, activates] [the/your] body's ability to respond to bacterial vaccines;
May help keep your immune system strong year-round;
Can [stimulate/boost/bolster/enhance/activate] your immune system;
Modulates and supports your body's immune response;
Supports the innate immune response; and
May improve the adaptive immune response.
Polysaccharides, also known as glyconutrients, play critical roles in supporting and maintaining health and the immune system. Ambrotose complex includes patented technology and a blend of these plant-sourced polysaccharides.* Ambrotose recognizes that your body is made up of cells, which when kept healthy, contribute to healthy bodies.* People who have a healthy immune system are more likely to stay healthy during the winter months. Add Ambrotose products to your diet and…
Increase immune system support*
Support digestive function*
Improve memory and cognitive function*
Enhance mood and decrease irritability*
For more information about how you can leverage the power of Ambrotose, go to: http://www.allaboutmannatech.com/the-power-of-ambrotose-speaks-for-itself/
**MannatechScience.org is acceptable for use by individuals living in the United States and South Africa.