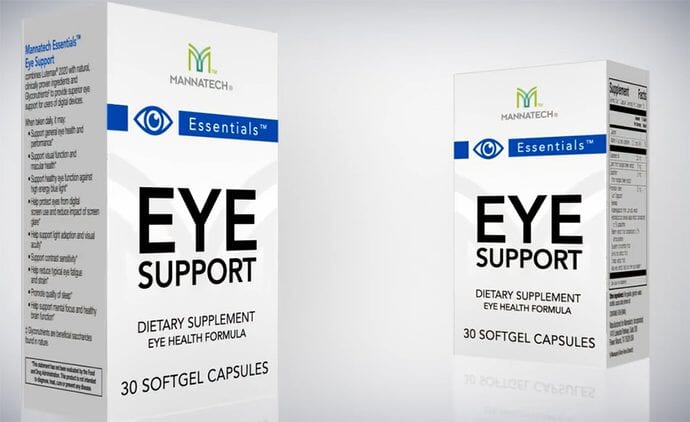 Mannatech Essentials™ Eye Support Soft Gel Capsules
Nearly every source of light – sunlight or electric lighting – emits blue light, a short, more energetic wavelength that contains more energy than the other colors found in light. Ordinarily, it's not something to worry about; a healthy macula in each eye acts like internal sunglasses to support your vision against the risks of blue light.  However, we are using our digital devices more, longer and holding them closer to our eyes than ever – increasing our exposure to blue light. As our exposure to blue light increases, so does the need for support for our eyes.
Our new Eye Support capsules are specifically formulated with the clinically studied ingredient Lutemax 2020, which provides two critically important nutrients, Lutein and Zeaxanthin, that fortify and support healthy eye function against high energy blue light.
Our Eye Support capsules may:
Support macular health*
Help support eye performance and eye health when using digital devices*
Support healthy eye function against high energy blue light*
Help reduce impact of screen glare*
Help support light adaption and visual acuity*
Help reduce eye fatigue and strain*
Support general eye health* and
Promote quality of sleep*
If you use electronic devices, you need Mannatech's new Eye Support Capsules.
Item#: 16701, Retail price: $38.99, Associate/Preferred Customer price: $34.99, PV: 33. Not for resale in Canada.
---
新品!美泰全新Essentials™眼健康支持软胶囊
几乎所有的光源,无论是日光还是灯光,都会发出蓝光。蓝光是一种更短、更有活力的波长,并且含有比光线中其它颜色更高的能量。一般的情况下,我们不用担心蓝光,因为眼睛中的黄斑就像墨镜一样,能帮助抵御蓝光对视力的侵害。但是,我们现在使用的电子设备更多、使用的时间更长,而且这些设备离眼睛越来越近,这些都增加了我们暴露在蓝光中的机会。随着我们接触到的蓝光越来越多,我们的眼睛也越来越需要帮助。
美泰全新Essentials™眼健康支持软胶囊,配方专本加入临床研究成分Lutemax® 2020,能提供叶黄素和玉米黄质这两种重要的营养成分,强化和支持黄斑抵御蓝光的能力。
眼健康支持软胶囊的功效:
支持黄斑健康
在您使用数码设备时,为视力及眼睛健康提供支持
为对抗高能蓝光的健康眼功能提供支持
有助于降低屏幕强光对眼睛的影响
有助于支持眼部光线适应和视敏度
有助于降低用眼疲劳
为眼睛总体健康提供支持
提升睡眠质量
如果你使用电子设备,那你需要美泰全新眼健康支持胶囊。
货号: 16701,零售价:$38.99,经销商/优惠顾客价:$34.99,PV: 33。不得在加拿大转售。
---
¡Nuevo Producto! ¡Cápsulas de gel Eye Support de Mannatech Essentials™!
Casi cada fuente de luz (luz solar o eléctrica) emite luz azul, que es una onda más corta y energética, y contiene más energía que los otros colores que se encuentran en la luz. Ordinariamente no es algo de qué preocuparse; una mácula saludable en cada ojo actúa como gafas de sol internas para respaldar tu visión en contra del riesgo de la luz azul. Estamos usando nuestros dispositivos móviles más, por más tiempo y sosteniéndolos más cerca de nuestros ojos que antes. Conforme nuestra exposición a la luz azul se incrementa, también aumenta la necesidad de apoyo para nuestros ojos.
Nuestras nuevas cápsulas de gel de Eye Support de Mannatech EssentialsTM han sido formuladas específicamente con el ingrediente Lutemax 2020, que ofrece dos pigmentos, Luteina y Zeaxantina, que fortalecen y respaldan la saludable función de los ojos en contra de la luz azul.
Nuestras cápsulas Eye Support pueden:
Apoyar la salud macular*
Ayudar a mantener el desempeño y salud de los ojos cuando se usan dispositivos digitales*
Respaldar la función saludable de los ojos en contra de la energía de la luz azul*
Ayudar a reducir el impacto del resplandor de las pantallas*
Ayudar a mantener la adaptación de la luz y la agudeza visual*
Ayudar a reducir el estrés y la fatiga de los ojos*
Respaldar la salud general de los ojos* y
Promover la calidad del sueño*
Si usas dispositivos electrónicos, necesitas las nuevas cápsulas de Eye Support.
¡Recibe el respaldo que tus ojos necesitan! ¡Ordena hoy las cápsulas Eye Support!