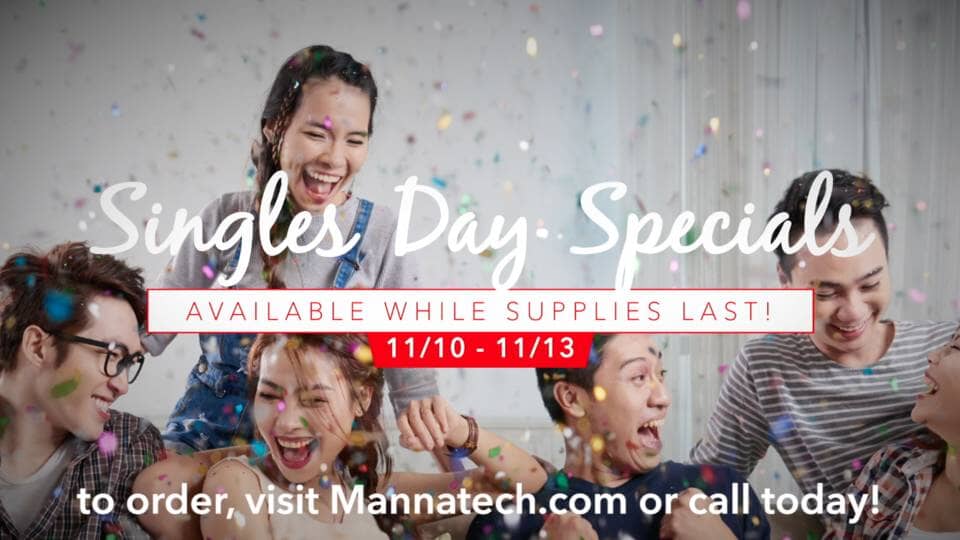 Singles Day Specials Are Here!
Of course you know about "Black Friday," but did you know that "Singles Day" in China is the biggest online shopping day of the year? Think of it as Valentine's Day for single people, except now everyone buys gifts for themselves! So unwrap the wellness for yourself with these special offers on Singles Day.
Free shipping and Loyalty Points on Manapol®!
For more than 20 years, Manapol powder has been an essential ingredient in other Mannatech products. Our Advanced Ambrotose® product and Ambrotose® complex are among our top-selling products containing the aloe gel extract, and are known for their cognitive, immune and gastrointestinal benefits.* Our Manapol powder is 100% non-GMO aloe vera gel powder, produced with cutting edge harvesting techniques. It is the most abundant source of Glyconutrients in the world! Manapol now also contains a higher concentration of acemannan for even greater immune system support.* Order now to enjoy free shipping and Loyalty Points on Manapol!
Which is your very favorite Mannatech essential oil? Go ahead and take 50% off its price, and any and all other essential oils you want and need in your home. Take advantage of this huge Singles Day discount when you order by November 13. Happy Singles Day!
30% Off MannaBears™ and ImmunoSTART® Together
Sometimes you have to trick kids (and adults!) into choosing healthy food. But delicious MannaBears are specially formulated to deliver Glyconutrients to young people during their growing years while being a tasty alternative to junk foods. For adults, ImmunoSTART tablets are packed full of nutrients and help stimulate and support the body's natural immune response to help you live to the fullest.* Give your family the gift of wellness and take 30% off when you buy MannaBears and ImmunoSTART together! Happy Singles Day!
Limited Time!
The gift of wellness may be the biggest gift you can give to the people you love! Don't wait, these special Singles Day incentives run November 10 to November 13, 2017. Click Here to order!