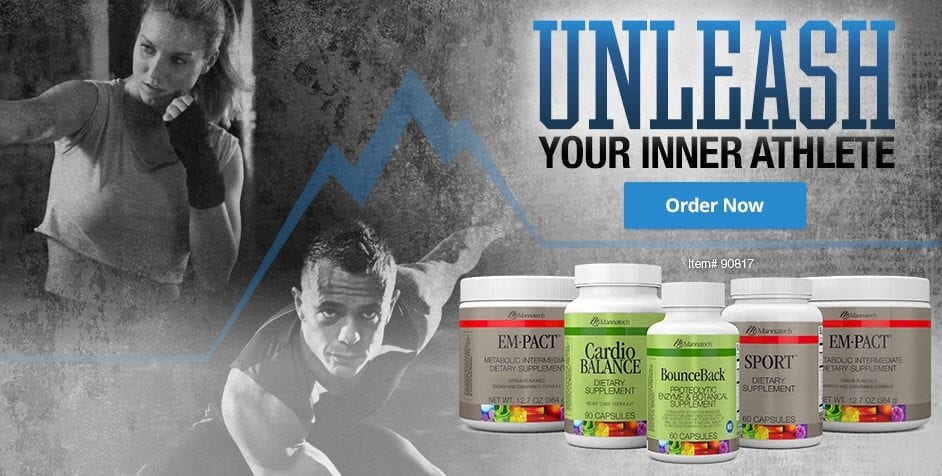 South Africa's New, Elite Performance Sports Kit
Mannatech South Africa has just launched its brand-new Elite Performance Kit! The Elite Performance Kit is made up of naturally sourced products to deliver real nutrition while supporting you on your way to a healthier body and higher level of performance.
Unleash your inner athlete! Order your kit to help you make the most of your workouts and improve your wellness. And now you can get these great Mannatech products for 30 percent off normal retail price!
Stay active and live life to the fullest. BounceBack capsules reduce muscle pain and stiffness due to overexertion or physical activity, aid the body's natural recovery process and support optimal joint and cartilage health.
Support your cardiovascular health with CardioBALANCE capsules. Provide nourishment for cardiovascular health through a unique herbal vitamin and amino acid blend and help maintain homocysteine levels that are already within normal range.
EM•PACT citrus-flavoured drink mix is more than just a sports supplement drink. It may enhance the body's ability to use oxygen during athletic exertion and may improve athletic endurance.
SPORT capsules assist in the recovery process following strenuous physical activity. Try taking them immediately after exercise and experience the difference that SPORT capsules can make!
This brochure is not only a helpful tool for providing product information, but it can also be used to take your business to the next level. Complete with guidelines for success, testimonials and a supplement regimen, this tool is invaluable for sharing Mannatech's opportunity. Share this brochure with prospects to gauge their interest in their own Elite Performance Kit!
Take your performance to an epic level and save 30 percent off normal retail price. Unleash your inner athlete and order your kit now! Order item #90817. Associate Price: R1640.00. One-time APO: R320. AO APO: R170. QV: 131. For more information please visit http://za.mannatech.com/ or call 0 (800) 981-117.